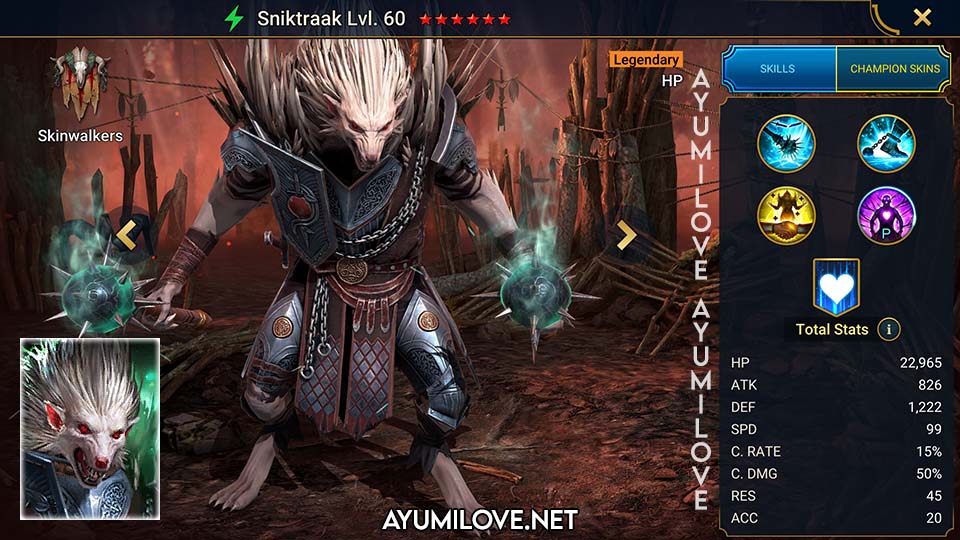 Overview

NAME: Sniktraak
FACTION: Skinwalkers
RARITY: Legendary
ROLE: HP
AFFINITY: Spirit
RANK: A
USABILITY: Mid-Late Game
TOMES: 10 (A2 A3)

Abilities

RSL_AllBattles_HpAura
RSL_AoE_AllyProtection_50%
RSL_AoE_DecreaseSpeed_30%
RSL_AoE_ReflectDamage_30%
RSL_Self_ReflectDamage_Passive
RSL_AoE_Shield
RSL_Self_Heal
RSL_Target_DecreaseAttack_50%
RSL_Target_Leech_Passive
RSL_Target_Passive_Enemy

Obtain from

Ancient Shard
Sacred Shard

Grinding

★★★✰✰ Campaign
★★★★✰ Arena Defense
★★★★✰ Arena Offense
★★★★✰ Clan Boss
★★★★✰ Hydra
★★★★★ Faction Wars

Dungeons

★★★★✰ Minotaur
★★★✰✰ Spider
★★★★✰ Fire Knight
★★★★✰ Dragon
★★★★✰ Ice Golem
★★★★✰ Iron Twins

Potion

★★★✰✰ Arcane Keep
★★★✰✰ Void Keep
★★★✰✰ Force Keep
★★★✰✰ Spirit Keep
★★★✰✰ Magic Keep

Doom Tower

★★★★✰ Floors
★★★✰✰ Magma Dragon
★★★✰✰ Nether Spider
★★★✰✰ Frost Spider
★★★★✰ Scarab King
★★★★✰ Celestial Griffin
★★★✰✰ Eternal Dragon
★✰✰✰✰ Dreadhorn
★✰✰✰✰ Dark Fae
Sniktraak Skills
Misery Morningstar
Attacks 1 enemy. Has a 50% chance of placing a 50% [Decrease ATK] debuff for 2 turns. If the target is under a [Leech] debuff, has a 100% chance of placing a 50% [Decrease ATK] debuff on the target for 2 turns before attacking.
Level 2: Damage +10%
Level 3: Buff/Debuff Chance +5%
Level 4: Damage +10%
Level 5: Buff/Debuff Chance +5%
Damage Multiplier: 0.25 HP
Overall Grading: Average
Cloying Horror (Cooldown: 4 turns)
Attacks all enemies. Has a 75% chance of placing a 30% [Decrease SPD] debuff for 2 turns. Also places a [Shield] buff on all allies equal to 30% of this Champion's MAX HP for 2 turns. The [Shield] buff cannot be removed if it is placed when there are any enemies under [Leech] debuffs.
Level 2: Damage +10%
Level 3: Buff/Debuff Chance +10%
Level 4: Buff/Debuff Chance +15%
Level 5: Cooldown -1
Damage Multiplier: 0.35 HP
Overall Grading: Average
Vermin Vitae (Cooldown: 5 turns)
Places a 50% [Ally Protection] buff on all allies except this Champion for 2 turns. Also places a 30% [Reflect Damage] buff on all allies for 2 turns, then heals this Champion by 50% of their MAX HP.
Level 2: Cooldown -1
Level 3: Cooldown -1
Soul Rot (Passive)
Whenever an ally under a [Reflect Damage] buff is attacked, place a [Leech] debuff on the attacker for 1 turn. Reflects 50% of the damage this Champion receives back to the attacker. Increases the amount of damage reflected by 20% from [Reflect Damage] buffs placed by this Champion.
Aura
Increases Ally HP in all Battles by 33%
Sniktraak Equipment Guide
Arena, Campaign, Clan Boss, Dungeons, Doom Tower, Faction Wars

Recommended Artifacts

PvE: Accuracy, Perception, Guardian, Regeneration, Immortal, Speed
PvP: Stoneskin, Fortitude, Resistance, Reaction, Frenzy

Stats Allocation

Weapon (ATK)
Helmet (HP)
Shield (DEF)
Gauntlets (HP% / DEF%)
Chestplate (HP% / DEF%)
Boots (SPD / HP%)
Ring (HP / DEF)
Amulet (HP / DEF)
Banner (ACC / RESIST)

Stats Priority

PvE: HP%, DEF%, SPD, ACC
PvP: HP%, RES, SPD
Sniktraak Updates
Sniktraak Videos
Cold Brew Gaming: SNIKTRAAK IS THE NEW MVP SKINWALKER SUPPORT!
MtgJedi: How Good is Sniktraak!!!???