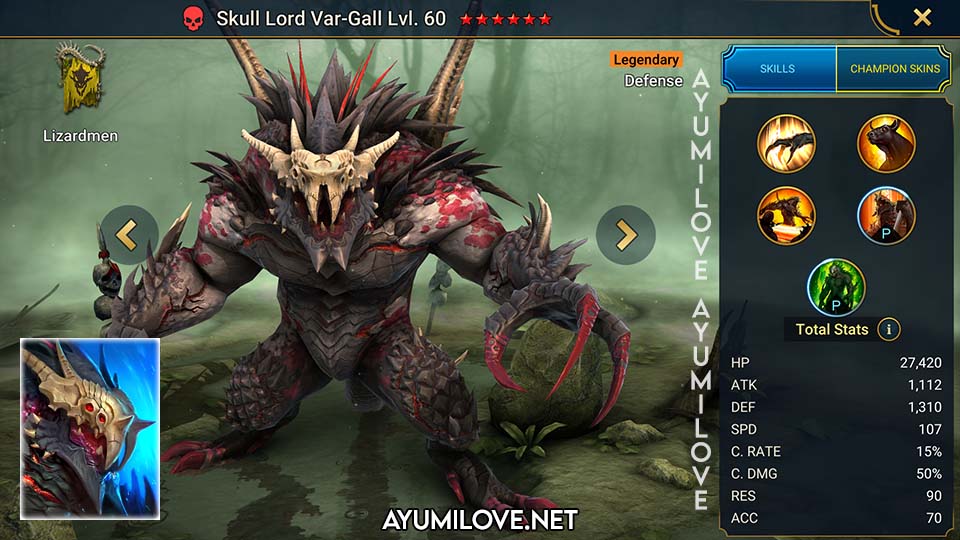 Overview

NAME: Skull Lord Var-Gall
FACTION: Lizardmen
RARITY: Legendary
ROLE: Defense
AFFINITY: Force
RANK: B
USABILITY: Situational
TOMES: 12 (A2 A3)

Abilities

RSL_AoE_DecreaseAttack_50%
RSL_Random_Revive_Passive
RSL_Self_IncreaseTurnMeter
RSL_Self_Strengthen_25%
RSL_Target_DecreaseMaxHp
RSL_Target_HealReduction_100%
RSL_Target_Passive_Ally
RSL_Target_Passive_Enemy
RSL_Target_Provoke

Obtain from

Ancient Shard
Sacred Shard

Champion Fusion

Blessings Recommendation

Soul Reap (Damage Dealer)

Grinding

★★★★✰ Campaign
★★★✰✰ Arena Defense
★★★✰✰ Arena Offense
★✰✰✰✰ Clan Boss
★★★✰✰ Hydra
★★★★✰ Faction Wars

Dungeons

★★★✰✰ Minotaur
★★★✰✰ Spider
★★★★★ Fire Knight
★★★✰✰ Dragon
★★★✰✰ Ice Golem
★★✰✰✰ Iron Twins

Potion

★★★✰✰ Arcane Keep
★★★✰✰ Void Keep
★★★✰✰ Force Keep
★★✰✰✰ Spirit Keep
★★★✰✰ Magic Keep

Doom Tower

★★★★✰ Floors
★★★★★ Magma Dragon
★✰✰✰✰ Nether Spider
★★★✰✰ Frost Spider
★★★✰✰ Scarab King
★✰✰✰✰ Celestial Griffin
★✰✰✰✰ Eternal Dragon
★✰✰✰✰ Dreadhorn
★✰✰✰✰ Dark Fae
Skull Lord Var-Gall Skills
Gleeful Ripping
Attacks 1 enemy 2 times. Each hit fills this Champion's Turn Meter by 5%. Has a 30% chance to repeat this skill. Places a 100% [Heal Reduction] debuff on the target for 2 turns if this skill is repeated.
Level 2: Damage +5%
Level 3: Damage +5%
Level 4: Damage +5%
Damage Multiplier: 1.35 DEF
Overall Grading: Average
Skull Claim (Cooldown: 3 turns)
Places a 25% [Strengthen] buff on this Champion for 2 turns. Has a 75% chance of placing a [Provoke] debuff on a target for 1 turn.
Level 2: Buff/Debuff Chance +5%
Level 3: Buff/Debuff Chance +10%
Level 4: Buff/Debuff Chance +10%
Level 5: Cooldown -1
Abyssal Clutch (Cooldown: 4 turns)
Attacks all enemies. Has a 75% chance of placing a 50% [Decrease ATK] debuff for 2 turns.
Level 2: Damage +10%
Level 3: Buff/Debuff Chance +5%
Level 4: Buff/Debuff Chance +10%
Level 5: Buff/Debuff Chance +10%
Level 6: Cooldown -1
Damage Multiplier: 3.85 DEF
Overall Grading: Strong
Horrific Foe (Passive)
When attacked, decreases the attacker's MAX HP by 5%. Decreases the MAX HP of Bosses by 2.5% instead (except the Scarab King, whose MAX HP will be decreased by 0.5%). Cannot decrease a single enemy's MAX HP by more than 50%. Occurs once per enemy attack. Does not work against bosses. Has a 50% chance of placing a [True Fear] debuff on targets whose MAX HP has been decreased by 20% or more.
Skull Brood (Passive, Cooldown: 1 turn)
Revives Skullsworn with 50% HP and 50% Turn Meter at the start of each turn. If there are multiple Skullsworns on the team, only one of them will be revived.
Skull Lord Var-Gall Equipment Guide
Arena, Doom Tower, Faction Wars
Campaign, Clan Boss, Dungeons

Recommended Artifacts

2 Defense Set, 1 Speed Set

Recommended Artifacts

1 Lifesteal Set, 1 Accuracy Set

Recommended Stats

DEF%, C.RATE, C.DMG, SPD, ACC
Weapon (ATK)
Helmet (HP)
Shield (DEF)
Gauntlets (C.RATE)
Chestplate (DEF%)
Boots (SPD)
Ring (DEF)
Amulet (C.DMG)
Banner (ACC)

Recommended Stats

DEF%, HP%, SPD, ACC
Weapon (ATK)
Helmet (HP)
Shield (DEF)
Gauntlets (DEF% / HP%)
Chestplate (DEF% / HP% / ACC)
Boots (SPD)
Ring (DEF / HP)
Amulet (DEF / HP)
Banner (ACC)
Skull Lord Var-Gall Mastery Guide
Arena, Campaign, Clan Boss, Dungeons, Doom Tower, Faction Wars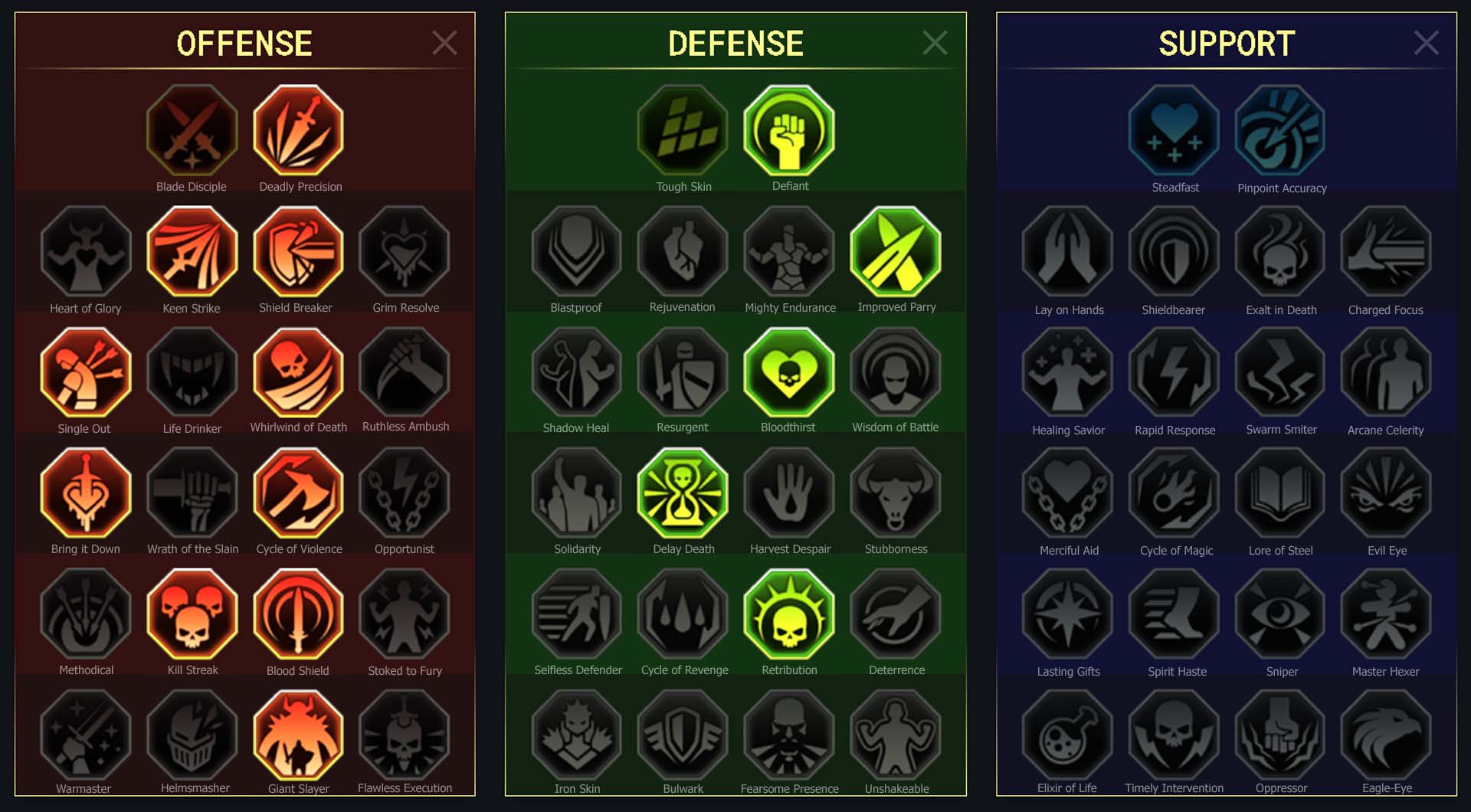 Offense

Deadly Precision
Keen Strike
Shield Breaker
Whirlwind of Death
Single Out
Bring it Down
Cycle of Violence
Kill Streak
Blood Shield
Giant Slayer

Defense

Defiant
Improved Parry
Bloodthirst
Delay Death
Retribution
Skull Lord Var-Gall Champion Lore
Outside of the Sorrowlakes, Arnoc has the largest remaining enclave of Lizardmen, most living within the cavernous, labyrinthine sewers beneath the streets of the Free City. Within those pungent warrens, the Cult of the Skullsworn holds great sway over their kind. The most popular non-Lumayan sect among the Lizardmen, these cultists don the skulls of their ancestors, believing that the spirits of the lost grant them supernatural speed and ferocity. It is unclear if the Skullsworn truly benefit from magic or are merely fanatical, even to themselves. Regardless of the truth, in the bedlam of Arnoc's sewers, every advantage makes a difference in the battle for survival.
While the Skullsworn have no defined hierarchy, the skull each wears is tied to an ancestral lineage. Some of these are ancient, and the older or more storied the skull, the more powerful the spirits within it are supposed to be. None of the Skullsworn have as storied or ancient a skull as the one Skull Lord Var-Gall, the leader of the cult, possesses.
Var-Gall does not live in Arnoc proper, but a few miles upriver on the shores of Lake Durham. He has lived there ever since he took up his title of Skull Lord, in the same cave as all his predecessors have for centuries. The skull too is centuries old, that of a Dragonkin suzerain, one who is said to have ruled over Arnoc back in the Gray Age, over a thousand years ago. This ancient ruler was once a mage-lord, and the words and runes of some of his spells have been etched onto the skull, granting strength and magical power to the one who bears it. This Dragonkin skull has been passed down since before the Cult of the Skullsworn itself was founded. The previous Skull Lord granted it to Var-Gall on her deathbed, for he had impressed her with years of devotion, knowledge of the cult's history, and fighting skill.
There are oaths that bind the Skull Lord to the skull they wear and to the cult they lead and serve, but only Var-Gall knows them, and the only one who will learn them from him is whoever replaces him. Whatever these oaths are, they keep him out of the petty politics of Arnoc's sewer gangs, and even limit his direct involvement with the Skullsworn. Supplicants from the Cult will come to him for advice, arbitration on disputes, or training, which Var-Gall provides without fail – again in line with his oaths. Otherwise, Var-Gall lives a quiet life of contemplation, often fishing, the intricacies of which he sees as a metaphor for living a good life.
When danger comes to the Skullsworn, however – when monsters creep up from the undersewers, or when Sacred Order crusaders descend into them purge them of 'undesirables' and 'blasphemous creatures' – the Skull Lord will come. He stalks the tunnels of Arnoc like they were his own, butchering any who attack his people. He can rip straight through plate armor or inches-thick carapace with his frenzied strikes, and the barbs on his skin will wither and poison any who are pierced by them, infecting their bodies with foul magic. That same dark power will draw his faithful Skullsworn back to him — even restore the wounded to health — lending the Skull Lord near-infinite reinforcements in every fight. Most foes flee before Var-Gall's power before long… but few live to get that chance.
The Sacred Order is convinced that the Skullsworn are necromancers, worshiping bones like the cults of Narbuk once did. The magic of the Skull Lord's Dragonkin crown is the strongest evidence they possess. Unfortunately for them, any justice they might mete out will have to wait — first, they have to capture him, and he has little interest in the Sacred Order's hospitality.
Skull Lord Var-Gall Storyline
Aeons ago, before the rise of Humans and Elves, Lizardmen – or Dragonkin, as they were known at the time – were an empire unto themselves. Their domain stretched far and wide, and none could challenge them… But all that now lies in the past. Today, the tribes of Lizardmen are but a shadow of their former selves. Most have reverted to barbarism, many embraced their bestial nature. But there is still a vestige of greatness, a memory of that mighty empire remains. Amid the lakes that were once sacred to their ancestors, a tribe known as the Skullsworn yet dwells. The name comes from their custom of fashioning the skulls of their dead and the enemies they slay into helms to be worn by warriors – a sign of respect and a chance for the departed to fight in the name of the Great Dragon once more. Alas, their glory had waned with the ages, and the tribe lost ground to rivals and foreign invaders. Finally, the scions of the Dark One threatened the very heart of the Skullsworn domain. It was then the tribe performed a ritual of bloody sacrifice to awaken their ancient defender, one whose tread would shake the earth and before whom all foes would scatter. It was a desperate plea for help, their last hope – and their Progenitor answered. Skull Lord Var-Gall, once a mighty warrior in service of the Dragonkin Priesthood awakened, called forth by the blood of his descendants. His heart filled with rage when he realized how low the once-feared tribe had fallen and how vile invaders now sought to defile the very waters of the lakes under his protection. With a blood-chilling below he surged forth, calling upon the primordial magic that resided in his blood to raise his fallen kin from the dead. With the newly-resurrected warriors bolstering their ranks and the revered Var-Gall leading them, the Skullsworn fell upon Siroth's demons, driving them back with tooth and claw. More of them perished, laid low by unholy blades in that battle, only to be risen once more by the magic of their ancestors and help turn the tide in favour of the Lizardmen. At the height of the battle, Var-Gall smashed his way through the Demonspawn vanguard and deep into the heart of their army. Many demons lay slain in his wake, but the Skull Lord's fury would not be sated until the land itself drowned in the tainted blood of the interlopers. He cleaved and slashed through ranks upon ranks of spawn until their leader, a mighty Demon Baron stood before him. This was an equal battle, for the leader of Siroth's minions was every bit as massive and brutal as the Skull Lord himself. He charged Var-Gall, effortlessly sweeping aside all the Skullsworn warriors who dared stand before him, and crashed into their Champion with enough force to utterly destroy a lesser mortal fighter. But Var-Gall would not be defeated so easily. Ignoring injury and pain, the Skull Lord rose to his feet once more and bellowed his challenge for all to hear. And so the two leaders clashed once more amidst the carnage of battle, each ripping into the other with claw and blade, not giving a single step of ground. The Demon Baron was a mighty foe in his own right, but Var-Gall had the strength of Ancestors empowering his every strike. This was no duel of skill and wit, both combatants fought like beasts, and Var-Gall proved to be the more vicious of the two. When he rose again, covered in terrible wounds but victorious, and raised the Demon Baron's head for all to see, the outcome of the battle was decided. Shattered by the loss of their leader, the Demonspawn withdrew in disarray. The Skullsworn pursued them without mercy and claimed many trophies that day. Var-Gall himself had the skull of the Demon Baron fashioned into a new ceremonial helm that marked his tribe's victory in the sight of the Great Dragon. But rather than return to his ageless slumber, the Skull Lord had chosen to remain and tread Teleria once more. He would not let his warriors fade into obscurity again, and all those who dared invade the ancestral lands of the Lizardmen would know his wrath.
Skull Lord Var-Gall Review
Skull Lord Var-Gall is a Legendary Defense Force affinity champion from the Lizardmen faction in Raid Shadow Legends. What sets Skull Lord Var-Gall apart is the unique fusion event that brought him into the game, where players had to collect 16 Skullsworn's by farming the challenging campaign stage 2 known as "The Sewers of Arnoc". However, obtaining these Skullsworn's proved to be a daunting task as it heavily relied on RNG (random number generation), with some players completing it swiftly while others spent thousands of energy in their pursuit.
Despite his lack of significant damage output, Skull Lord Var-Gall's base stats are nothing short of impressive, making him a formidable meat shield for any team. What truly sets him apart is his passive ability to revive fallen Skullsworn's, making him a valuable asset in battles against formidable foes such as the Fire Knight, Kuldath the Magma Dragon, and Faction Wars.
Skull Lord Var-Gall has also found his place in Platinum Arena defense teams, known for his tenacity and resilience in the face of adversaries. To optimize his defensive capabilities, players aim for high defense, speed, and resistance stats, with his substantial HP making him a viable candidate for a shield set.
In a significant turn of events, Skull Lord Var-Gall received a powerful buff in January 2022, propelling him to new heights of glory. His passive ability now works on bosses, making him the go-to champion for dismantling the Scarab Boss's shield. Experts recommend equipping him with a Regen set, paired with formidable tank stats, and strategically deactivating his skills, except for his A1, to fully unleash his potential.
As Skull Lord Var-Gall continues to make his mark in the world of Raid Shadow Legends, players are eager to harness his legendary powers and unleash him in battles against formidable foes. His unique fusion event and unmatched capabilities make him a force to be reckoned with, earning him a well-deserved reputation as one of the best champions in the game.
Skull Lord Var-Gall Updates
Skull Lord Var-Gall Videos
Raid Shadow Legends Skull Lord Var-Gall Champion Guide by StewGaming
Raid Shadow Legends Skull Lord Var-Gall Champion Guide by Chofly
Raid Shadow Legends Skull Lord Var-Gall Champion Guide by MurderInc
Raid Shadow Legends Skull Lord Var-Gall Champion Guide by Cold Brew Gaming
Raid Shadow Legends Skull Lord Var-Gall Champion Guide by AliAlPlays
Raid Shadow Legends Skull Lord and Skullsworm in Faction Wars by StewGaming
Raid Shadow Legends Skull Lord Champion Guide by Deathwish
https://youtu.be/IbvPe4kXDOw