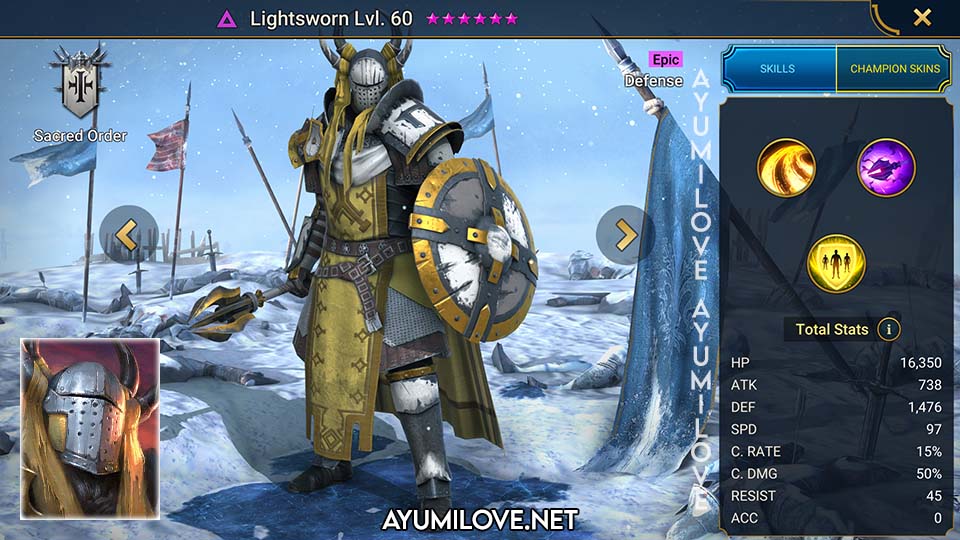 Overview

NAME: Lightsworn
FACTION: Sacred Order
RARITY: Epic
ROLE: Defense
AFFINITY: Void
RANK: A
USABILITY: Mid-Late Game
TOMES: 9 (A2 A3)

Abilities

RSL_AoE_IncreaseDefense_60%
RSL_AoE_ReviveOnDeath
RSL_Target_DecreaseAttack_50%
RSL_Target_DecreaseSpeed_30%
RSL_Target_DecreaseTurnMeter

Obtain from

Void Shard

Grinding

★★★★✰ Campaign
★★★★★ Arena Defense
★★★★★ Arena Offense
★★★★★ Clan Boss
★★✰✰✰ Hydra
★★★★✰ Faction Wars

Dungeons

★★★★★ Minotaur
★★★★✰ Spider
★★★★★ Fire Knight
★★★★✰ Dragon
★★★★✰ Ice Golem
★★★✰✰ Iron Twins

Potion

★★★★✰ Arcane Keep
★★★★✰ Void Keep
★★★★✰ Force Keep
★★★★✰ Spirit Keep
★★★★✰ Magic Keep

Doom Tower

★★★✰✰ Floors
★★★✰✰ Magma Dragon
★★★✰✰ Nether Spider
★★★★✰ Frost Spider
★★★★✰ Scarab King
★★★✰✰ Celestial Griffin
★★★✰✰ Eternal Dragon
★★✰✰✰ Dreadhorn
★★✰✰✰ Dark Fae
Lightsworn Skills
Teardown
Attacks 1 enemy 3 times. Decreases the target's Turn Meter by 10%
Level 2: Damage +5%
Level 3: Damage +5%
Level 4: Damage +10%
Level 5: Damage +10%
Damage Multiplier: 1 DEF
Overall Grading: Strong
Brutality (Cooldown: 4 turns)
Attacks 1 enemy. Places a 50% [Decrease ATK] debuff and a 30% [Decrease SPD] debuff for 2 turns.
Level 2: Damage +5%
Level 3: Damage +5%
Level 4: Damage +10%
Level 5: Cooldown -1
Damage Multiplier: 5 DEF
Overall Grading: Strong
Indomitable (Cooldown: 5 turns)
Places a 60% [Increase DEF] buff and a [Revive On Death] buff on all allies for 2 turns.
Level 2: Cooldown -1
Lightsworn Equipment Guide
Arena, Doom Tower, Faction Wars
Campaign, Clan Boss, Dungeons

Recommended Artifacts

2 Defense Set, 1 Speed Set

Recommended Artifacts

1 Lifesteal Set, 1 Accuracy Set
1 Lifesteal Set, 1 Speed Set

Recommended Stats

DEF%, C.RATE, C.DMG, SPD, ACC
Weapon (ATK)
Helmet (HP)
Shield (DEF)
Gauntlets (C.RATE / C.DMG)
Chestplate (DEF%)
Boots (SPD)
Ring (DEF)
Amulet (C.DMG)
Banner (ACC)

Recommended Stats

DEF%, HP%, SPD, ACC
Weapon (ATK)
Helmet (HP)
Shield (DEF)
Gauntlets (DEF% / HP%)
Chestplate (DEF% / HP% / ACC)
Boots (SPD)
Ring (DEF / HP)
Amulet (DEF / HP)
Banner (ACC)
Lightsworn Mastery Guide
Arena, Campaign, Clan Boss, Dungeons, Doom Tower, Faction Wars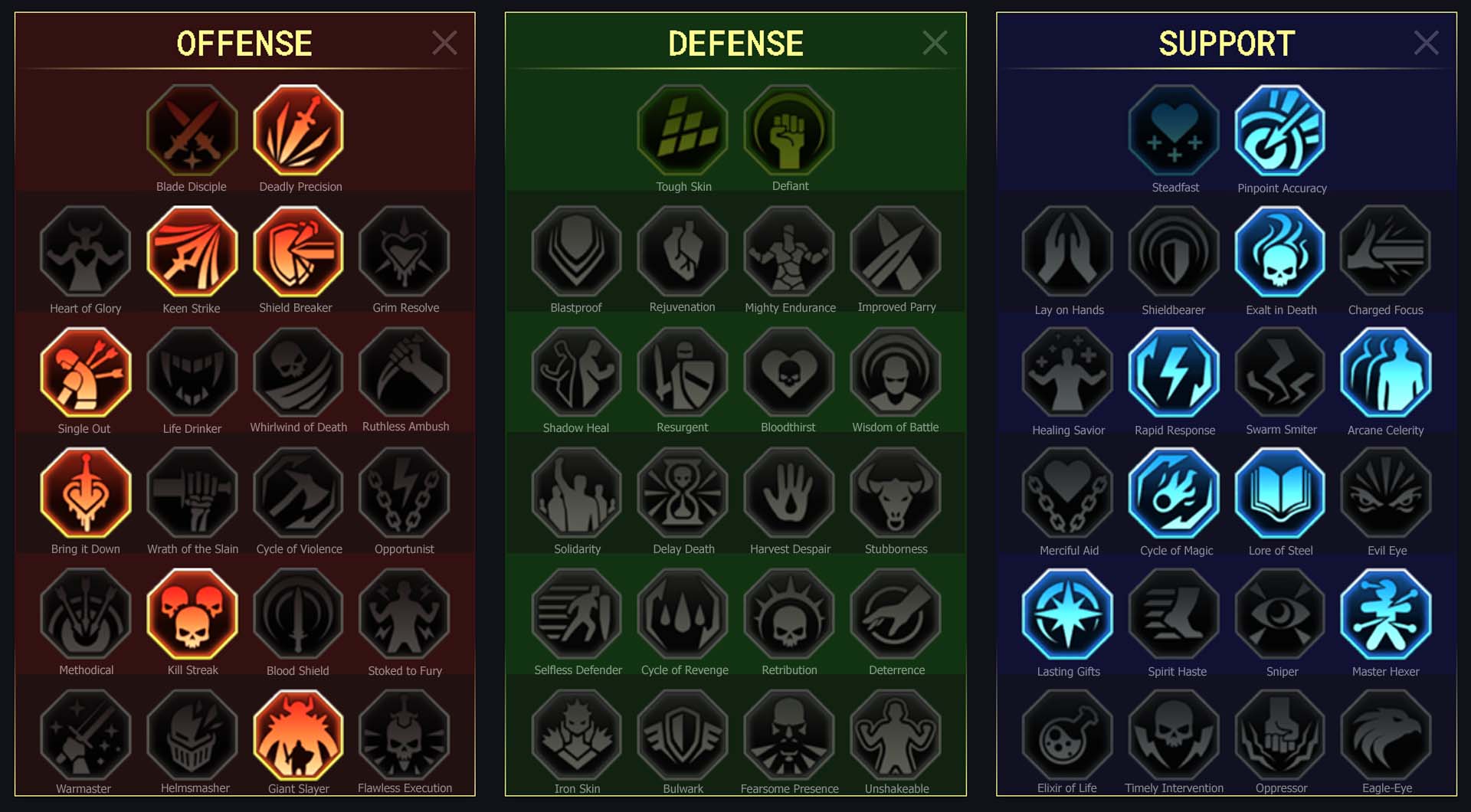 Offense

Deadly Precision
Keen Strike
Shield Breaker
Single Out
Bring it Down
Kill Streak
Giant Slayer

Support

Pinpoint Accuracy
Exalt in Death
Rapid Response
Arcane Celerity
Lore of Steel
Cycle of Magic
Lasting Gifts
Master Hexer
Lightsworn Storyline
The Lightsworn is a warrior of the Sacred Order who has devoted his life to defending the Order and its ideals. Armed with his heavy armor and mace, the Lightsworn puts his life on the line for both his Queen and his fellow brothers.
Lightsworn Review
Lightsworn is an Epic Defense Void affinity champion from the Sacred Order faction in Raid Shadow Legends. Adorned with hair/rope flowing from the horns of his helmet, and wielding a mighty mace and shield, Lightsworn is a force to be reckoned with on the battlefield.
What sets Lightsworn apart is his unique skill set that combines debuffs to hinder enemies and buffs to protect his team. With a powerful 3-hit A1 ability, Lightsworn can make use of the Giant Slayer mastery, a formidable tier 6 mastery, to gain additional damage from his A1 hits. His versatile kit includes an Increase Defense buff and a Revive on Death skill on his A3, allowing him to keep his team alive and in the fight.
Lightsworn's strategic capabilities are further evident in battles against tough opponents such as the Fire Knight and Spider, where his A2 ability can decrease speed and attack, providing more time for his team's damage dealers to finish the job.
Lightsworn's prowess extends beyond specific battles, as he proves to be a valuable asset in various game modes, from Clan Boss to Faction Wars and Dungeons, making him a versatile and formidable champion even in the late stages of the game.
Whether you're a seasoned veteran or a novice adventurer, Lightsworn's capabilities make him a champion worth considering for your team in Raid Shadow Legends. With his unique skill set and versatility, Lightsworn is a force to be reckoned with, ready to lead your team to victory!
Lightsworn Videos
Raid Shadow Legends Lightsworn Champion Guide by BGE
Raid Shadow Legends Lightsworn Champion Guide by AliAlPlays
Raid Shadow Legends Lightsworn Champion Guide by StewGaming
Raid Shadow Legends Lightsworn in Unkillable Clan Boss Guide by JGigs