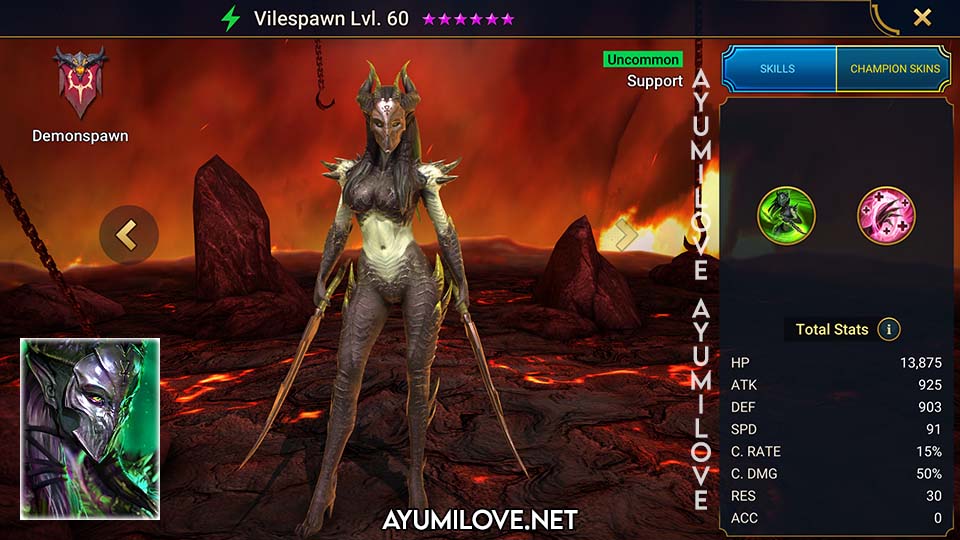 Obtain from

Mystery Shard
Market

Overview

NAME: Vilespawn
FACTION: Demonspawn
RARITY: Uncommon
ROLE: Support
AFFINITY: Spirit
RANK: C
USABILITY: N/A
TOMES: 7 (N/A)

Total Stats (6★)

Health Points (HP): 13,875
Attack (ATK): 925
Defense (DEF): 903
Speed (SPD): 91
Critical Rate (C.RATE): 15%
Critical Damage (C.DMG): 50%
Debuff Resistance (RESIST): 30
Debuff Accuracy (ACC): 0

Grinding

★✰✰✰✰ Campaign
★✰✰✰✰ Arena Defense
★✰✰✰✰ Arena Offense
★★✰✰✰ Clan Boss
★✰✰✰✰ Faction Wars

Dungeons

★★✰✰✰ Minotaur
★✰✰✰✰ Spider
★✰✰✰✰ Fire Knight
★★✰✰✰ Dragon
★★✰✰✰ Ice Golem

Potion

★★✰✰✰ Arcane Keep
★★✰✰✰ Void Keep
★★✰✰✰ Force Keep
★★✰✰✰ Spirit Keep
★✰✰✰✰ Magic Keep

Doom Tower

★✰✰✰✰ Floors
★✰✰✰✰ Magma Dragon
★✰✰✰✰ Nether Spider
★✰✰✰✰ Frost Spider
★✰✰✰✰ Scarab King
★✰✰✰✰ Celestial Griffin
★✰✰✰✰ Eternal Dragon
★✰✰✰✰ Dreadhorn
★✰✰✰✰ Dark Fae
Vilespawn Skills
Hellblight [ATK]
Attacks 1 enemy. Has a 5% chance of placing a 25% [Decrease ATK] debuff for 2 turns.
Level 2: Damage +5%
Level 3: Damage +5%
Level 4: Damage +5%
Level 5: Damage +5%
Level 6: Buff/Debuff Chance +5%
Level 7: Buff/Debuff Chance +10%
Level 8: Buff/Debuff Chance +10%
Damage Multiplier: 3.3 ATK
Flesh Knit (Cooldown: 3 turns)
Heals an ally by 10% of their MAX HP.
Vilespawn Equipment Guide
Arena, Campaign, Clan Boss, Dungeons, Doom Tower, Faction Wars

Recommended Artifacts

Accuracy, Perception, Speed, Life, Resilience

Stats Allocation

Weapon (ATK)
Helmet (HP)
Shield (DEF)
Gauntlets (HP% / DEF%)
Chestplate (HP% / DEF% / ACC)
Boots (SPD)
Ring (HP / DEF)
Amulet (HP / DEF)
Banner (ACC / HP / DEF)

Stats Priority

HP%, SPD, ACC, DEF%
Vilespawn Mastery Guide
Arena, Campaign, Clan Boss, Dungeons, Doom Tower, Faction Wars
Offense

Deadly Precision
Keen Strike
Single Out
Bring it Down
Methodical
Warmaster

Support

Steadfast
Lay on Hands
Exalt in Death
Healing Savior
Arcane Celerity
Lore of Steel
Evil Eye
Master Hexer
Sniper
Vilespawn Storyline
Vilespawn are half-demon, half-mortal creatures, exhibiting the traits of both. It is often hard or even impossible to predict whether their demonic nature will prevail and turn them to evil. However, as the name suggests, Vilespawn are rarely welcome among the superstitious folk of great Telerian kingdoms. Often driven to a life of crime or even striking dark pacts with the very creatures that sired them, Vilespawn are often not distinguished from Siroth's own minions by the commoners. However, the powers of their blood are not necessarily used in malice. Indeed, some of them can heal as well as harm living flesh. It all depends on how the Vilespawn is willing to use their talents.