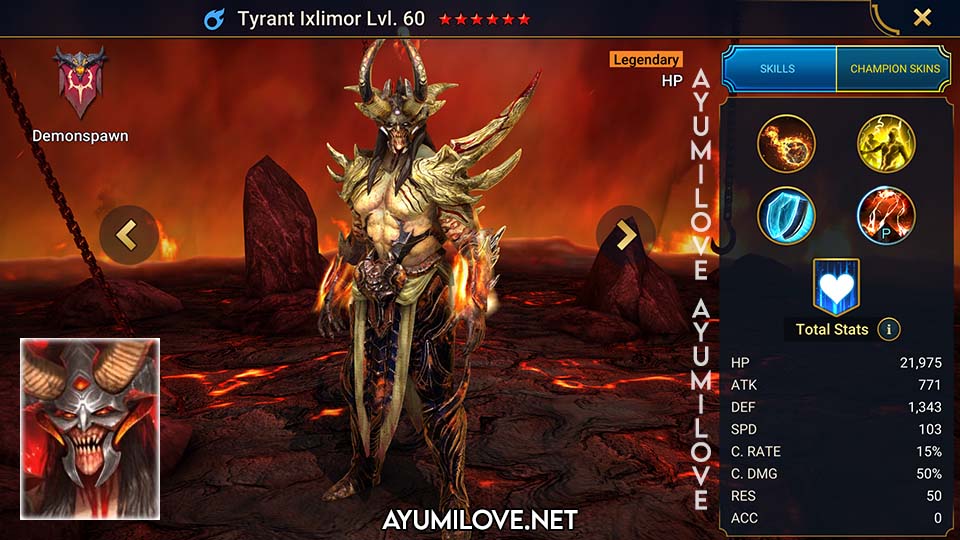 Overview

NAME: Tyrant Ixlimor
FACTION: Demonspawn
RARITY: Legendary
ROLE: HP
AFFINITY: Magic
RANK: A
USABILITY: Mid-Late Game
TOMES: 9 (A2 A3)

Abilities

RSL_AllBattles_HpAura
RSL_AoE_AllyProtection_50%
RSL_AoE_HpBurn
RSL_AoE_IncreaseDefense_60%
RSL_AoE_Passive_Enemy
RSL_Self_Heal

Obtain from

Ancient Shard
Sacred Shard

Blessings Recomemndation

Brimstone (Late Game)

Grinding

★★★★★ Campaign
★★★★★ Arena Defense
★★★★★ Arena Offense
★★★★★ Clan Boss
★★★★★ Hydra
★★★★★ Faction Wars

Dungeons

★★★★★ Minotaur
★★★★★ Spider
★★✰✰✰ Fire Knight
★★★★★ Dragon
★★★★★ Ice Golem
★★★★✰ Iron Twins
★★✰✰✰ Sand Devil
★★✰✰✰ Phantom Shogun

Potion

★★★★✰ Arcane Keep
★★★★✰ Void Keep
★✰✰✰✰ Force Keep
★★★★✰ Spirit Keep
★★★★✰ Magic Keep

Doom Tower

★★★★★ Floors
★✰✰✰✰ Magma Dragon
★★★★✰ Nether Spider
★★★★★ Frost Spider
★✰✰✰✰ Scarab King
★★★✰✰ Celestial Griffin
★★★★★ Eternal Dragon
★✰✰✰✰ Dreadhorn
★★★✰✰ Dark Fae
Tyrant Ixlimor Skills
Feast of Flame [DEF]
Attacks 1 enemy. Heals this Champion by 25% of the damage inflicted. Heals this Champion by 50% of the damage inflicted instead if the target is under a [HP Burn] debuff.
Level 2: Damage +5%
Level 3: Damage +5%
Level 4: Damage +10%
Damage Multiplier: 2.5 DEF
Hellfire Torrent [DEF] (Cooldown: 4 turns)
Attacks all enemies. Has a 75% chance of placing a [HP Burn] debuff on all enemies for 3 turns.
Level 2: Damage +5%
Level 3: Damage +10%
Level 4: Buff/Debuff Chance +10%
Level 5: Buff/Debuff Chance +15%
Level 6: Cooldown -1
Damage Multiplier: 3.6 DEF
Infernal Minions (Cooldown: 4 turns)
Places a 50% [Ally Protection] buff on all allies except this Champion for 2 turns. Places a 60% [Increase DEF] buff on all allies for 2 turns.
Level 2: Cooldown -1
Fires of Doom [Passive]
Decreases damage inflicted by enemies under [HP Burn] debuffs by 10%.
Aura
Increases Ally HP in all Battles by 25 %.
Tyrant Ixlimor Equipment Guide
Arena, Doom Tower, Faction Wars
Campaign, Clan Boss, Dungeons

Recommended Artifacts

2 Defense Set, 1 Speed Set

Recommended Artifacts

1 Lifesteal Set, 1 Accuracy Set
1 Lifesteal Set, 1 Speed Set

Recommended Stats

DEF%, HP%, SPD, ACC
Weapon (ATK)
Helmet (HP)
Shield (DEF)
Gauntlets (DEF% / HP%)
Chestplate (DEF% / HP%)
Boots (SPD)
Ring (DEF / HP)
Amulet (DEF / HP)
Banner (ACC)

Recommended Stats

DEF%, HP%, SPD, ACC
Weapon (ATK)
Helmet (HP)
Shield (DEF)
Gauntlets (DEF% / HP%)
Chestplate (DEF% / HP%)
Boots (SPD)
Ring (DEF / HP)
Amulet (DEF / HP)
Banner (ACC)
Tyrant Ixlimor Mastery Guide
Arena, Doom Tower, Faction Wars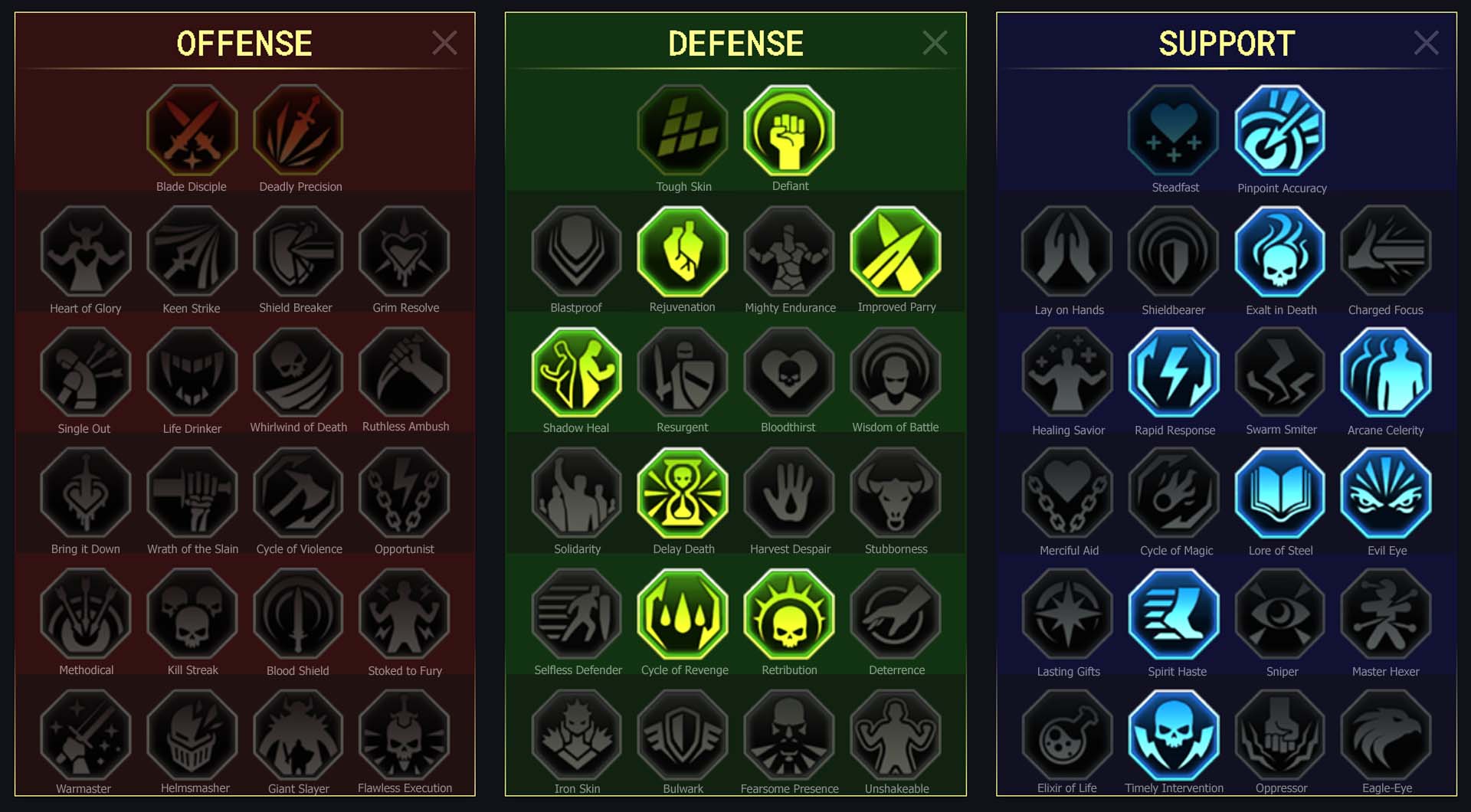 Defense

Defiant
Rejuvenation
Improved Parry
Shadow Heal
Delay Death
Cycle of Revenge
Retribution

Support

Pinpoint Accuracy
Exalt in Death
Rapid Response
Arcane Celerity
Lore of Steel
Evil Eye
Spirit Haste
Timely Intervention
Campaign, Clan Boss, Dungeons
Offense

Deadly Precision
Keen Strike
Heart of Glory
Single Out
Life Drinker
Bring it Down
Methodical
Kill Streak
Warmaster

Support

Pinpoint Accuracy
Exalt in Death
Swam Smiter
Lore of Steel
Evil Eye
Master Hexer
Tyrant Ixlimor Champion Lore
Alongside the Dungeon of Torments, the Hellfire Wastes is one of the most infamous regions of Anathraad, the dreaded realm ruled over by the Shadow God, Siroth. A place of sulfur, brimstone, and undying fire, it is among the most prominent parts of Anathraad in many mortal stories, a seat of eternal punishment. Less well known is the fact that for many centuries its ruler was also its prisoner.
Ixlimor was one of Siroth's Firstborn Demonspawn. Strong, boastful, and redolent with pride, he led and fought in the vanguard of the armies of darkness and won many great victories. He soon began to grow disillusioned, however, when a more senior Demonspawn general, Mortu-Macaab, received much of the plaudits and reaped the rewards. Ixlimor became jealous, and started clashing openly with Mortu-Macaab, demanding he be shown what he thought of as respect befitting his success. When Mortu-Macaab passed off his anger as childish and petty, he only grew more enraged.
Ixlimor decided to challenge Mortu-Macaab for his position of generalship, preparing in secret for the duel he knew would ensue once he declared it. Siroth learned of all things that passed within his realm, and soon came to know of Ixlimor's intentions, but did nothing to intervene. The Shadow God prized strength in all matters, and Ixlimor's upstart attitude was just the thing to keep Mortu-Macaab focused and aware that his station was not inviolable.
The challenge was issued, and the two great Demons met in combat before the gaze of Siroth and much of the twisted nobility of Anathraad, out on the Sundered Plains. Long and vicious was the battle, both combatants venting their frustrations and their hatred on one another. Mortu-Macaab's station was well won, however, and try as he might, Ixlimor could not get the better of him. He was defeated, cast down and broken, brutalized by the pounding of Mortu-Macaab's fists and the gouging of his great horns.
The pain of Ixlimor's injuries was nothing compared to the pain of knowing that he had lost. Anathraad's hierarchy was built on aggression and strength, and failure was to be abhorred. Ixlimor fell immediately from Siroth's favor and, on the Shadow God's orders, was cast out. He was banished to the Hellfire Wastes, a place of eternal, ethereal flames and barren, razor-sharp rock, inhabited only by the most desperate, lesser Demonspawn.
Long did Ixlimor wander amid the flames, their rage and heat slowly seeping into his very soul. The fires healed his wounds and blackened his flesh. Some say they helped ensure that his fury never faded. As his strength returned, he embarked on a fresh campaign. If he could not lead Siroth's grand armies, he would at least become the ruler of the benighted place he had been banished to. After mastering the flames and bending them to his will, he set out to secure the fealty of the Demonic imps, sprites, and outcasts consigned to the Hellfire Wastes. Their first allegiance would always be to Siroth, but after that it would be Ixlimor — now styling himself as Tyrant — whom they would obey.
Ixlimor's efforts proved successful, and the denizens of the Wastes now bow before him. Siroth has long been aware of Ixlimor's activities, and it may be that they please him. While banishment seemed a fittingly harsh punishment at the time, Siroth always looks to push the boundaries of his underlings, and some members of his Demonic court whisper that the Shadow God hopes being cast out will allow Ixlimor to recover his strength and purpose, and become greater than he was before. Certainly, if that is Siroth's intention, he seems to have succeeded. An army of Demonspawn outcasts and lesser creatures of Anathraad now follows Ixlimor's every command, and it appears that the Tyrant is just biding his time until he marches from the Wastes and demands his banishment be lifted. There is little doubt he will then once more challenge Mortu-Macaab for greatness. Some believe that his fiery need for vengeance goes even further, and that one day there will be a reckoning between the Tyrant of the Hellfire Wastes and Siroth himself.
Tyrant Ixlimor Storyline
Ixlimor is an ancient demon of considerable power, reigning as the self-proclaimed Tyrant of the Hellfire Wastes that lie in the heart of Siroth's infernal domain. As the name suggests, it is a region steeped in ethereal flames that scorch and burn every creature that has the audacity to dwell there. No mortal can enter and survive, that is beyond question. Even demons themselves often find the conditions intolerable, their immortal flesh blackening and turning to blister-covered ruin when exposed to the flames… Though perhaps that is why Ixlimor has chosen the Wastes as his domain. A warrior at heart, he enjoys challenging his rivals to bitter wars for power and influence. His impenetrable fortress serves the Tyrant well and, thus far at least, no foe managed to inflict a grievous enough defeat that he could not recover from. Even when beaten, Ixlimor can retreat to his stronghold and plot revenge that will be exacted upon the offenders in due time. But such rivalry and powerplays are forgotten – temporarily – when the Dark Lord himself calls upon his minions to go forth and bring war and destructions to the pathetic mortals of Teleria. Ixlimor follows just as others of his kind do. And though far from his burning domain, the Tyrant still brings a portion of those flames with him, gleefully unleashing the soul-scorching hellfire upon all those foolish enough to stand against Siroth and his chosen servants.
Tyrant Ixlimor Updates
Tyrant Ixlimor Videos
Raid Shadow Legends Tyrant Ixlimor Champion Guide by MurderInc
Raid Shadow Legends Tyrant Ixlimor Champion Guide by SecondStar Right
Raid Shadow Legends Tyrant Ixlimor Champion Guide by Sir Jaxo