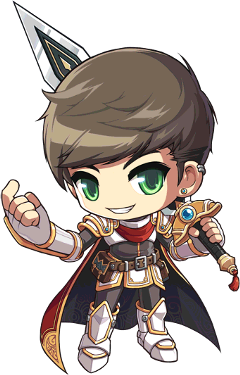 MapleStory Warrior can advanced as Hero, Paladin or Dark Knight. This specific job route is determined when you reach Level 30. This guide takes account of the new changes aka revamp made by KMS (Korea MapleStory) Developers starting off with kMSt ver. 1.2.478 – Adventurer Warrior and Magician Reorganizations Patch! Some of the old skills are replaced with other functional that highlights each job's uniqueness whereas the previous skills has some skill animation makeover. Adventurer jobs now have specialized skills, which are automatically learned at 2nd job advancement (4th for some classes). These skills have a max level of 1 and are not reset when an SP Reset Scroll is used.
Warrior Overview
CLASS: Adventurer/Explorer
EQUIPMENT TYPE: Warrior
PRIMARY WEAPON: Polearm, Spear, Sword, Mace, Axe
SECONDARY WEAPON: *This is determined on 2nd-job*
PRIMARY STAT: Strength (STR)
LINK SKILL: None
MAPLE UNION EFFECT: *This is determined in 2nd-job*
BEST INNER ABILITY: *This is determined in 2nd-job*
Warrior Beginner Skills
Please refer to Explorer Beginner/Novice Skill Build Guide for more details as it is shared among Warrior, Archer, Magician, Thief and Pirate.
Warrior 1st Job Skills (GMS | MSEA)

Slash Blast (Active)
Consumes MP to attack nearby enemies all at once.
Level 1: MP Cost: 3, Damage: 183%, Max Enemies Hit: 6
Level 20: MP Cost: 6, Damage: 335%, Max Enemies Hit: 6

War Leap | Warrior Leap (Active)
Use while in the middle of a jump to jump even further. The jumping distance increases as the skill level increases.
Level 1: MP Cost: 15, jumps further
Level 10: MP Cost: 5, jumps further
Iron Body (Passive)
Boosts DEF and Max HP by a set percentage, and decreases damage taken when hit by enemies.
Level 1: DEF: +10, Max HP: +1%, Damage Taken: -1%
Level 20: DEF: +200, Max HP: +20%, Damage Taken: -10%

Warrior Mastery (Passive)
Trains up your warrior basics to increase Movement Speed, Jump, Max HP, and Max Movement Speed. Also grants a chance to resist knockback.
Level 1: Speed +3, Jump +3, Max Speed +3, Max HP per level +6. 12% chance to activate Power Stance effect.
Level 15: Speed +10, Jump +10, Max Speed +10, Max HP per level +20. 40% chance to activate Power Stance effect.
Swordman Skill Build Guide: Everything maxed.
1. Slash Blast (1), War Leap (3)
2. War Leap (MAX)
3. Slash Blast (MAX)
4. Warrior Mastery (MAX)
5. Iron Body (MAX)
Explanation:
You gain 5 SP upon completing 1st job advancement. Warrior primary attacking skill will be Slash Blast. However, you will not have sufficient SP to max all skills in 1st job. Therefore, cap Slash Blast at Level 19/20 once you have maxed War Leap to perform 1HKO (1-hit KO on monsters). Max War Leap before Warrior Mastery because it is much faster than speed walking. Also War Leap allows you to jump from 1 platform to the other, making training and traveling much convenient. Then, max Warrior Mastery for the passive bonus speed, jump and critical rate. Finally max, Iron Body so you can reduce damage inflicted by enemies. The reason why we max Iron Body instead of Slash Blast is because Slash Blast will be replaced with another powerful attacking skill at 2nd job, 3rd and 4th job whereas Iron Body can be use simultaneously with other buff skills for extra defense regardless different job advancements.
Additional Information
Warrior Changelog
GMS
MSEA