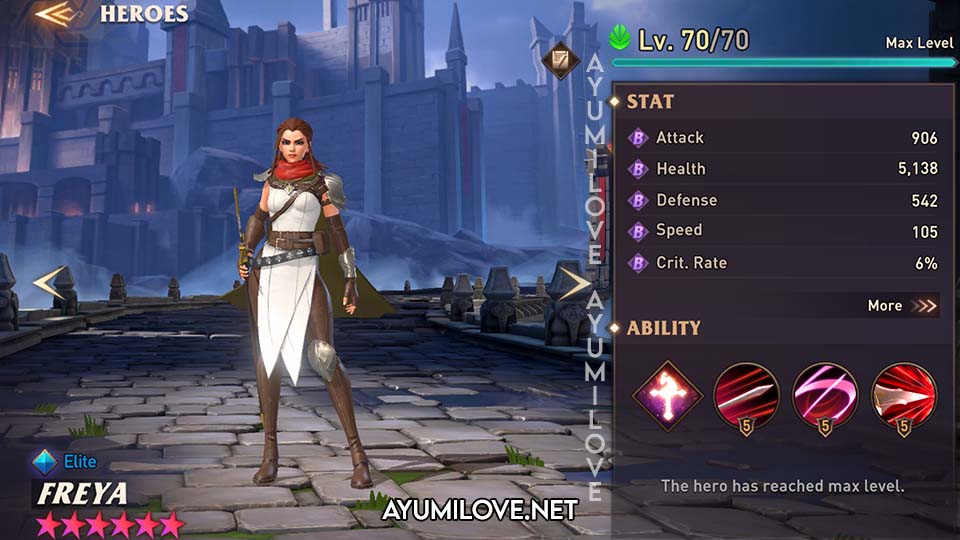 Overview

NAME: Freya
FACTION: Lasir
RARITY: Elite
ELEMENT: Wood
TYPE: Support
RANK: B

Abilities

ACE_Random_JointAttack
ACE_Target_Bleeding
ACE_Target_DefenseDown
ACE_Target_NoPositiveEffect
ACE_Target_Unhealable
ACE_Target_SpeedDown

Synthesizes Hero

Grinding

★✰✰✰✰ Adventure
★✰✰✰✰ Guild Boss
★✰✰✰✰ Arena Offense
★✰✰✰✰ Arena Defense
★★✰✰✰ Void Tower

No Man's Land

★✰✰✰✰ Bane Wraith
★✰✰✰✰ Flame Lizard
★★★✰✰ Wrathful Flood
★✰✰✰✰ Lord of Holy Light
★✰✰✰✰ Shadow Captive

Arcane Dominator

★✰✰✰✰ Roaring Tulpa
★✰✰✰✰ Ash Magisteria
★★★✰✰ Queen of Tides
★★★✰✰ Witch of Wind
★✰✰✰✰ Gemini Dragon
Freya Skills
Basic Fencing (Trait → Ascension)
Valid hits that deal damage have a (50% → 100%) chance to apply Defense Down to the target for 1 turn.
Defense Down : -30% Defense.
Thrust (Basic)
Launches 2 strikes dealing 90% total damage to an enemy. Each strike has an 80% chance to apply Speed Down for 2 turns.
Level 2: Damage +10%.
Level 3: Effect application chance +20%.
Level 4: Damage +10%.
Level 5: Damage +10%.
Speed Down: -30 Speed.
Foil (Special, Cooldown: 3 turns)
Deals 130% damage to an enemy and applies Bleeding for 2 turns. Launches a joint attack with a random ally.
Level 2: Damage +10%.
Level 3: Damage +10%.
Level 4: Damage +10%.
Level 5: Damage +10%.
Bleeding: At the end of the turn, deals damage based on the caster's Attack.
Fatal Strike (Ultimate, Cooldown: 4 turns)
Deals 220% damage to an enemy and applies Unhealable and No Positive Effects for 2 turns.
Level 2: Damage +20%.
Level 3: Ability cooldown is reduced by 1 turn.
Level 4: Damage +20%.
Level 5: Damage +20%.
Unhealable: Received healing effects are reduced by 100% (excludes Life Steal).
No Positive Effects: This character will not be affected by any subsequent positive effects.
Freya Gear Guide
Arena, Adventure, Dungeons, Incursion

Recommended Gear Sets

Warrior, Rage

Stats Allocation

Weapon (ATK)
Head (Health)
Chest (Defense)
Boots (Speed / Attack%)
Ring (Critical Rate / Attack%)
Necklace (Focus)

Stats Priority

Attack%, Critical Rate, Critical Damage, Speed, Focus
Freya Hero Synergy
Freya Updates
Freya Bio
From a very young age Freya made it clear that she wasn't interested in the "proper" way of life her father had built for her. She was always interested in growing stronger, only truly feeling at home when a sword was in her hands. At the age of eleven, Freya's parents tragically died. Feeling overwhelmed by her situation, Freya escaped from Lasir – running into the dangerous lands of Crisas.
While most children would crumble in these dangers, Freya was able to fight off all that tried to attack her. Things turned towards the better for her when she stumbled upon a group of wandering outcasts who offered to teach her martial arts. Upon asking where they had originated, they pointed her in the direction of the Free Cities, where she was then able to train under Zachary – one of the strongest warriors in all the land. Initially, Zachary was not impressed by Freya.
Though she had crossed through the most dangerous desert in the world at a young age, he viewed her as being weak and unlikely to be able to stick with his strict training techniques. Freya was determined to find a way to prove her skills, and through this – she entered a fighting contest where she beat his top student.