Zombies Inc is a management game where you as the CEO of the company strive for world domination! This is done by amassing zombie army, invade-conquer-infect city, and sell products to the zombie population to fund for your cause! Conquer 13 territories to rule the world! There are 30 achievements and 3 difficulties to play.
Zombies Inc Strategy Guide
What is Zombies Inc Win and Lose Scenario?
You win Zombies Inc game by capturing all 13 territories cities.
You lose Zombies Inc if you go bankrupt. (No funds in your company)
How to earn money in Zombies Inc?
You need zombie population to sell your zombie products to them.
Zombie population is gained through capturing and infection cities using zombie army.
The more zombie population you have, the more money flows in (more products sold)
Increase zombie product earnings by upgrading them in Manage Sale Department.
How to speed run this game?
Use few zombie types for your world conquer campaign.
Conquer territories effectively without wasting money on mediocre zombie soldier.
Channel your funds into hiring more employees in Sales Department.
The more products you have in sale, the more money you will earn from population.
What Zombies should I use to conquer cities effectively?
Personally, I start off with these zombies (all max upgrade):
Zombie > Meathead > Tentacle Zombie > Zombie Hero
Zombie conquers South Pole, North Pole and Africa.
Meathead conquers Canada, South Asia, South America and Central America.
Tentacle Zombie conquers Australia.
Zombie Hero conquers remaining territories, China, Russia, Europe and United States.
To avoid losses of zombie soldiers, you need to have more soldiers than the defender.
Recapture cities or towns if human had taken over before it grows stronger.
Hire more commander to enable more soldiers to invade highly defended city.
If you chose hardest difficulty mode in Zombies Inc, I suggest you check out the list of Zombies Soldier below. There are certain types of Zombies which are very effective within certain territories such as Tentacle Zombie, Cinder Zombie, Plague Zombie and Mobster Zombie. Zombie Hero is an exception as its a legendary Zombie that works best in all territories.
Zombies Inc Product Guide
Hire Product Designer to unlock new products to be sold to zombies.
Zomb-Aid : requires 1 zombie researcher.
Brain-Freeze : $3 (5 employee)
Colla-Gel : $6 (5 employee)
Zomg BBQ : $9 (5 employee)
Zomask : $15 (5 employee)
H.S of the Living : $21 (9 employee)
Fumes de Doom : $30 (5 employee)
A Human's Quest : $45 (5 employee)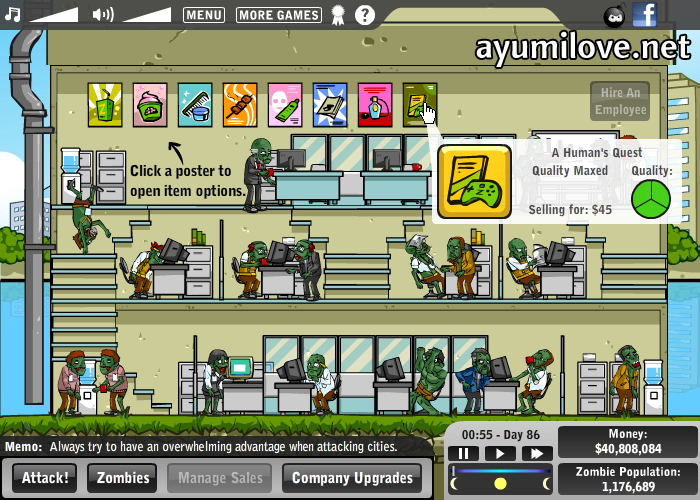 Zombies Inc Soldier Guide
You hire Zombologist to unlock new soldier types to be added into your army.
Below is a list of Zombies Soldier with total Zombologist required.
Zombie is an all-round zombie. (1 employee)
Meathead has higher attack. (3 employee)
Headless Zombie has higher defenses. (4 employee)
Berserk Zombie (7 employee)
Trojan Zombie : High Defense, Average Attack, Low Speed (8 employee)
Tentacle Zombie : Super Effective in Japan (11 employee)
Cinder Zombie : Super Effective in Russia (13 employee)
Plague Zombie : Super Effective in Europe (15 employee)
Mobster Zombie : Super Effective in United States (17 employee)
Zombie Hero : Legendary Epic Attack, Defense and Speed (19 employee)