Talesworth Adventure Forest Levels
A Mysterious Statue
Questy begins his adventure in a small glade. A winding path leads to the great forest in the west bu impassable rocks block the ways to the dark Caves the chilling Mountains. He also sees an imposing statue that is missing three rare artifacts.
Simple Green (Platinum)
Loot on the Horizon (Gold)
Questy will always chase teh closest loot bag he can see. This is a very important rule of adventuring. Hint: Put a loot bag on the Green X.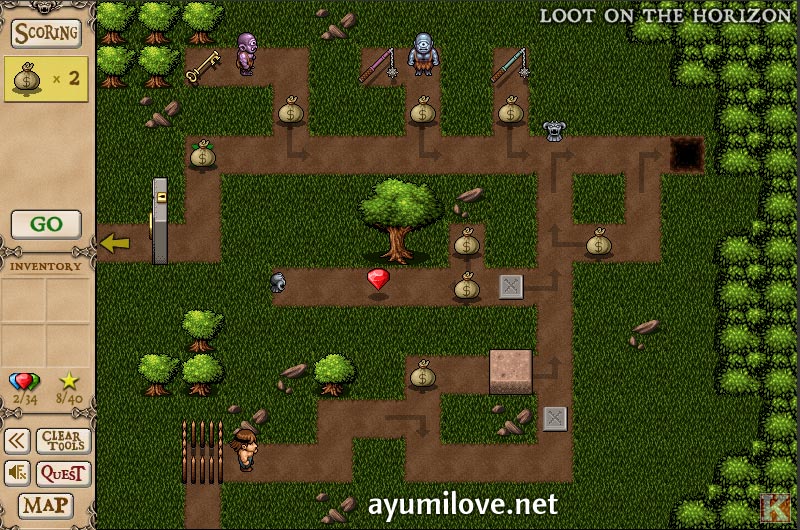 Line of Sight (Gold)
Hint: stone blocks and one-way gates can both block arrows and keep Questy safe.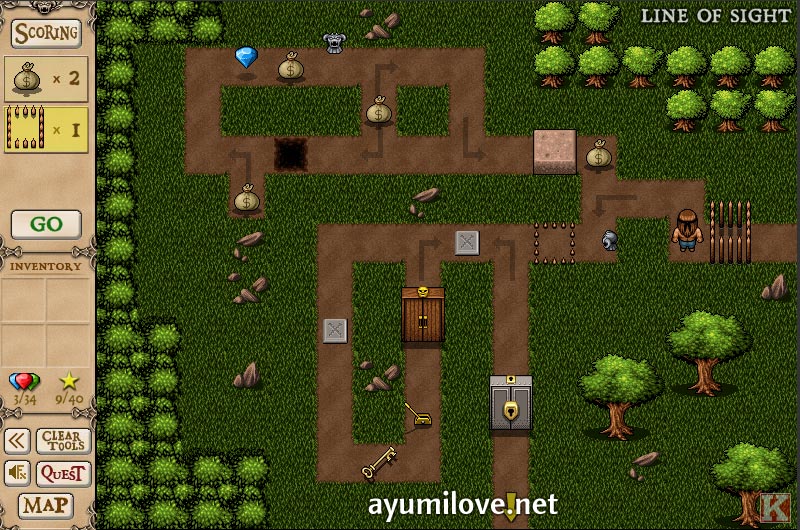 He Had it Coming (Gold)
Click the small button with arrows in the sidebar to make Questy go FAST or SLOW.
Blocks Blocking Bad Stuff (Gold)
Some rooms have exit paths that lead to special bonus rooms! Your solution must also lead Questy into this room if you wish to score a Gold star.
Bonus Room: Secret Grove (Gold)
You have discovered a Bonus Room! These mysterious rooms are extra challenging, but they can be skipped.
This is Sparta (Gold)
Grog, Overlord of the Forest (Gold)
Questy enters a large glade and sees a terrifying giant rising from the center, high above the trees. Form his helmet, he sees the magic Ebon Horn glinting in the sunglight.
With Green Axe in hand, Questy approached the massive Hill Giant. High above him, the magical Ebon Horn gleamed from its place in the Gian'ts helmet. Questy struck true with his weapon, felling the beasdt with a single blow. The Giant let out a deafening roar as he collapsed in a heap. Questy reached towards the helmet. With little effort, he cracked off the Ebon Horn and continued on his adventure. Back at the forest entrance, the Horn flew from Questy's hands and snapped into the eerie statue!