Hi guys! Today I'll be reviewing the Kingston HyperX Cloud Core Headset that was sent to me by GearBest.com for my honest assessment. This headset design looks similar to the latest Kingston HyperX Cloud 1 and 2 Gaming Headset. The differences between these 3 headsets are the pricing and accessories.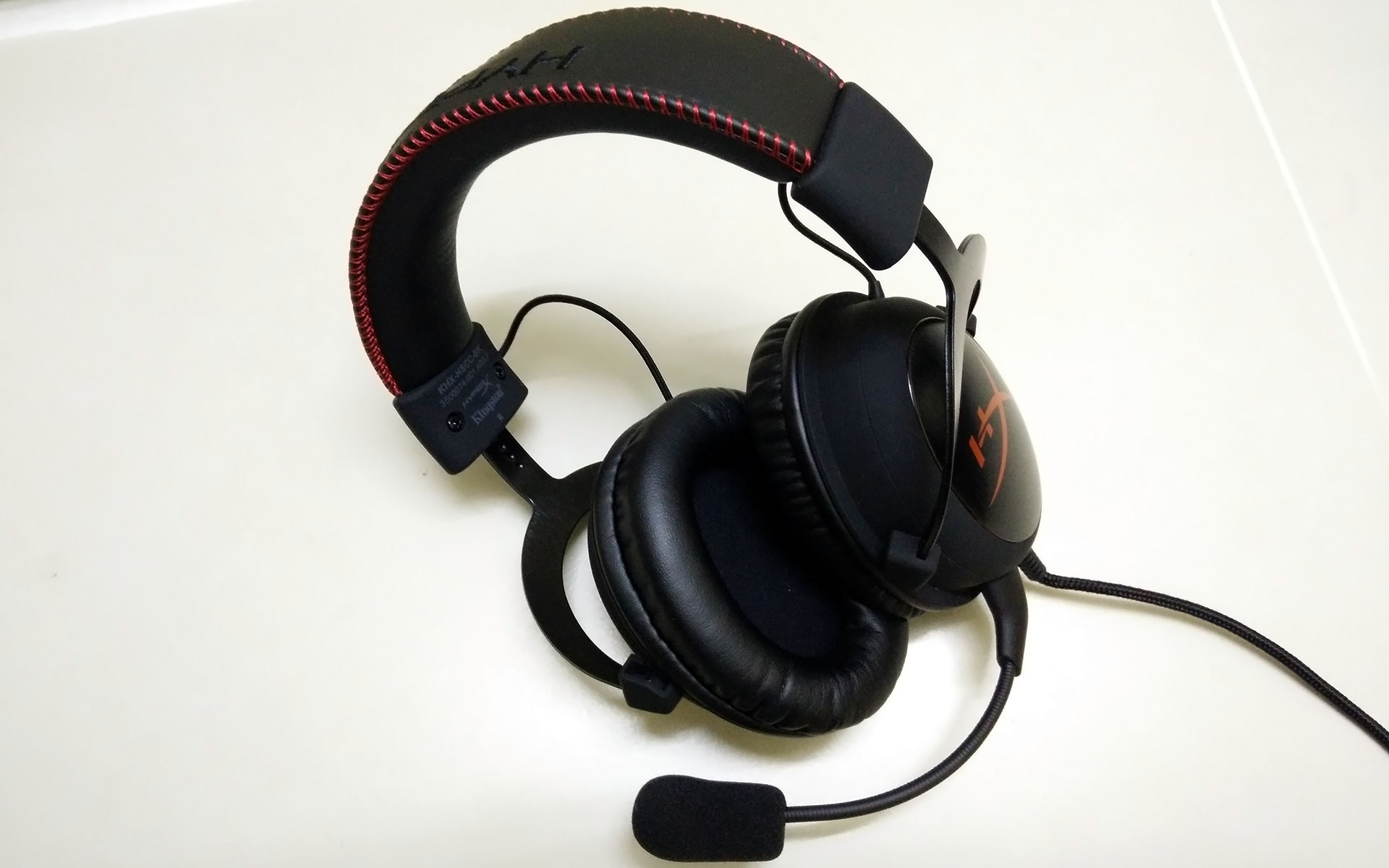 Kingston HyperX Cloud Headset Overview:
Cloud Core is the least expensive ($69) which provides the basic accessories (extension cable for mic+audio, removable microphone). Cloud 1 ($79) provides additional items on top of Cloud Core which are velour ear cushions, travel friendly mesh bag, audio volume/mute controller and airplane adapter. Cloud 2 ($99) provides the same accessories as Cloud 1 but uses a premium digital microphone, headband memory foam and includes an advanced audio control box (with inbuilt internal sound card DSP for amplifying audio and voice) for 7.1 Virtual Surround Sound! Cloud 1 provides 2 color options (white-black / red-black), Cloud 2 provides 3 color options (red-black / pink-white / black-black) while Cloud Core only has 1 color option which is red-black.
Product Feature
Designed in Sweden and recommended by the world's most elite gaming organizations
Extremely comfortable light weight headset with leatherette memory foam ear cups and extra set of velour ear cups
Over-the Ear headphone with noise isolating ear cups and detachable microphone
53mm hifi capable drivers with 15-25khz frequency response
Tangle free braided cables with inline volume control and mic-mute controls
Compatibility with PCs, notebooks, tablets, mobile phones, airplane adapters and PS4 consoles
Two year warranty
Product Description
Enhanced Comfort: HyperX Cloud comes with memory foam ear pads and interchangeable ear cups for varying sound profiles and different texture options.
Pro-Gaming Optimized: HyperX Cloud is recommended by elite gaming organizations². It's the official headset of such professional gaming organizations as Team Liquid and SK-Gaming.
Superior Audio Performance: HyperX Cloud is HiFi capable with 53mm drivers and delivers superior audio performance in gaming or professional audio environments. Its crystal-clear low, mid and high tones plus enhanced bass-reproduction creates an immersive gaming experience.
Detachable Premium Microphone: The detachable premium microphone has a slimmer mic windshield and is easy to plug in for gaming use – or unplug it to listen to music.
From HyperX, a Leader in eSports: HyperX supports some of the best gaming teams in the world. While you might not be a pro yet, you can certainly game with the same equipment they do.
Product Specification
Headphone Driver: 53mm
Frequency response: 15Hz-25,000Hz
Nominal Impedance: 60 Ω per system
Nominal SPL: 98±dB
T.H.D. < 2%
Microphone Transducer type: condenser (back electret)
Operating principle: pressure gradient
Polar pattern: cardioid
Packaging and Unboxing
Packaging-1: Here is the front and rear of the HyperX Cloud Core Gaming Headset Packaging. It displays some of the physical features of the headset.

Packaging-2: Here is the sides (left and right) of the packaging. The right side mentioned that the headset uses memory foam for its ear pads, can be worn on the go, 2 meter extension cable and also comes with a detachable microphone. The left side described that its an official headset of profesional gaming organizations such as WCI Gaming, Newbee, SK Gaming, Machi, TeamLiquid, HyperX Girls and Intel Extreme Masters ESL.

Unboxing: Opening up the box reveals the headset, detachable microphone with foam to prevent wind noise, and the extension cable.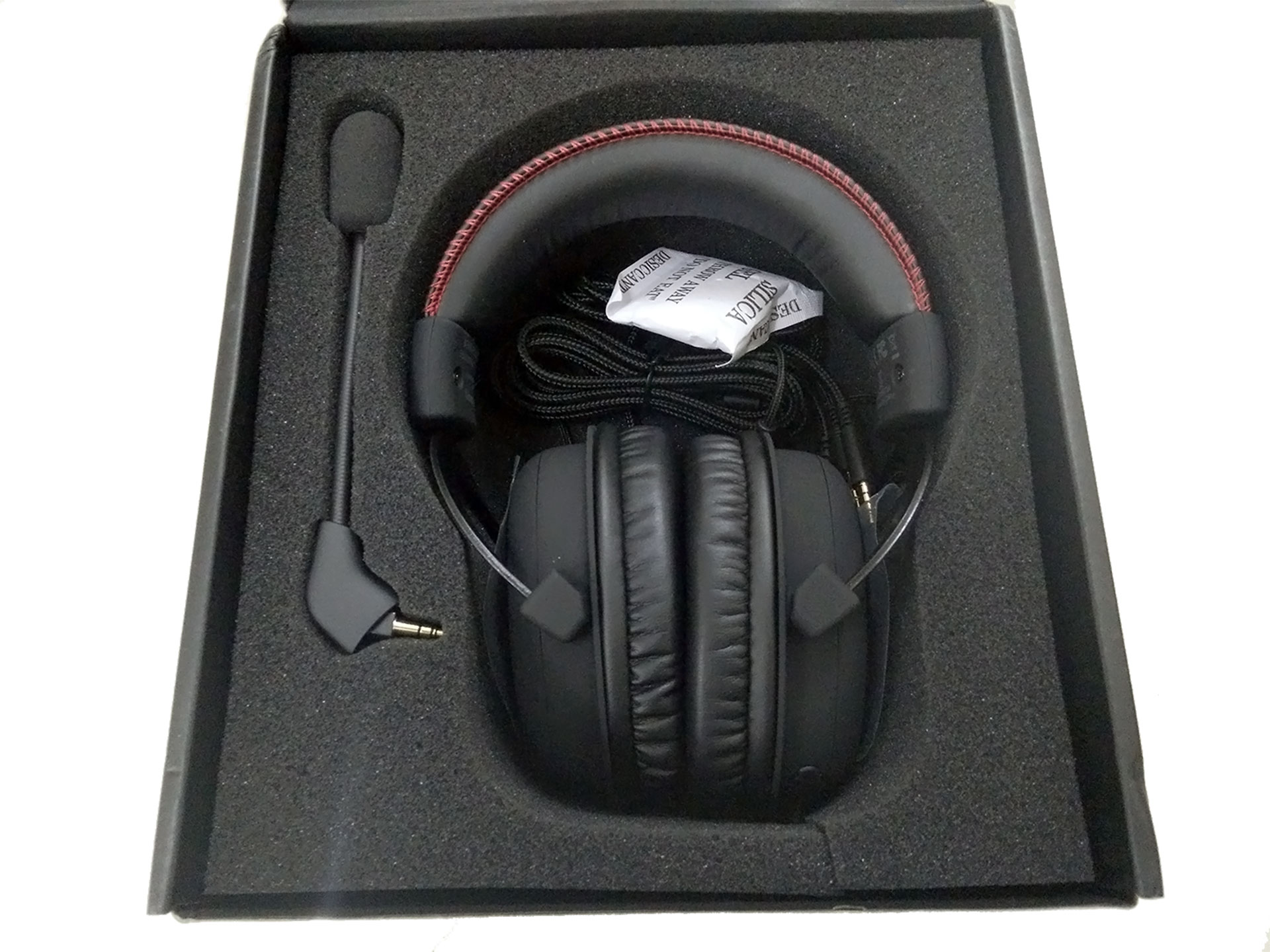 Accessories
Accessory-1: The extension cable measures 196cm (closed to 2 meter) which allows users to connect it to the microphone and audio of your device easily even if it's on the rear of the computer, Xbox One, PS4, Wii U or Mac.

Accessory-2: This is the detachable microphone that has foam to prevent wind noise. It can be removed with ease if not in use. The microphone can be bent according to your needs, either closer or further away from your mouth. The microphone bendable part measures 9 cm in length.

Design
Design-1: Here is an overview look of the headset along with the installed microphone. User will be required to remove the plastic cap before inserting the microphone audio jack into the port of the headset.

Design-2: Here is the side view of the headset. There are 2 mini cables sticking out of the headset. It's to connect both of sides of the 53 mm neodymium drivers.

Design-3: The audio jack plug is 4 pole (supports mic and audio). This cable is not removable from the headset. The cable length measures approximately 103 cm (1 meter) and it's pretty short. It can be used for plugging to your smartphone located in your pocket or somewhere close to the audio source. Otherwise, the extension cable is needed.

Design-4: Here is the place where the plastic cap is located. You can remove the cap to install the microphone.

Design-5: Here is a closer look at the external part of the headband. It has HyperX logo. Cloud Core Headset uses regular foam for its leatherette band.

Design-6: Looking at both sides of the ear cups, the interior (hole) width is 4.5cm and height is 6.5cm. The exterior (cushion) width is 8cm and height is 10cm. The leatherette ear pads uses memory foam to provide better comfort for long wearing periods.

Design-7: The slider is made of aluminum construction. Very solid, strong and difficult to be bent. It will not break even if you drop it at standing height. Both sides of the ear cups has the HyperX logo.

Verdict
I highly recommend this over-the-ear closed headset for those who are looking for both music listening and gaming. It sounds as great as high-end headphones plus excellent build quality in my hands. Below is a list of pros and cons that summarizes my user experiences with this HyperX Cloud Core Gaming Headset.
Pros
Solid Build Quality: Slick braided cable that is tangle-free. Strong thick slider arm that does not bend easily.
Great audio quality for its price: Amazing audio quality in comparison to headsets that are priced above $100. Clear on low-end and crisp through mids and highs. Does not distort audio. Provides some depth and bass.
Comfort in long run: Extremely soft leatherette cushion for both ear pads and head pads.
Flexible Microphone: The microphone is removable and can be bent to your liking (e.g. closer/further from mouth)
Easy maintenance: The product can be easily cleaned with clothe on the leatherette and metal slider. Rubberized-surface prevents finger-print magnet.
Cons
Lacks of accessory: Does not provide a carrying pouch for outdoors and an inline volume controller. However, this isn't a deal breaker as user may consider spending extra to get either Cloud 1 or 2 Gaming Headset for the additional accessories.
Protruding wires from headset: There are wires linking from the left to the right side of the headset. It may cause some hassle if it gets tangle in your hair. Also, if the wire is cut, the right side of the headset will have no sound.
Heavy headset: This headset weighs approximately 300 grams inclusive the microphone. If you are used to light headphones, this might not be for you.
Hot ear cushion: The cloud core model only provides leatherette cushion. If you were to wear this for long period of time, you will sweat especially in hot weather. The velour pads provides better comfort in this hot environment and this is only available in the higher-end models.