Hi guys! Today I'll be performing an unboxing and review of the Elysium Zeon III. It is a Bluetooth CSR 4.0 Portable Rechargeable 2.1 Speaker. What makes this speaker unique is it implements a triangular design for stability, offers 3D Virtual Sound, has twin bass speaker on its sides and it can act as your microphone to receive phone calls! Currently, it only has 1 model which is cool gunmetal brushed aluminium. The SRP (Suggested Retail Price) of this product is 499 MYR (approximately 120 USD). Before diving into the review, let's take a quick glance of at the features, technical specifications and list of items that comes with this packaging.
Note: The Zeon III Speaker small size makes it convenient to place in tight areas and provides flexibility in terms of audio connectivity via Bluetooth (wireless) or 3.5mm audio jack (wired). It's elegant appearance makes a nice match with other devices.

Features
1. Wireless streams stereo music from any Bluetooth device.
2. Speaker phone functionality.
3. Bass Reflex System.
4. Rechargeable battery with 2200mAh capacity (~2 hours fast charge on 5V 2A).
5. Decoder supports AAC, SBC, aptX and MP3.
6. Brush aluminium aesthetics speaker casing with 3 anti-slip pads.
7. Bluetooth connectivity up to 10 meters without obstruction.
8. Auto-standby after 30 minutes if speaker left idle to conserve battery.
Specifications
1. Input Voltage: DC5V/1000mA
2. Battery Type: Lithium battery
3. Frequency range: 16Hz-18kHz
4. Battery capacity: 7.4V 2200mAh
5. Snr: 80dB
6. Input sensitivity: 800mV
7. Output power: RMS 5 Watts x 2
8. Audio Mode: Bluetooth and Audio Line-in
9. Impedance: 4 ohms
10. Bluetooth band: 2.402GJz-2.480Ghz
11. Bluetooth version: CSR 4.0
12. Bluetooth protocol: A2DP, AVRCP
13. Wireless distance: up to 10M
14. Decoder support: ACC, aptx, SBC and MP3
15. Size (L x W x H) : 19cm L x 8.5cm W x 7.5cm H
16. Weight: 750gram
17. Warranty Period: 1 Year
18. Warranty Type: Local Manufacturer
Accessories
1. 1 x Elysium Zeon III Bluetooth CSR 4.0 portable hifi speaker.
2. 1 x Luxe lycra-feel drawstring travel pouch for your Elysium Zeon III.
3. 1 x Braided aux-in cable with gold-plated 3.5mm audio jack.
4. 1 x Braided micro USB charging cable compatible with all 5V USB ports and chargers.
Packaging & Unboxing
Packaging-1: The Zeon III box is a grayed with large glossy fonts with the description "State-of-the-art Hi-Fidelity Bluetooth Speakers". It supports Bluetooth V4.0+EDR. EDR stands for Enhanced Data Rate, a capability introduced in Bluetooth 2.x. Theoretically, EDR data rate ranges from 2~3 Mbps whereas Bluetooth basic data rate is around 0.72 Mbps.

Packaging-2: On the rear of the box, we can find the Zeon III speaker specifications which is listed above for your convenience.

Unboxing-1: The contents are fully protected within a durable cardboard box held in with a thick soft foam. Extracting the contents from the box, we can find an accessory box, Zeon III speaker and a user manual guide.

Accessory
Accessory-1: Elysium Zeon III provides 3 accessory items: 1 x 3.5mm auxiliary audio cable, 1 x USB to Micro USB cable and 1 x speaker carrying pouch.

Accessory-2: The auxiliary audio cable with gold-plated audio jack measures 36 inches in length. I would prefer it to be 50% longer so it can also be used to connect with far-located audio sources (e.g. USB connection behind PC).

Accessory-3: The USB to Micro USB cable measures 37 inches in length. This cable is used to recharge the speaker batteries by connecting it to a power bank, USB ports on laptop or PC, mobile phone chargers or even power extension plug that has USB connectors. The cable could not pass audio signal from laptop/PC to this speaker. Therefore, it will be a little inconvenient as you will need to to plug both audio and USB cable the audio source.

Accessory-4a: The Zeon III carrying pouch has a silky texture and slightly elastic. It has a drawstring and adjustable bead with lock to ensure the speaker its secure tightly within the pouch.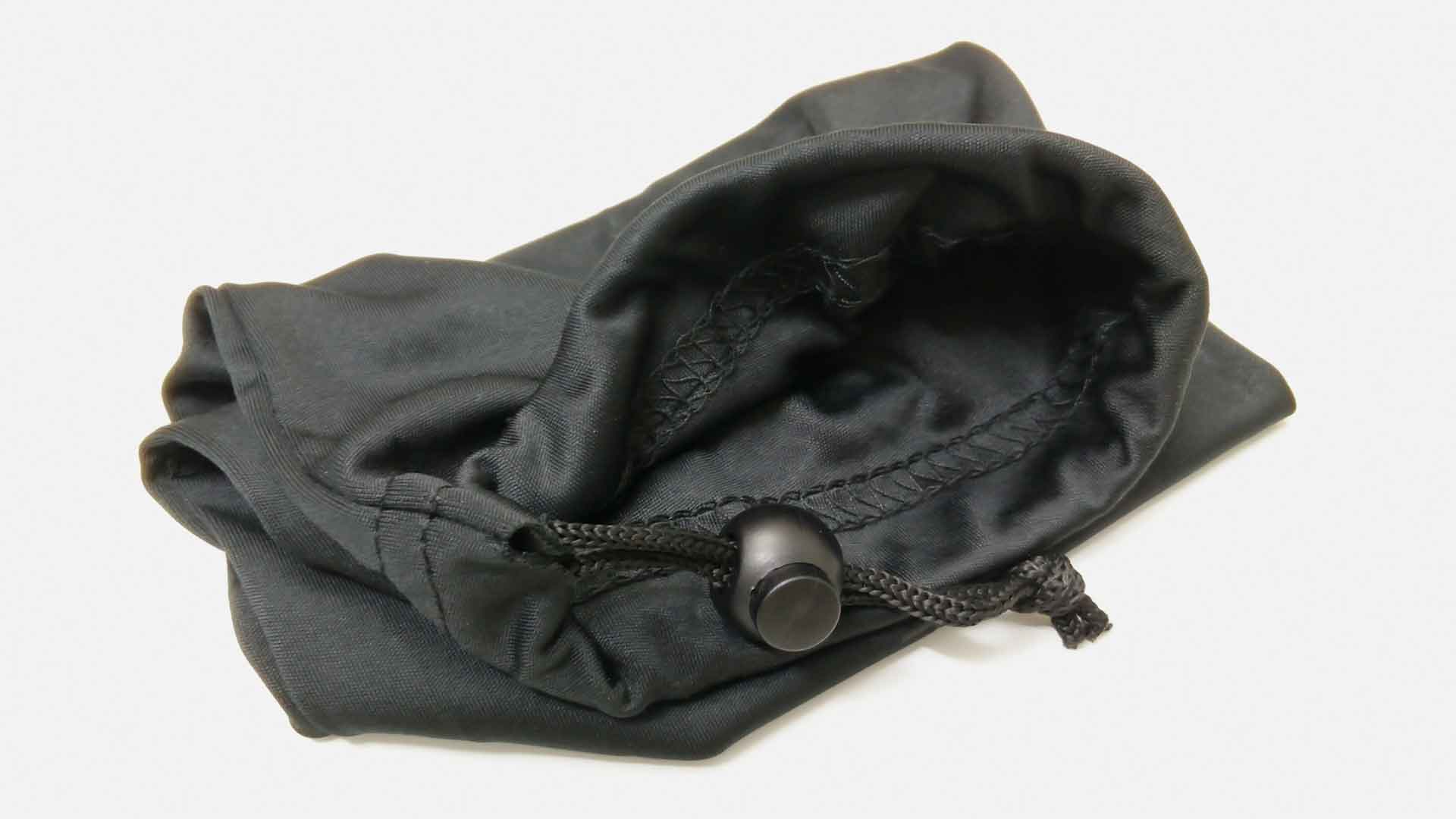 Accessory-4b: Here is another look at the carrying pouch with the speaker inside. There is adequate space to fit the speaker and has extra near the opening area.

Design
Design-1: The front of the Zeon III speaker has a smooth perforated mesh which allows sound to pass through while protecting the sound driver within. The mesh is non-removable, so avoid placing it in dusty or wet area to avoid contaminants entering through the mesh. The speaker name 'Zeon III' is engraved below the mesh. The microphone is hidden behind the mesh and located between the sound driver. When speaker is turned on, the red/blue L.E.D. flashes at the center. This indicates it could pair with Bluetooth or used with a 3.5mm audio jack. Green L.E.D. light is shown if the 3D Virtual Sound is activated through the speaker interface.

Design-2: Looking at the sides of the speaker, it has the bass reflector. It's implemented on both sides of this portable speaker. When you first unboxed this speaker, it has a blue peel-able plastic on the metal part of the bass reflector. It is used to prevent it from getting unwanted scratches during shipment of this speaker.

Design-3: Peeking from top rear angle of this speaker, the brand name "Elysium" is shown but not engraved into the brushed aluminium casing. Starting from left to right for the speaker controls: Mini USB port for recharging, Audio Input for 3.5mm audio jack, Volume Increase + Next button, Answering Call + Music Playback (Play or Pause), Volume Decrease + Previous Button, and ON/OFF switch for Bluetooth pairing button.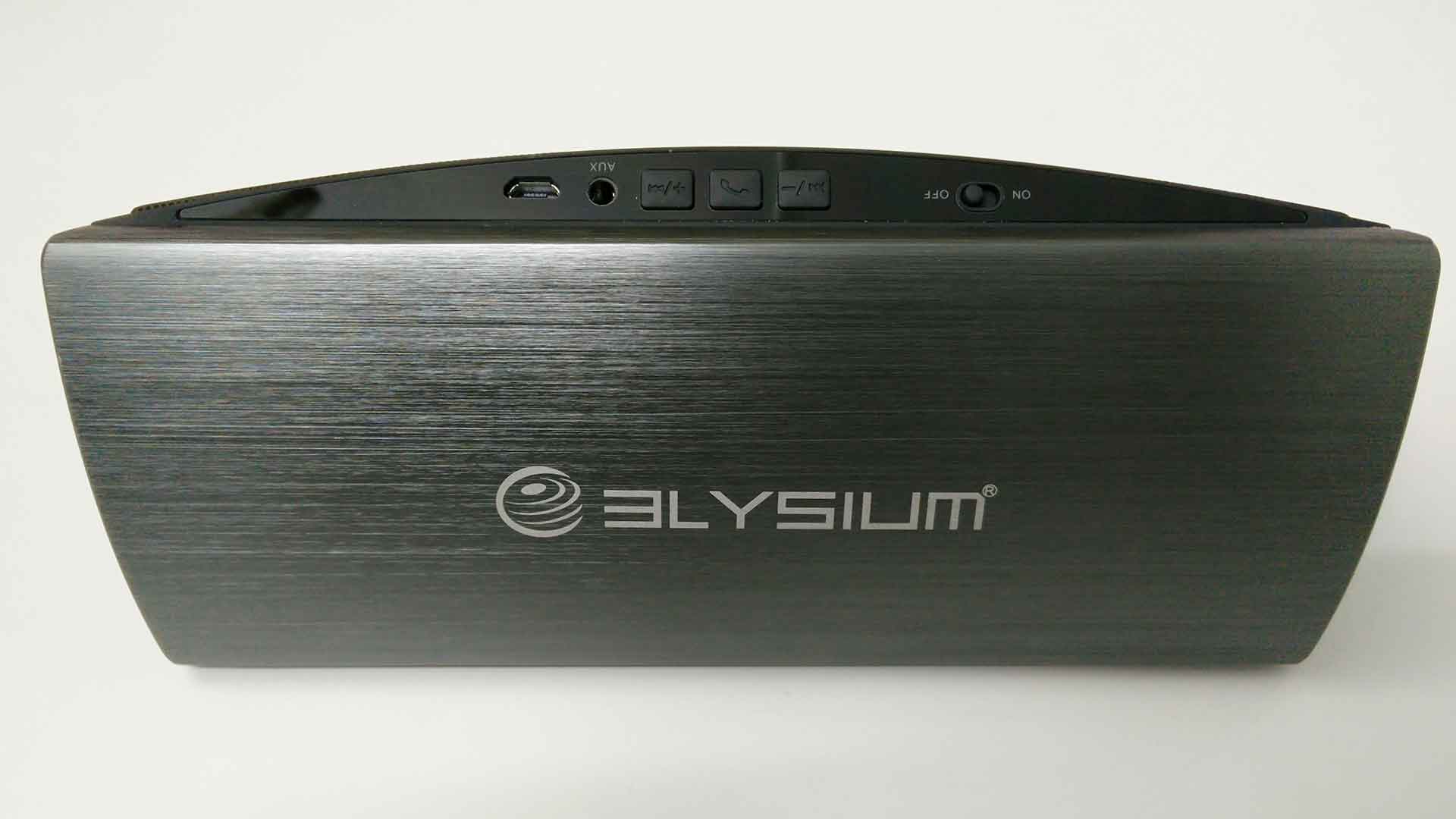 Design-4: The bottom of the speaker has 3 anti-slip pads that prevents it from easily slipping off from slippery or uneven surfaces such as car dashboard.

First Impression
At first glance, the Zeon III makes use of a unique triangular casing instead of the common rectangular or circular casing, which presents a nice fashionable design. Holding the Zeon III speaker up, it gives a sense of durability with its thick brush aluminium elegant casing. The casing does not catch finger prints which is good news! However, the top interface plastic controller is a fingerprint magnet but it could be easily cleaned with a towel. It's a little heavy, weighing 750 grams and bulky compared to other portable speakers. It could not fit into my pocket, but this can be solved by using placing it into a carrying pouch which is provided in their accessory!
Discoveries
Power Usage
Zeon III consumes 3W when its turned on and on full charge. A full recharge for the 2200mAh speaker's battery takes approximately 2 hours 30 minutes using my mobile phone OnePlus USB Power Adapter and OnePlus USB Data Cable. I performed a comparison between OnePlus USB Data Cable and Zeon III USB to Micro-USB power cable to see how fast it can recharge the speaker. A USB Doctor device and Power Meter is used to measure the voltage, ampere and watt being consumed by this speaker. Both cable uses the same power adapter.
1. OnePlus USB Cable = 5.13V, 1.84A, 12.0W (approximately 2~3 hours for full recharge)
2. Zeon III USB Cable = 5.09V, 0.39A, 2.8W (approximately 8~9 hours for full recharge)
Bluetooth Speaker Controls
The speaker's left/right button can be used to skip music tracks while the middle button to play/pause music by clicking once when connected to Bluetooth devices. These buttons is capable of controlling the smartphone's music player or Windows Operating System music player such as Windows Media Player (Tested on Windows 10) which I find it really handy. It also allows users to control the volume by simply press and holding the left button (decrease volume) or right button (increase volume).
Volume Control
The volume control will automatically sync with the smartphone's app Bluetooth volume. However, when connected to a computer's Bluetooth dongle or 3.5mm audio jack, those volume buttons will not affect the computer's volume mixer. The Zeon III will turn up/down it's own internal volume. You will be still able to control the volume on the audio source (e.g. PC music player or volume mixer) itself too without affecting the speaker's volume. I personally set the speaker's volume at max and perform the necessary volume adjustments on the audio source for convenience.
Audio Connectivity Switch
To stream music via Bluetooth, the 3.5mm audio jack must be unplugged. To reset Bluetooth connection, simply restart speaker via on/off button.
Testing and Conclusion
After using the Zeon III portable speaker for few days, I discovered several interesting things. When playing the speaker on 3.5mm audio jack compared to Bluetooth, it sounds better as it highlights some of the music details if listened carefully. In addition, the speaker loudness is comparable to a dedicated 2.0 speaker similar to the ones I auditioned such as the Edifier R2000DB. I find it enjoyable using it as a dedicated speaker for TV, PC and within the car. When placed in the center of the monitor/TV, the cable sight might be a distraction to some users as the micro-USB and 3.5mm audio jack is plugged on top instead of speaker's rear.
I tested the phone speaker capabilities and found that the sound is a little soft when listening to the other party speaking to me. For Bluetooth testing, I tested this with a Cliptec Bluetooth Dongle to stream music from PC to the Zeon III speaker. By default, the PC will auto select "Headset: ELYSIUM ZEON III Hands-Free" which plays music on 1 channel, 16 bit 8000Hz (Telephone Quality). I have to change the Playback device on Windows to "Headphones – ELYSIUM ZEON III Stereo" so it can play music at 2 channel, 16 bit 44100 Hz (CD Quality). The Zeon III speaker comes with a special sound mode which is known as the 3D Virtual Sound. To activate this, simply press and hold both "Left" and "Right" button on the speaker's interface for 2 seconds. The 3D Virtual Sound is best used on instrumental or vocal music as it enhances treble to make it more sweeter.
If I were to describe the sound quality of Zeon III in one word, it would be incredible. The sound signature is forward focus and dense. For best sound experience, I placed it 2 arm's length away or more to give it some space for the sound to spread out. The instruments (violin, drums, piano) details can be heard clearly and the vocals are crystal clear. I find it quite convenient of placing this speaker at the center of my desk instead of clearing out space on both sides of the computer monitor if it was a dedicated 2.0 satellite speaker. If you are planning to purchase a portable speaker to be used for laptop, PC, TV, car, for on-the-go purpose or a speaker to fit into a small area, I highly recommend you to check this product.
Pros
1. Sounds better than most budget dedicated 2.0 speakers below its price range.
2. Great bass compared to most portable speakers.
3. Small size makes it easy to carry around and store in bag/drawer/car-dashboard.
4. Can fill up entire small room or within a car with its loudness.
5. Long battery life. Playing at max volume with non-stop bass music can last approximately 4 hours.
6. Premium look and feel with fashionable design.
7. Very sturdy with its anti-slip pads.
8. Skips the need to allocate space on the sides of a TV, laptop or computer monitor to place speaker.
9. Smooth edges on all speaker casing corners. No worries of getting cuts/scratches.
10. Has 3D Virtual Sound to boost treble depending on user's music preferences.
11. Wireless distance up to 21m with line of sight (no obstructions).
Cons
1. On/Off switch is too small. Difficult to use.
2. USB to Micro-USB cable charge battery slow.
3. Connecting micro-USB and 3.5mm audio jack from top might be a unattractive to specific audiences.
p.s. If you are interested in other Elysium products, visit the official website at www.elysiumlab.com and Elysium Zeon III for the product page.
Elysium Zeon III Videos
Gene Elysium Zeon III Speaker Sound Test (Instrumental, Vocal, Bass, Techno)
[youtube url=https://www.youtube.com/watch?v=bgBdEuMeq4U]
Gene Elysium Zeon III Speaker Sound Test (TV, Game, Movie)
[youtube url=https://www.youtube.com/watch?v=17jNYugSIFw]