Hi guys! Today I'll be performing a speaker review and this time its the Elysium Porto VII (7) Portable Wireless Hi-Fi Speaker! This speaker is empowered by Dirac HD Sound® (an advanced patented software technology) which analyzes and corrects for audio coloration. This speaker comes equipped with latest Bluetooth 4.0 wireless capabilities with NFC for lossless audio. The SRP (Suggested Retail Price) of this speaker is 1299 MYR (350 USD). This portable speaker comes in 3 colors: red, black and white.
Before jumping into the review, let's take a glimpse of the features that Elysium Porto VII has to offer and also get an overview of the technical specifications.
Elysium Porto VII Features
NFC hifi sound system with total power output of 20W
Stream audio wirelessly from any bluetooth source device e.g. computer, tablet, smartphone etc.
Great for music, movies, internet video entertainment and other audio uses.
Bluetooth 4.0+ EDR supports A2DP and AVRCP.
Built-in 5V USB power port lets you charge various mobile devices.
Includes an auxiliary (aux-in) 3.5mm audio jack for wired usage.
2 full-range drivers and 1 bass driver for an all-encompassing 2.1 listening experience.
Illuminated touch panel control keys make them easy to locate, even in the dark.
Elysium Porto VII Specifications
Total system power (RMS): 20W
Satellite output power (RMS): 2 x 5W drivers
Subwoofer output power (RMS): 10W
Built-in rechargeable battery, up to 8 hours of playback
USB port for charging: 5V
Universal AC voltage: 100-240V~50/60Hz
AUX-IN stereo input available for other audio devices
Elysium Porto VII Packaging
Packaging-1: The Porto VII is packed in a bright green black box and comes attached with a premium flat handle but kinda short that makes it unsuitable for carrying over shoulder.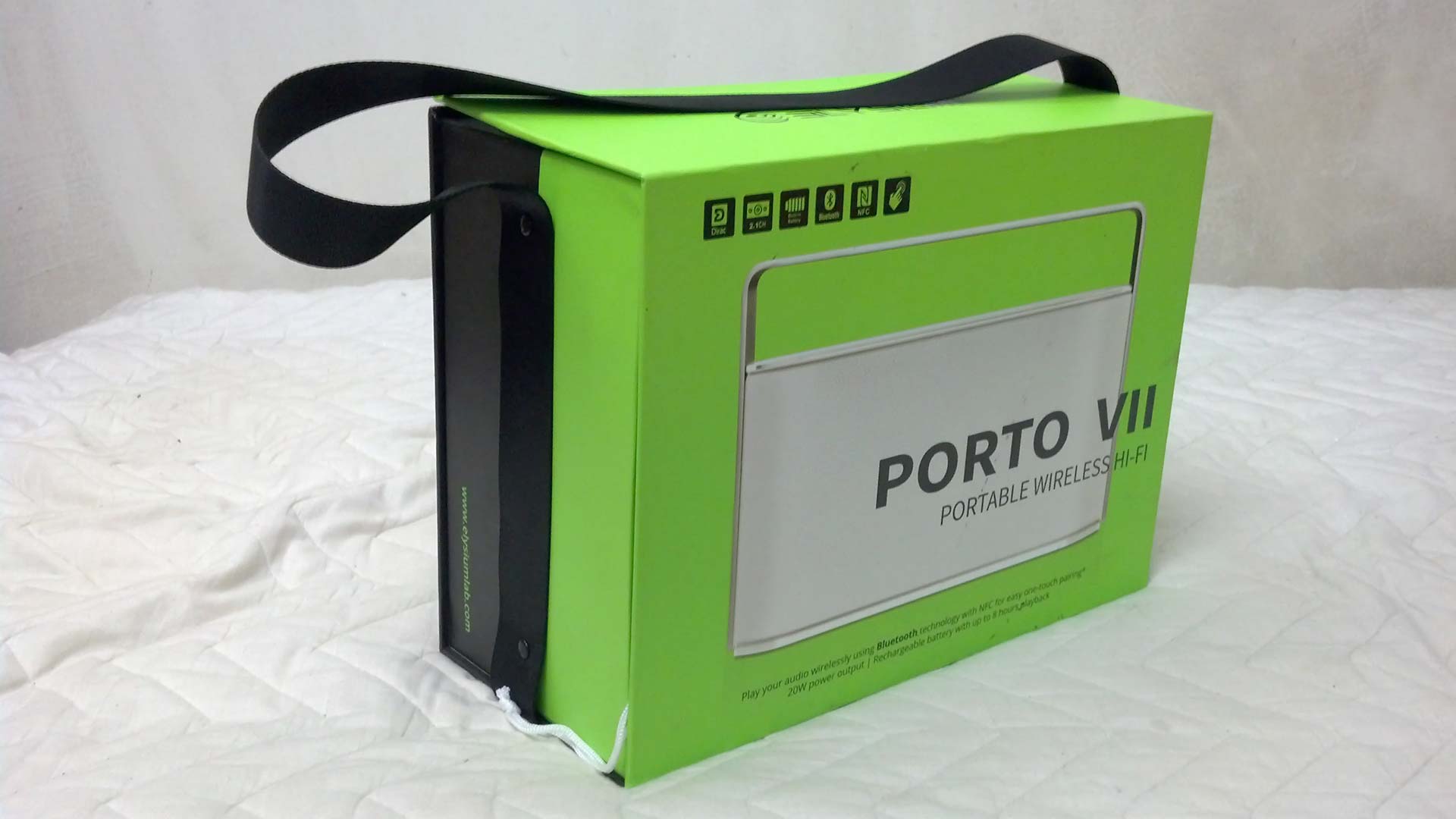 Packaging-2: Looking at the front of the box, it displays the white version of the Porto VII model. On the top left corner displays several symbols which are Dirac, 2.1 Channel Speaker, Built-in Battery, Bluetooth, NFC and Touch Sensitive Buttons. It also mentions that you can play this 20W speaker via NFC and Bluetooth up to 8 hours of playback with the built-in rechargeable battery!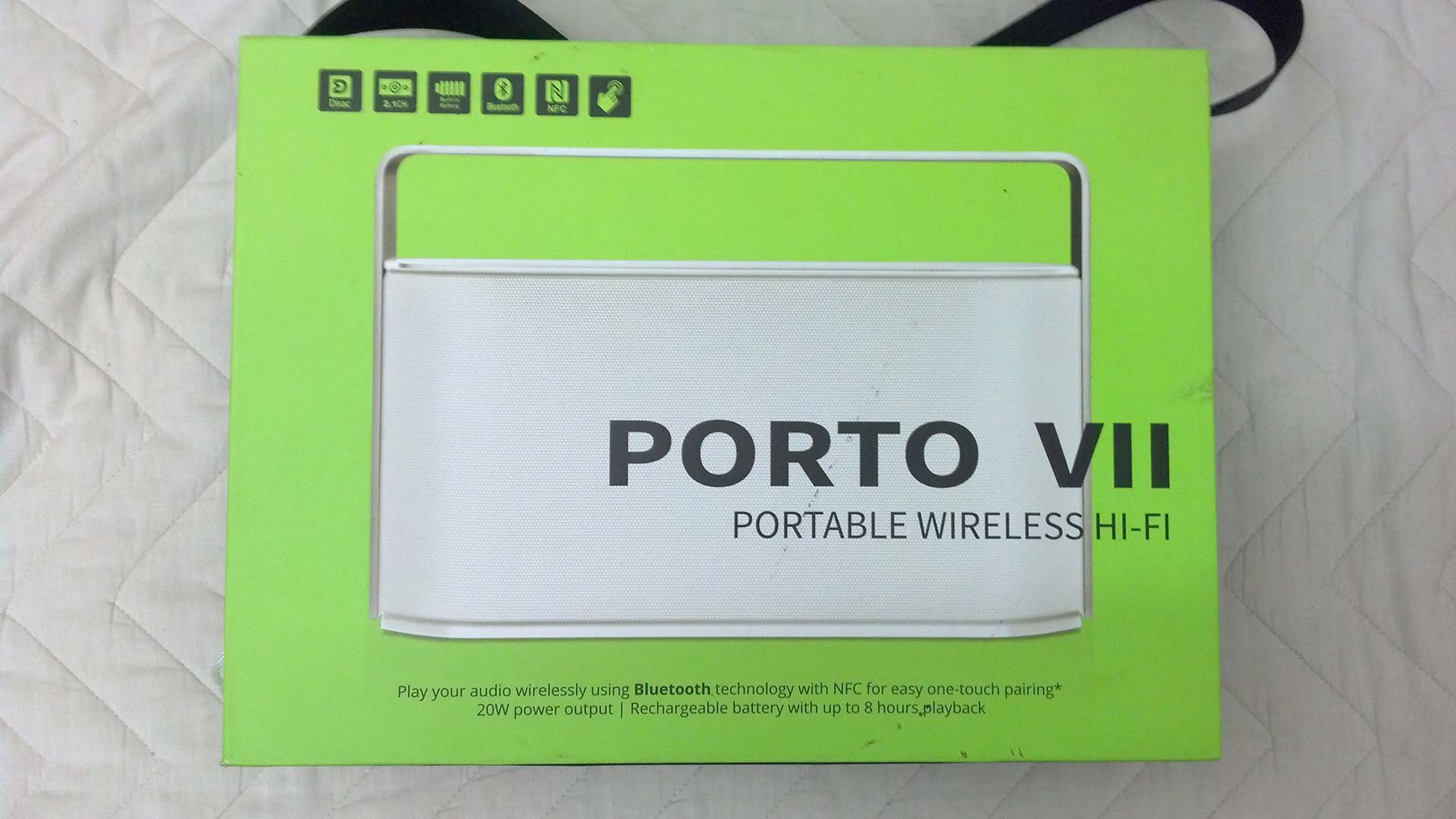 Packaging-3: On the rear, it has a simple gray+black of the brand and product label.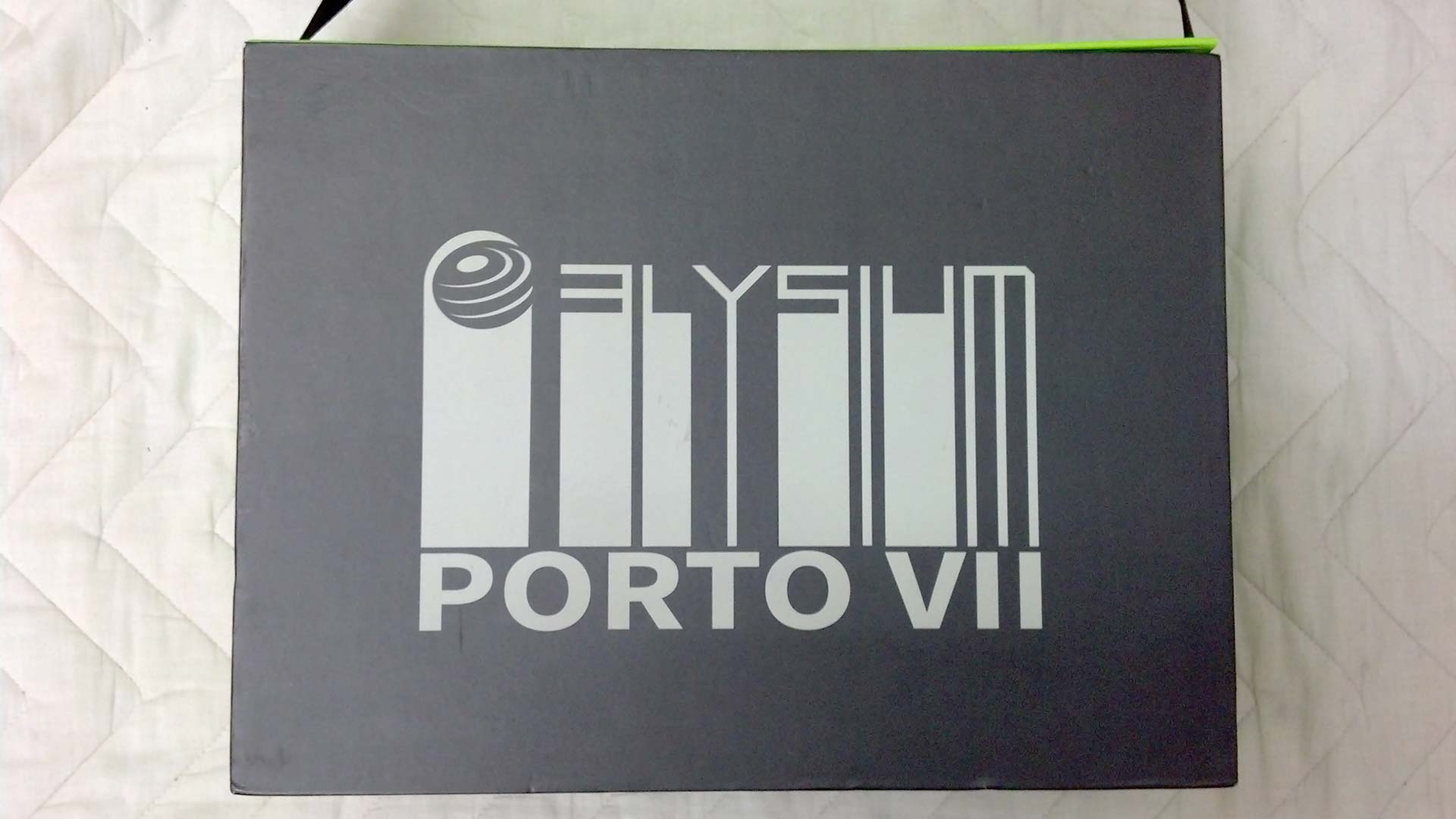 Packaging-4: Opening up the box, we can find the accessories wrapped in a plastic bag along with the speaker covered in a premium white cloth case.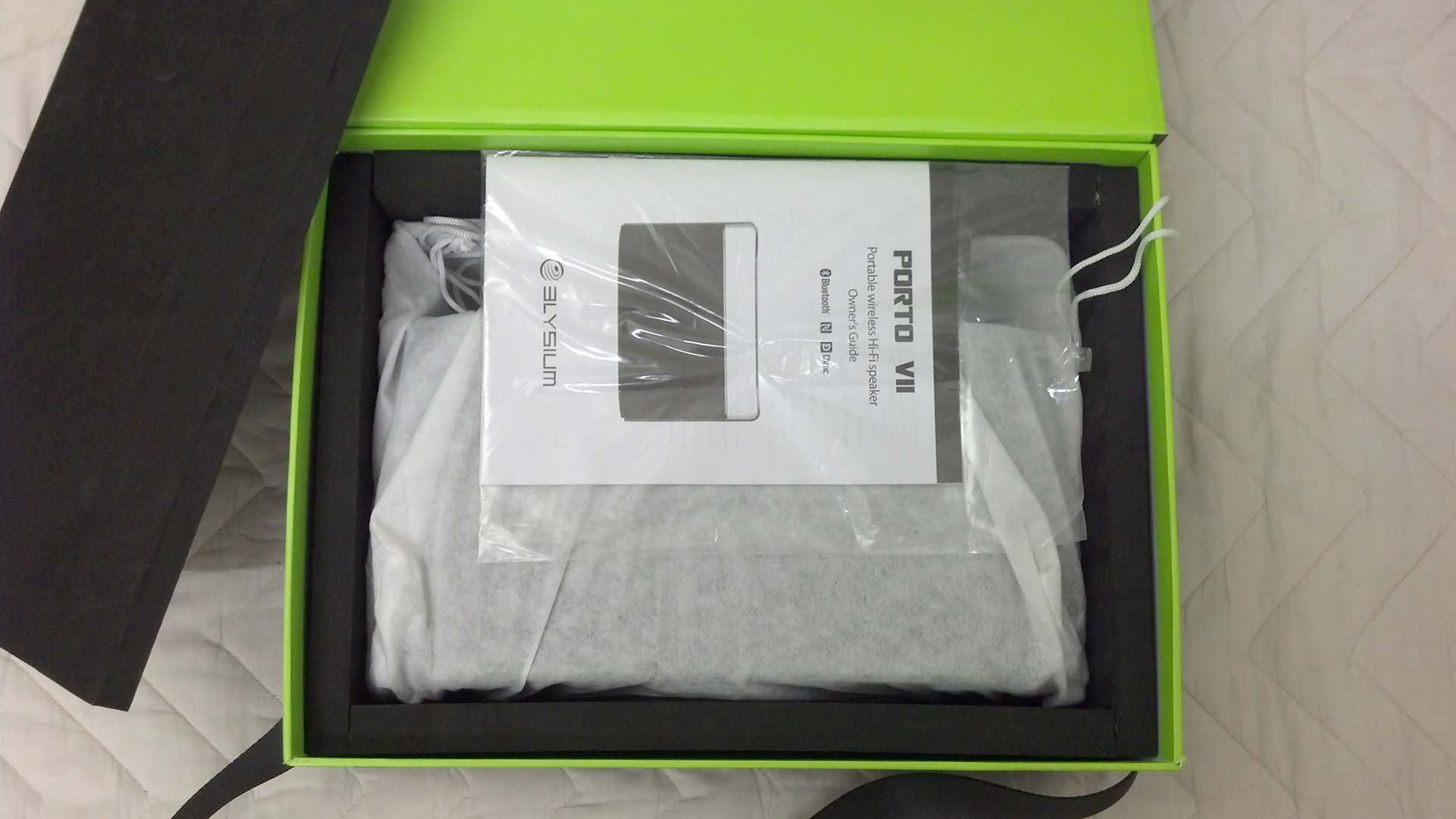 Packaging-5: Separating the accessories, we can find a user manual guide and a black box containing the 3.5mm audio jack cable, AC power supply cable and AC power supply.

Elysium Porto VII Accessory
Accessory-1: The 3.5mm to 3.5mm Stereo Audio Cable measures 56 inches in length which is sufficiently long to connect this speaker to the back of your TV or computer case rear.

Accessory-2: The AC Power Supply Extended Cable with L-shape plug measures 62 inches in length. The L-shape connector will be used to connect to the Elysium Porto VII speaker for charging.

Accessory-3: The2-pin AC Power Supply Cable measures 16 inches in length. This will be connected to the AC Power Supply Brick and the Power Source outlet.

Accessory-4: Here is a closeup view of the AC Power Supply Brick which looks similarly to a laptops AC Power Supply. This Switching Adapter model number FJ-SW1343400D. Input 100-240V ~ 50-60Hz 1.5A MAX. Output: 13.5V 3500mA.

Elysium Porto VII Design
Design-1: here is an overview look at 30 degree angle of the speaker. It displays a minimalistic glossy appearance which makes it easy to match with current furniture if used as a stationary speaker. The top is made of a thick strong glass, while the handle is made of a long metal with its edges smoothen.

Design-2: Taking a look at the top, we can find the brand "Elysium" labeled on the metallic handle and the touch-sensitive buttons is located below the handle. Starting from left to right, it has the power-button, volume down, volume up, Bluetooth indicator and battery life. A full battery charge takes approximately 4 hours.

Design-3: At the front, we can find 2 mid driver and 1 x subwoofer protected by a metallic mini circular mesh which allows sound to pass through it. The grill mesh is not removable.

Design-4: On the right side of the speaker, we can find an audio jack 3.5mm Line In, 1 x USB for charging only 5V 1A and power input 13.5V 3.5A. The USB can't be used to play music on thumb-drive/pen-drive/flash-drive. On the left side, it displays the speaker model name "Porto VII", a short description "Compact Portable Speaker" and 3 logo (NFC, Bluetooth, Dirac). I noticed there are 8 Torx screws (screw head characterized by a 6-point star-shaped pattern) used to secure both sides of the metallic handle. Therefore, ordinary Philip screw driver can't be utilized here but a Torx screwdriver.

Design-5: Taking a closer inspection at the rear, my sample review unit has lots of finger print stain marks due to oily fingers. I figured most of the finger prints will be near the rear bottom as users need to hold it to get access the red power switch located at the bottom.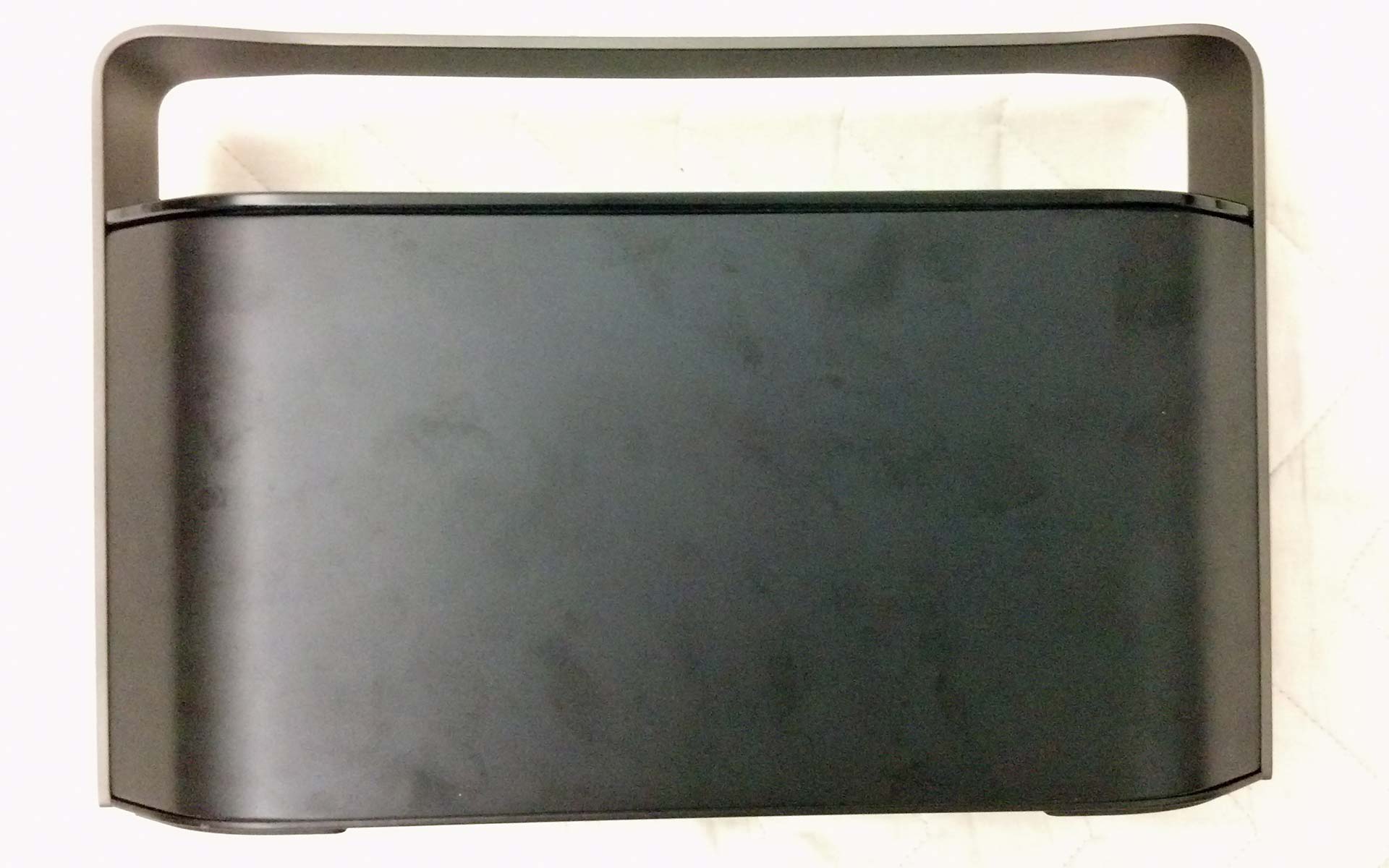 Design-6: After wiping it with a damp cloth with a little soap and water, its now shinny clean! Therefore, no worries of having this portable speaker with lots of finger print marks as it can be clean easily as tested by me.

Design-7: On the bottom of the speaker, we can find a red power switch which requires finger nail to toggle it on/off. There are a few important descriptions on how to operate this speaker as well. I find the position of this power switch a little inconvenient as I would need to tilt the speaker down-side-up to reach it.

Elysium Porto VII Discoveries
Temperature
The bottom of the speaker gets pretty hot. I wished the internal battery are placed behind the speaker instead to have a larger heat dissipation in an non-enclose area. The bottom only has 2 small rubber anti-slip padding but does not provide much height for hot air to escape. The warmth is similar to running a Western Digital Black Caviar 2TB Hard Disk non-stop approximately 40~45 degree Celsius.
No hissing noise on Idle or Mute + No pop on power up/down
As expected from a high-end speaker, there isn't any hissing/electrostatic noise emitted when the speaker is on idle, mute and standby. When the speaker is power up or power down from the power plug, it does not emit any annoying popping noise like most lower-end speakers.
Speakers Magnetically Shielded
The one thing that annoys me about speaker is that they emit weird blip-blip noise when a SMS/call is received if the phone is placed close to the speaker. This common speaker issue doesn't occur to the Elysium Porto VII as all the drivers are magnetically shielded. Thumbs up!
Bluetooth Coverage + Volume
I played a FLAC music via my smartphone using Bluetooth connection to the Elysium Porto VII and measured the distance the speaker can receive the signal. The speaker is capable of receiving the audio signal up to 8 meters with direct line-of-sight and 3~4 meters with several large obstacles such as walls. The volume of the speaker can be adjusted via Bluetooth Volume of my smartphone. The Bluetooth connectivity is instant connection when I turned on Bluetooth on my smart phone.
Speaker Volume
The speaker is capable of remembering the previous volume settings and it can be turned up and down 32 times (100% / 32 = 3.125% per increment). When turning the speaker max volume, no distortion is found in the sound quality.
Power Consumption
When charging the Porto VII batteries, it consumes approximately 13.8W and when playing heavy bass music at 80% volume with the power supply cable connected and turned on, it consumes approximately 44.9W (which is 10W more than estimated on the packaging, 44.9 – 13.8 = 31.1W). The user manual guide mentions it will goes on standby automatically and consumes approximately 0.5W. A full battery charge takes approximately 4 hours and roughly 4~5 hours of music playback if music is played on 90% volume. With a lower volume, the battery will last for a longer period.
Sound Quality
The Elysium Porto VII share some similar characteristic as Elysium Infiniio that I have previously reviewed which is the brightness/sparkle of the music is missing from the speaker. I felt that it does not have the mellow sweet highs but more towards of a narrow rough highs while the bass is somewhat better and does not have components rattling with it when the heavy bass music is being played. The bass is somewhere in the mids of shallow and deep, doesn't sound flexibly bouncy compared to my studio monitor speaker the Edifier R2730DB but its still capable of hitting the lower notes and follows through fast beats easily. In comparison with other portable speakers from X-Mini, Edifier and Logitech, the Elysium Porto VII comes equipped with much better bass as it has an independent powered subwoofer. In terms of sound separation, different instruments can be heard distinctively when playing oldies music that uses lots of traditional music instruments like harps, violins, drums, etc.
Elysium Porto VII Verdict
If you are looking for a portable speaker that can acts as a power bank and a speaker that can play music via Bluetooth/NFC from your smartphone or the traditional 3.5mm audio jack connection to your computer/TV, I'll highly recommend you to consider this product if you have the budget. The product is heavier and larger than most portable speakers out there in the market, therefore users should consider this aspect as well as it may cause inconvenience too for people who travel a lot.
Pros
Glossy minimalist and premium slim appearance that fits easily with other furniture in the room.
Can be used as a soundbar speaker for TV to combo with stereo speakers or simply replace the cheap built-in TV's speakers.
Can be used with your laptop when running in a place without any electricity or power source. (e.g. power plug pulled out during thunderstorm to avoid lightning strike).
Can be used to charge your portable devices such as smartphone or plug it in a 5V USB mini fan to chill you out during camping or electric shortage.
Cons
Very heavy for a portable speaker due to the large batteries used in the speaker. Still, it has a large handle for easy carrying around.
Grill mesh aren't removable for cleaning the external speaker driver from dust. The only way to prevent dust getting in is to cover with a piece of cloth.
The rear of the portable speaker is a finger print magnet. Easily collects oily marks from hands. However, it can be easily cleaned with a damp cloth with water and soap.
The treble highs aren't mellow sweet but has a narrow spectrum to it. Still, when playing movies with it, the voice stands out better/reaching out further in front which is good.
Expectations
For future enhancement, I hope to see the power switch is moved from the bottom to the sides for easier access without the need of tilting the heavy speaker. Secondly, I wished to see the handle to be retractable, removable or swing into another position, so it can be used as a soundbar for TV or monitor without the handle obstructing the display device view. Third, I would like to see new technology used such as Protection from Short Circuit, Protection from Overcharge/Over-discharge and Input/Output Overvoltage Protection since there are some manufacturers such as Xiao Mi have this technology embedded in their portable budget-friendly power banks. Fourth, a flexible power switch which allows users to play music directly from their AC power instead of draining from battery (similar to laptops using either battery or battery-removed). Fifth, it would be nice to find all the features from Infiniio embedded inside this premium speaker (play music via USB, have radio feature) so this product could play music without being dependent on having smartphone around in order to use the speaker. There are some portable speakers out there that comes with a microphone, so you can chat with your friends through the speaker with a larger audience. Hence, Elysium could consider implementing this idea as well in their newer portable speaker release.
Elysium Porto VII Video
Elysium Porto VII Speaker Sound Test
[youtube url=https://www.youtube.com/watch?v=xXkKmz-pyfw]
Sound Comparison against Edifier R2730DB Studio Monitor Speakers
[youtube url=https://www.youtube.com/watch?v=d8Ed3y2MKFw]
Original Music used for Speaker Sound Test
[youtube url=https://www.youtube.com/watch?v=zPxmg7a99WU]
Disclosure: The review sample was provided by LeapFrogGlobal – if you're looking for this speaker, you know where to find them.