Hi guys! Today I'll be reviewing Edifier MP700 Rave Hi-Fi Bluetooth Portable Speaker that was recently released in 2015. The MP700 Rave speaker has a minimalist appearance with beautiful aluminum grill covering the speaker drivers. cut out in such a special precision milling process and finely sandblasted to give luxury feel when it's hold in the hands. One of the astonishing things about this speaker is it comes installed with 2 woofers, 2 tweeters and 3 passive radiators to produce a clear and strong music! In addition, it comes built-in with a wide variety of technologies such as Digital Signal Processing (DSP), Dynamic Range Control (DRC) and Bluetooth 4.0 with aptX support (wireless CD-like quality sound). Before diving into the review, let's take a step back and glance over the technical specifications and features that MP700 Rave has to offer!
Note-0: The MP700 Rave Bluetooth speaker located center of dual monitors (Dell U2713HM and Dell U2515H). Click here to view Dell U2515H Review. This speaker can replace your traditional 2.0 stereo speaker for PC/Laptop speaker! Very compact but able to produce powerful and good sound quality.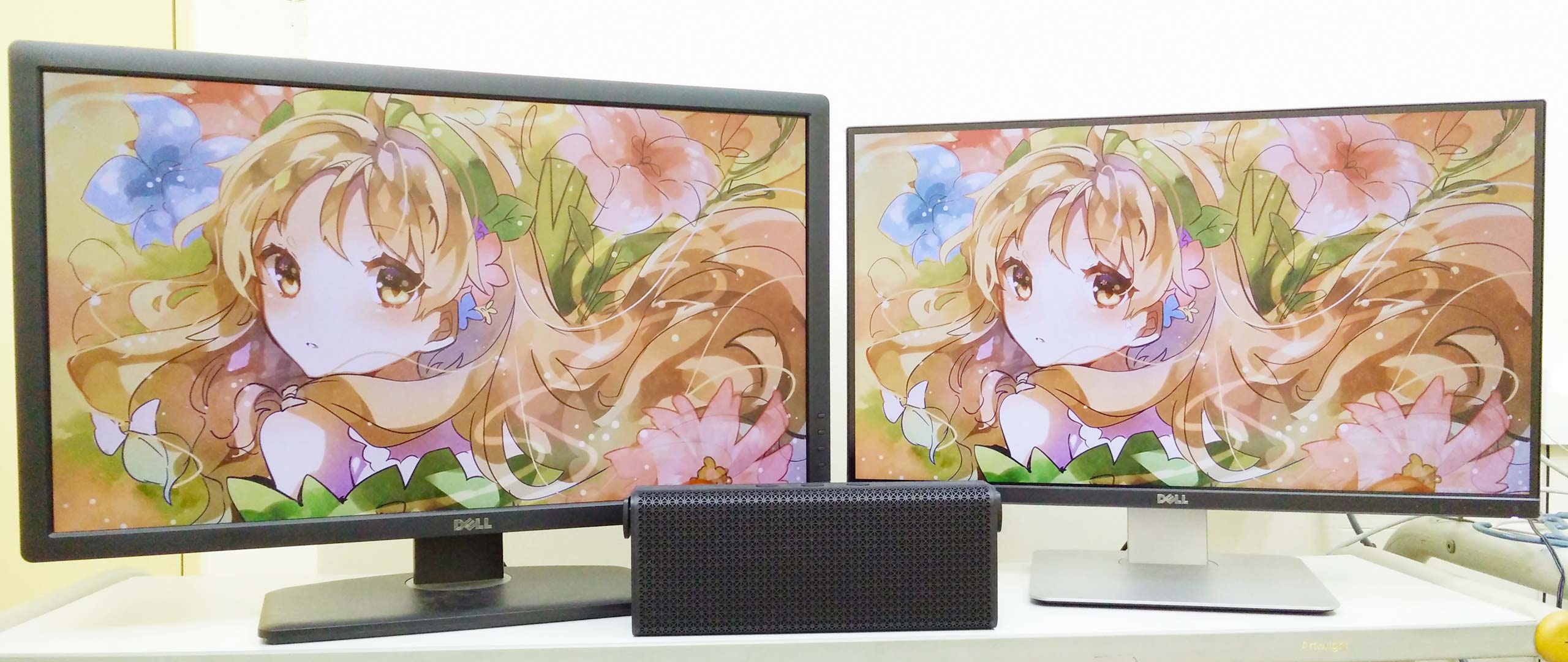 Features
Portable Bluetooth Speaker System
Bluetooth 4.0 technology with NFC (Near Field Communication) connection and aptX lossless transmission.
Striking aluminum grill design
2-way speaker system with electronic crossover.
2 x 10W 2 3/4″ midrange speaker driver with aluminum diaphragms + 2 x 8W 3/4″ silk dome tweeters + 3 passive radiators
DSP and dynamic range control
7600 mAh battery up to 8 hours use
5V mobile charge out.
Specifications
Total power output: Total 36 Watt – 8Wx2(Treble)+10Wx2(Midrange and Bass
Signal to noise ratio: ≥85dBA
Frequency response: 80Hz – 20kHz +-3dB
Input sensitivity: 800mV±50mV
Audio input: Bluetooth , Auxiliary
Bluetooth: Bluetooth 4.0, NFC and aptX® for CD-Like Quality
Power output: USB 5V 500mA mobile charge output
Adjustment: On/Off, Vol Up/Down/ Next Previous Track / Standby/ Source Selector
Material: Aluminum Extrusions, Handle and Grill
Inner Cavity: Special Low Resonant Resin Material
Battery: 7600mAh (28.86 WH) built-in battery for up to 8 hours of use
Battery Indicator: Charge Indicator/ Battery Level Indicator
Power supply: Input 100V-240V AC, Output 12V DC
Speaker unit: Treble: 2 x 19mm silk dome | Bass /Midrange: 2 x 70mm Aluminum Diaphragm | 3 x Passive Bass Radiators
Water resistance: IP54
Dimension: 294mm x 170mm x 67mm (W x H x D) – handle up
Weight: 1.9Kg (net) 2.33Kg (gross)
Notes
Note-1: Edifier MP700 Rave Bluetooth speaker comes in 4 colors as shown in CES 2016 which are black, silver, blue and maroon.

Note-2: There is also MP700 Rave WiFi connectivity version WiFi version that supports DLNA and airplay. It can manage music from various online services and it can also be used as a 2.4GHz WiFi hotspot. It also has the same feature set as the Edifier MP700 Rave Bluetooth speaker.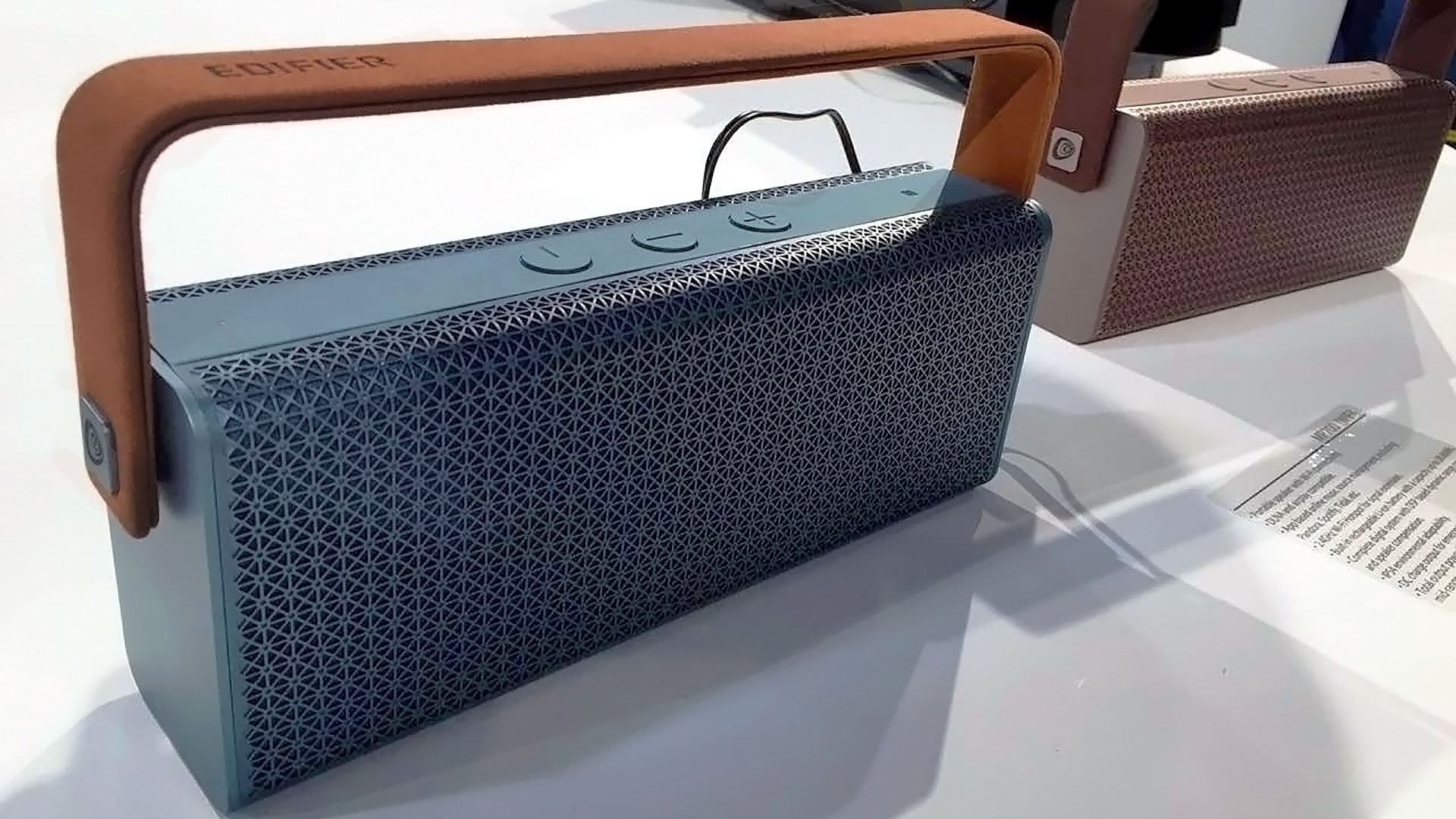 Packaging & Unboxing
Packaging-1: Here is the front of the MP700 box. It displays a picture of the speaker and also a summarized details which are "Bluetooth 4.0 With NFC, 8 hours rechargeable battery, 5v mobile charge out, 2-way speakers with electronic crossover, 3 passive radiators for enhance bass, 36 watss RMS". It has 4 logos on the bottom right "IP54, NFC, Bluetooth, aptX CSR".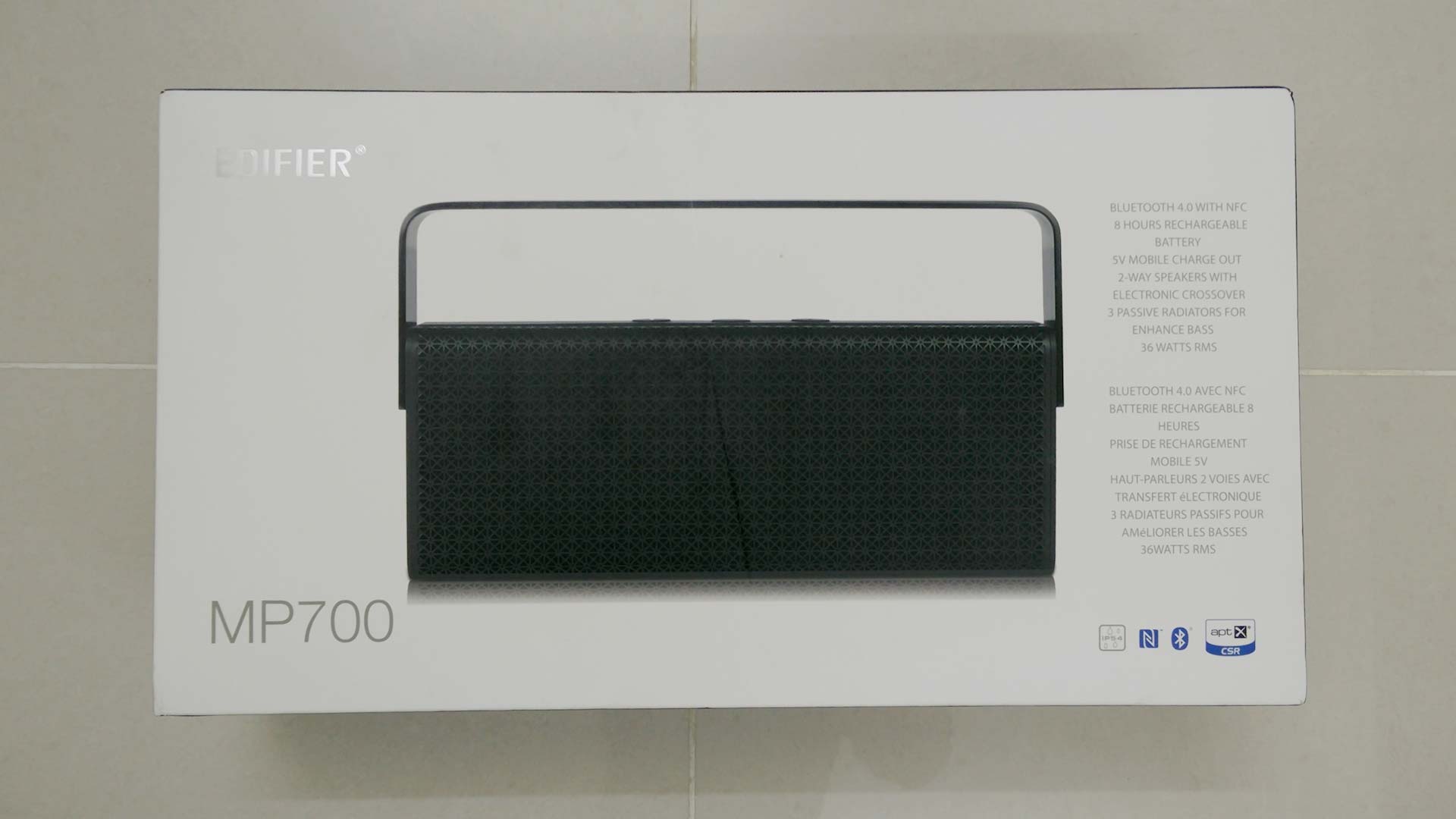 Packaging-2: On the rear of the box, we can find a list of features which are highlighted at the top of this article. There are some pictures of this speaker to show scenarios of where it is being used (example: using the MP700 outdoor for party/camping/picnic).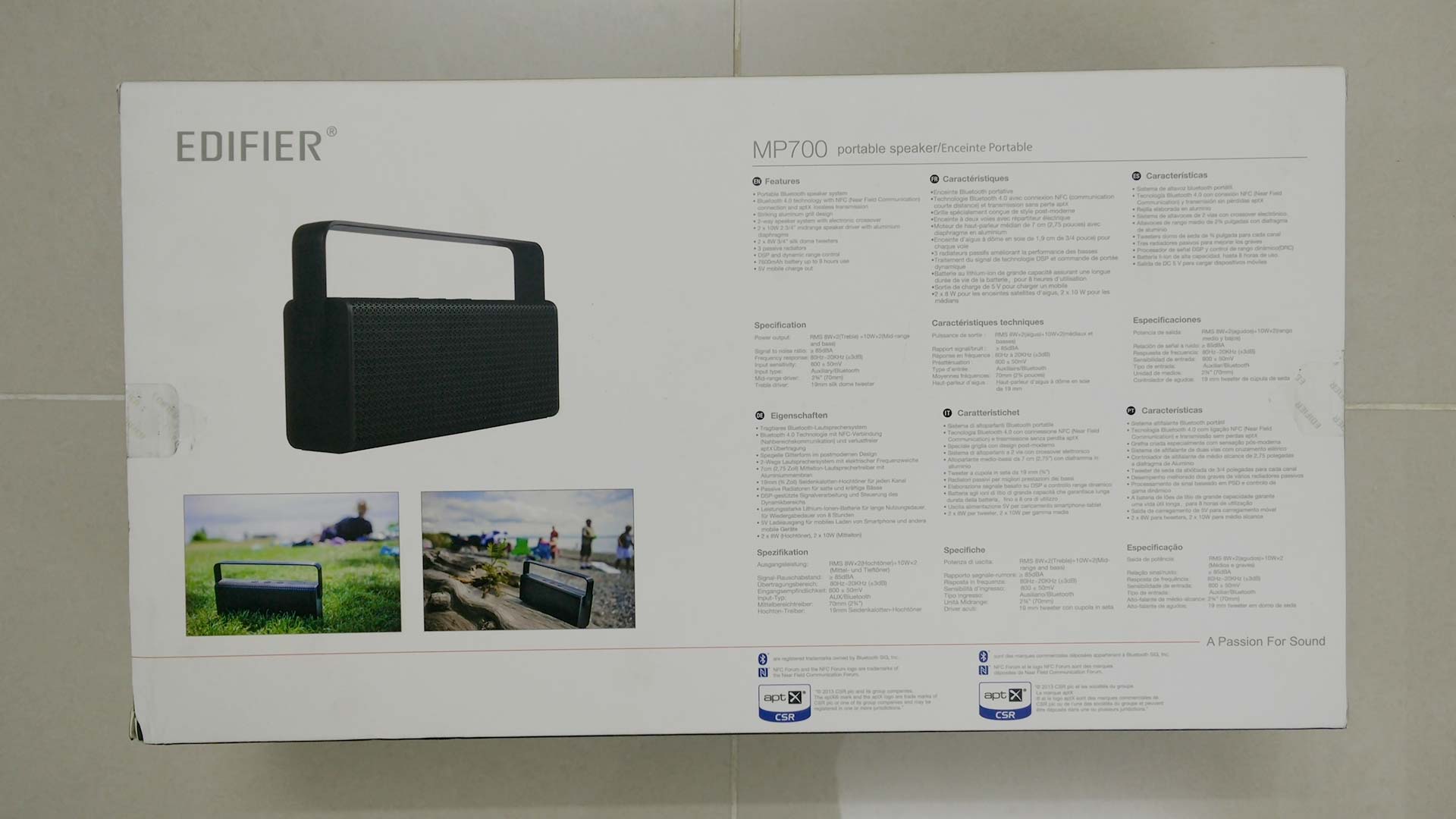 Packaging-3: The sides of the MP700 packaging, we can find the branding and the model name "Edifier MP700". The packaging also indicates this speaker is protected with 2 years warranty which gives a peace of mind to users who often bringing their portable speaker outdoor activities.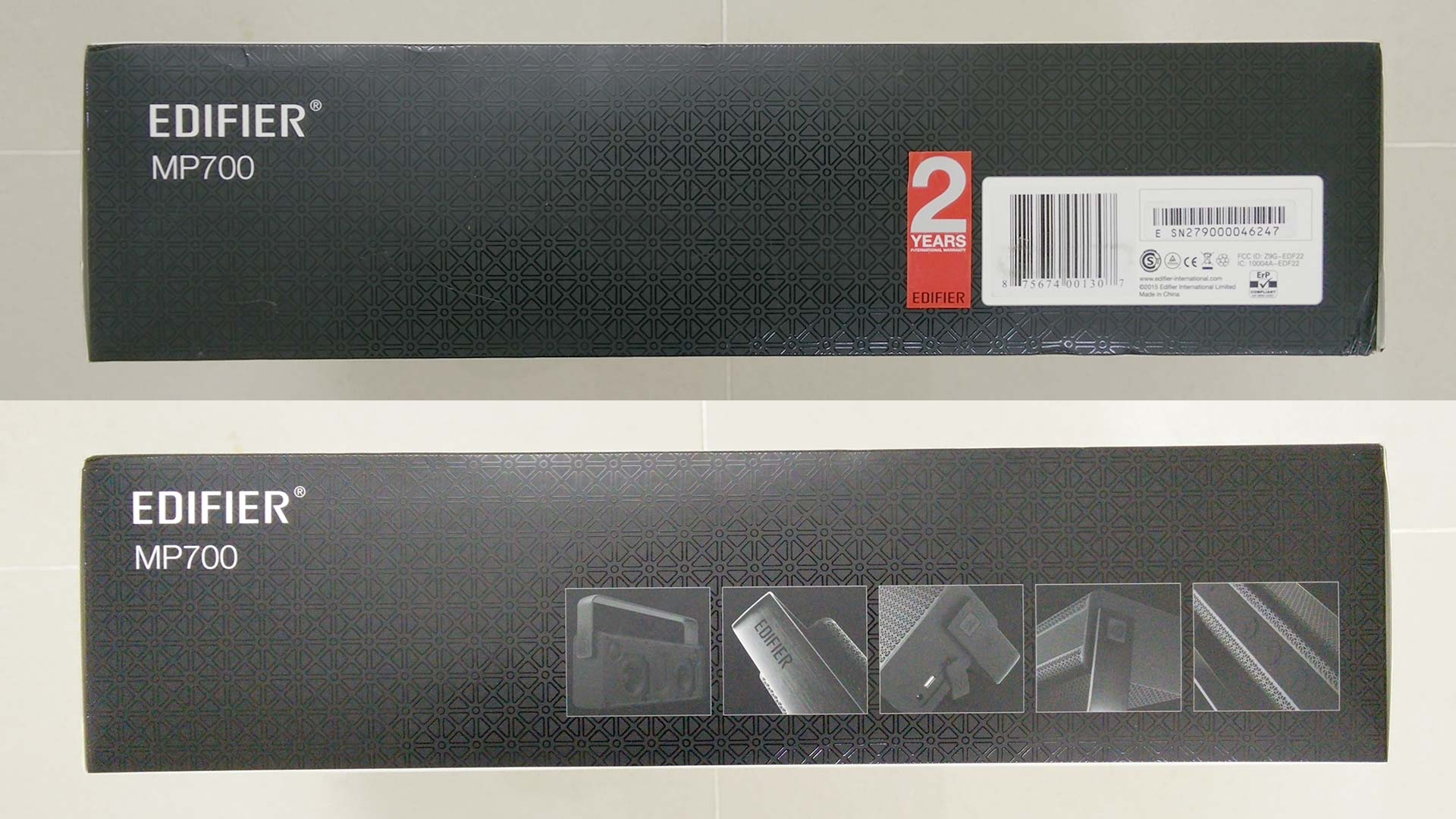 Unboxing-1: Extracting the content out of the box, I found it has another black box that houses the speaker and it's accessories.

Unboxing-2: Opening up the black box, we can find the portable speaker, cable and user manual. Since my box is a sample review, the contents were placed outside of the black box tucked neatly at the left corner of this black box. Also the handle comes with a plastic cover but it was removed.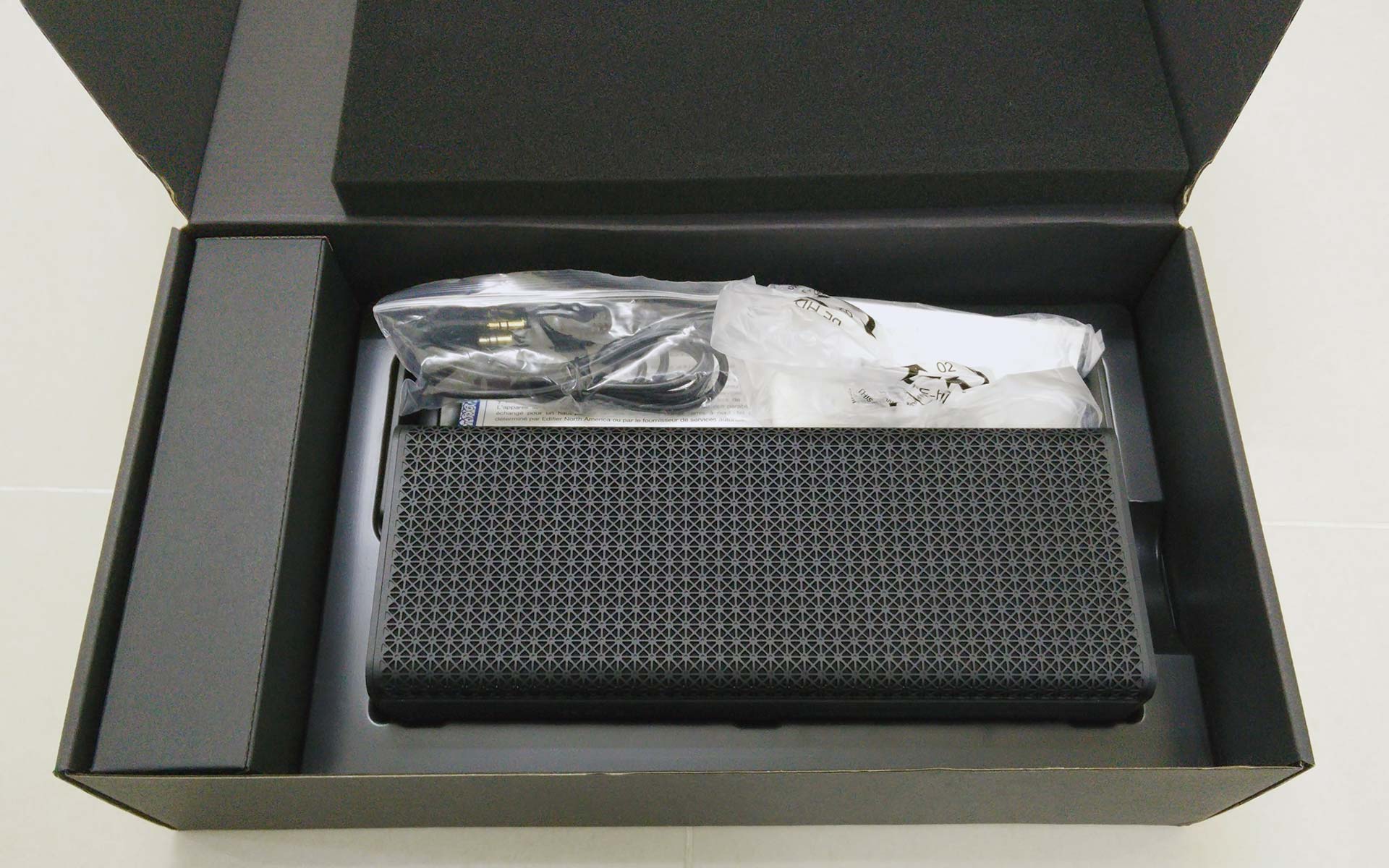 Accessories
Accessory-1: Here are all the accessories: cable, user manual and a piece of card expressing Edifier Speaker and Headphone Limited Warranty.

Accessory-2: The regular RCA-to-RCA cable measures approximately 160 cm which is super long and helps you connect to far away music devices such as PC's rear.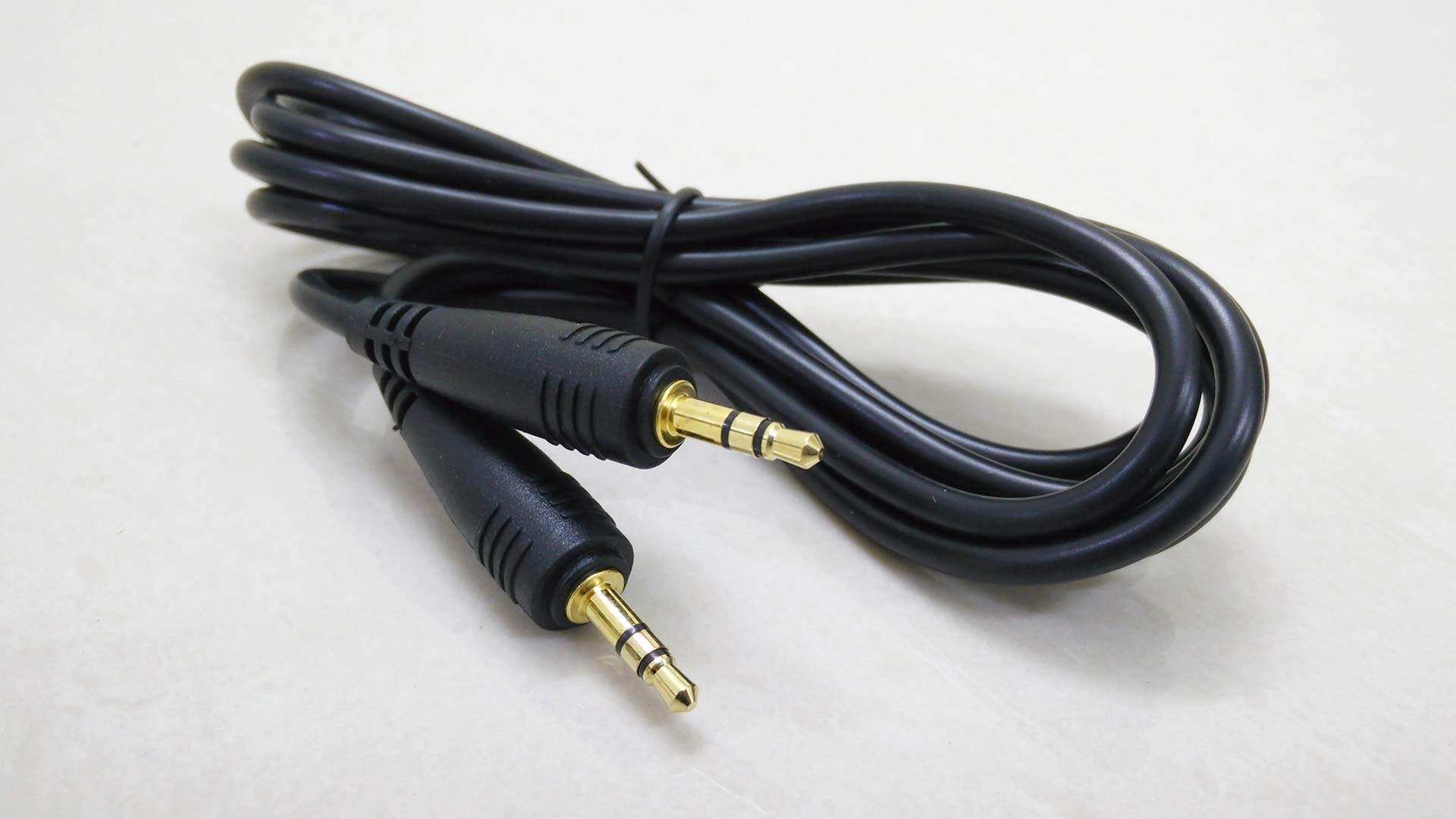 Accessory-3: This is Edifier Switching Power Adapter used to charge up the portable speaker. The model number: ADT-12120 EU, Input: 100-240V ~ 50/60Hz 0.7A, Output: 12V 1A, Efficiency Level: V. The power adapter cable length measures 145cm. This power adapter is similar to the one used in powering up Unifi routers.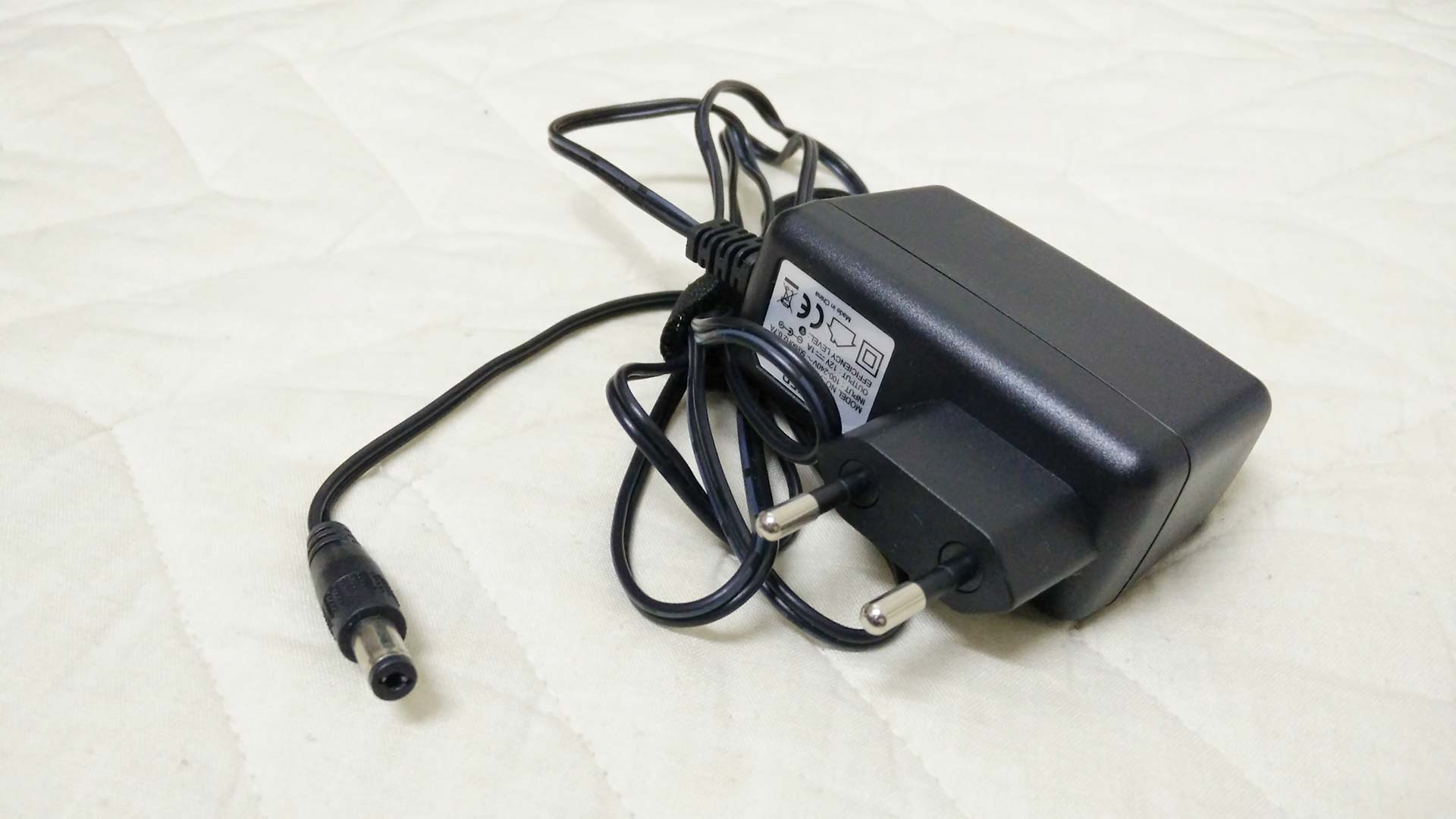 Speaker Design
Design-1: Here is a look at the top of the speaker. It has 3 large circular buttons (Standby, Volume Down, Volume Up). These buttons can perform extra functionality by holding the button down or by simply tapping it quickly. When it's turned on, you will see a blue light indicator that inform user that the speaker is turned on. The volume can be turned up/down by 50, with each step increases/decreases the volume by 2%.

Design-2: Here is another look at the speaker with the holder raised 90 degrees. It makes it easier for users to hold and carry it around. It felt firm and does not have any shaking components rattling inside the speaker. As you can see, the portable speaker has a beautiful grill casing for both front and back.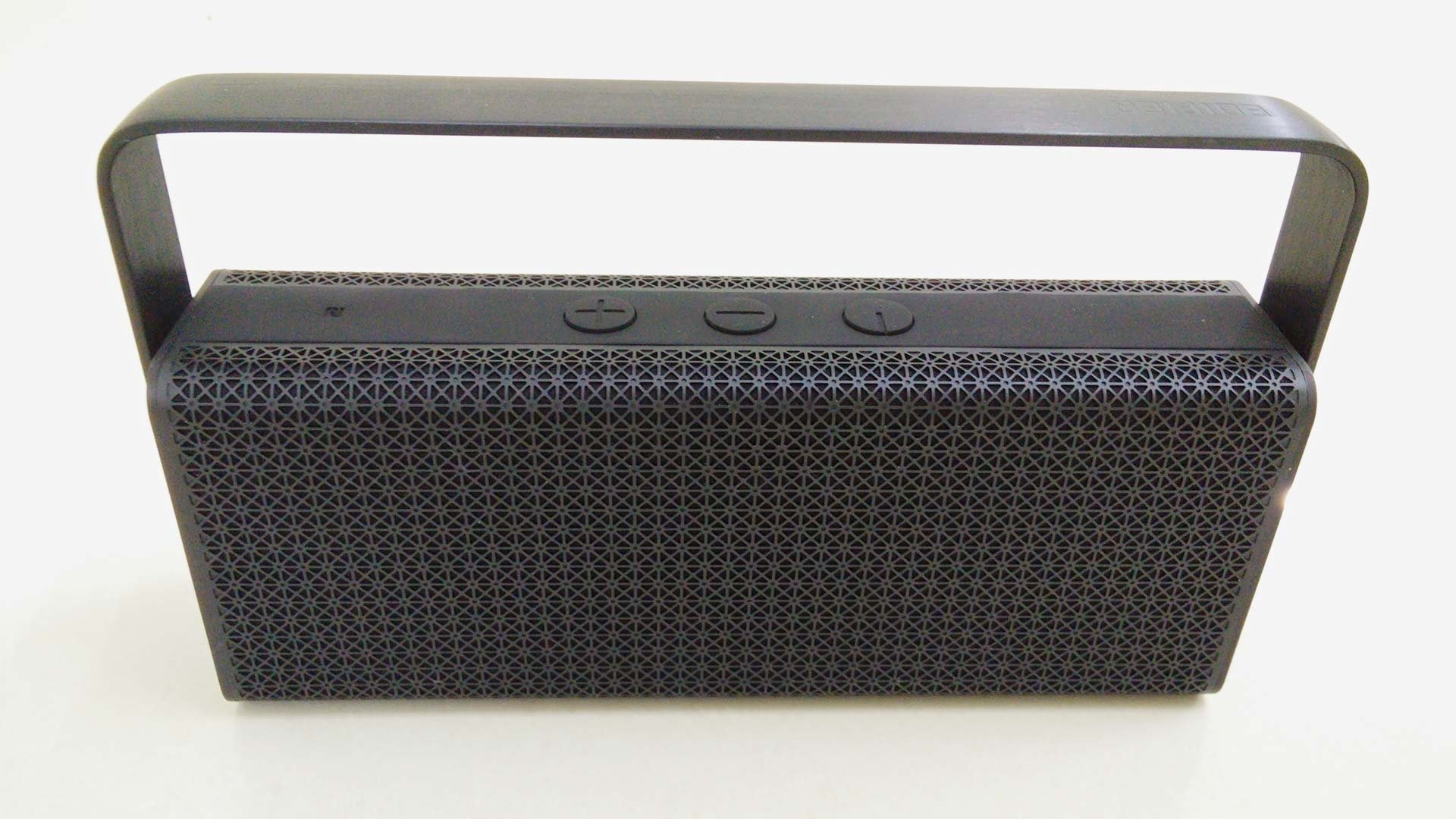 Design-3: Front side of the speaker. The speaker's drivers are hidden behind the grill and black foam, and it's quite difficult to remove them to show you those drivers. However, Edifier has provided some photo snapshot of the speaker's grill removed.

Design-4: Rear side of the speaker. Looks similar to the front which makes it a little difficult to determine where the front is located. This can be easily identified by seeing the power button or Bluetooth L.E.D. light located on the left side which indicates the front of the speaker.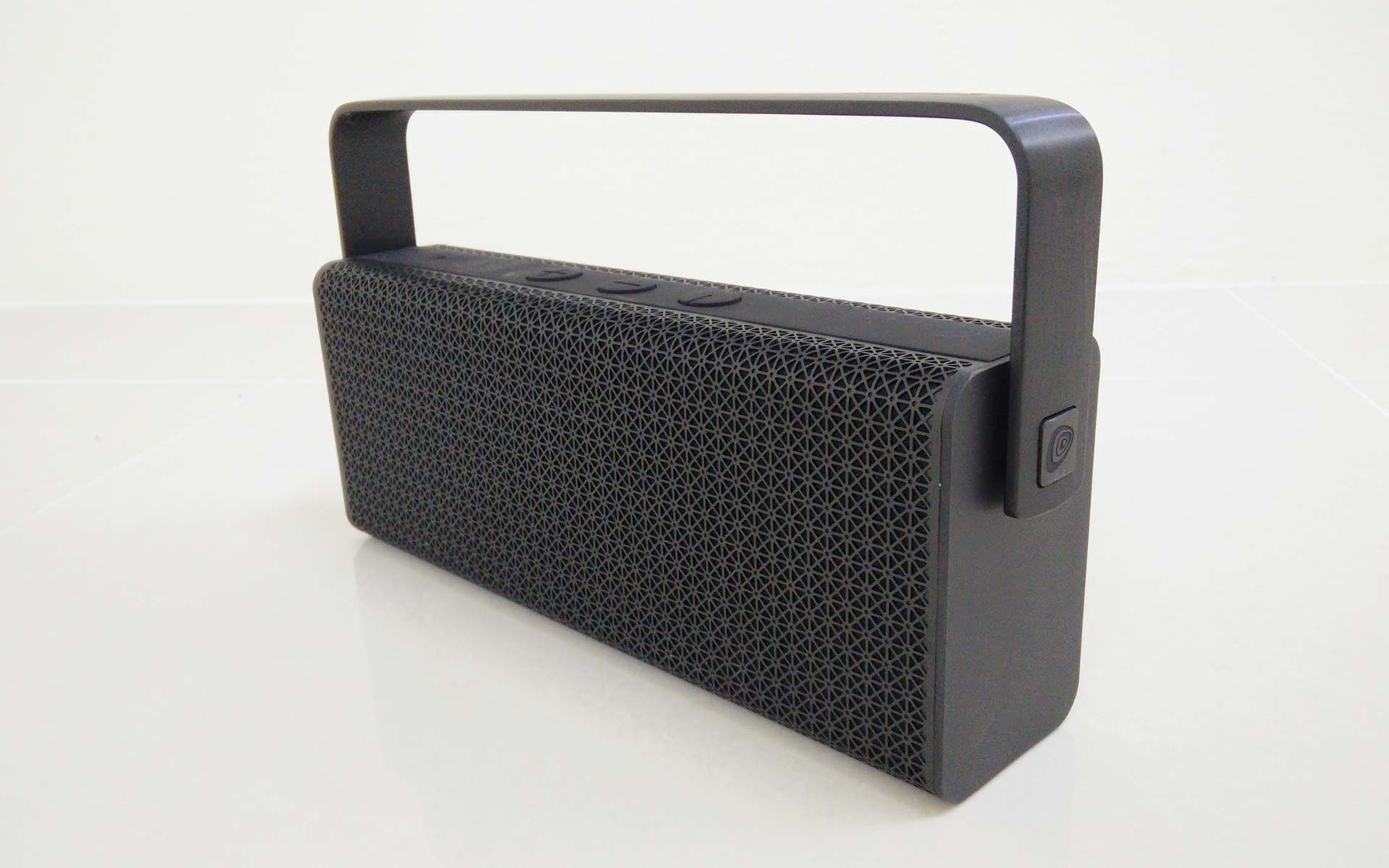 Design-5: Bottom side of the speaker. The rubberized feet helps absorbs the vibration generated from the speaker's drivers.

Design-6: On the right side of the speaker, it has a rubberized plastic cover that hides the RCA input, power input, USB 2.0 for charging your portable devices including your power banks.

Design-7: When the speaker is plugged to the power supply, you will notice it will start blinking with 5 L.E.D. lights indicating its charging. It will show 5 bright white L.E.D. without flashing means its charged fully. It takes approximately 45 minutes to charge up fully at 15.1~15.3W with the provided power adapter which is pretty fast.

Design-8: The speaker holder can be adjusted/tilted to 45 degree angle as shown in the photo below. This titling allows you to place the speaker diagonally for different audio sound dispersion.

Extra Pictures on MP700 Rave
Extra-1: As you can see from the picture below, the front of the speaker has 2 silk dome tweeters, 2 woofers and 1 passive radiator for bass while the rear has 2 passive radiators. The grill are difficult to be uninstalled as it requires specific tools.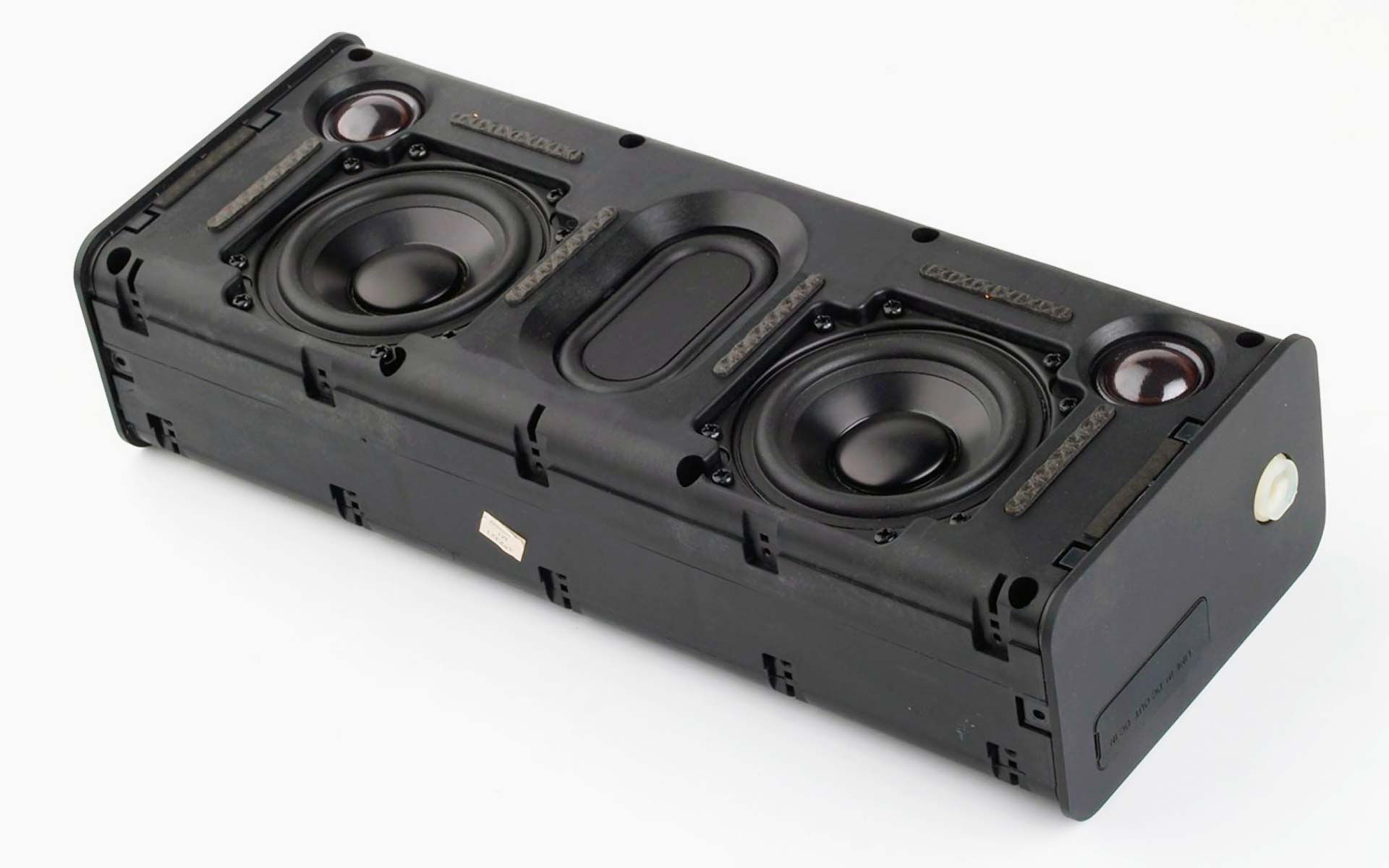 Extra-2: Here is a transparent look on the front and rear of the MP700 speaker, however they can't be seen directly as its covered by a black thin foam between the grill and speaker's drivers.

Extra-3: The MP700 Rave speaker has a dimension of 294mm (width) + 170mm (height) and 67mm (depth).

Testing and Conclusion
Testing the speaker with several music genre, I found it to be quite good and surpass my expectation in terms of the bass area and also the audio quality when playing via Bluetooth. Commonly, portable speakers will lack to have strength in providing good quality bass depth and also the sweet mellow trebles/highs. The sound is very open and welcoming instead of being too focused or having a mono-tone sound. However, the MP700 Rave has easily passed these tests. With a full battery, the speaker can lasts for 3~4 hours playing at 60% volume (comfort listening level within 1-2 meters away). It's nice to see that this speaker supports auto-standby mode that conserves battery when not in used for a period of time.
The nit picking part I have for this speaker is its bulky size. With a large handle in the way, it makes it hard to place in my backpack. I wished that the handle design could be similar to a retractable handle found in rolling back pack. This could hide away the handle without using up space surrounding this MP700 Rave device. Also, it would be nice to have a sound indicator to inform user that the speaker is turned on instead of relying of sight. In addition, I find it a little inconvenient to check the battery level since there isn't any button to press to trigger it unless you plug it to you power adapter. If these inconveniences does not seem an issue for you, then this speaker will definitely be a great addition to your audio entertainment for both indoor and outdoor usage.
Overall, this speaker gets my thumbs up for casual music listening, movie watching and of course gaming (plug into a power source so it doesn't get drained too quickly when played for long hours). If you are looking for a portable speaker that delivers good quality music in bass, treble and mids, while being heavy-duty against dust and water (IP54), and not forgetting its classy appearance and a strong reliable speaker holder, then add this to your purchase consideration/audition list! The SRP (Suggested Retail Price) of the MP700 is RM699 (approximately $158 USD) and Edifier Malaysia is currently having promotion for a limited time only.
Pros
Has a large handle to carry the medium weight speaker easily without the need of carrying pouch.
Able to charge other portable devices via USB 2.0 port.
Able to receive calls when the speaker is connected to your phone via Bluetooth.
Has IP54 protection against water and dust.
It can fill up an entire room with solid pure sound wave at 80-100% volume.
Cons
The top, bottom and sides of the casing has rubberized texture which acts as a dust magnet. However, the speaker exterior can be wiped clean to make it look pristine.
Bulky
Edifier MP700 Videos
Gene Edifier MP700 Rave Speaker Sound Test (Instrumental, Techno, Vocal)
[youtube url=https://www.youtube.com/watch?v=wCoxiFevycg]
Gene Edifier MP700 Rave Speaker Sound Test (Music, Movie, Game)
[youtube url=https://www.youtube.com/watch?v=TT4HtKO26NM]
Gene Edifier MP700 Rave Speaker Closeup View
[youtube url=https://www.youtube.com/watch?v=aKRR81uk14s]