Hi guys, here is another product review from me and this time its an Edifier Headphone, namely the H850 which was released sometime ago around 2012. This headphone is produced in collaboration with Phil Jones (a famous musician and also the founder of Pure Sound at philjonespuresound.com. With this partnership, they have develop a very special transducer to reproduce the natural tone of the bass, which handles low-bass very well.
Inter-Asia Technology is one of the Edifier H850 distributor and this can be bought in most major computer stores (e.g. C-Zone aka Compu-Zone). The warranty for this product is 1 year from local manufacturer. This is priced around RM120 (RM90 in Lowyat Garage Sales) whereas in the U.S its about USD100 (which seems like a bargain-deal for Malaysians).
Features
Ergonomic design for noise reduction and comfort.
40mm Neodymium Magnet drivers for acoustic and original sound.
Flat fold design and removable cable for traveling.
Brush aluminum, matte leather create luxurious and elegant look.
Specifications
Frequency Response: 20Hz~20KHz
Impedance: 32 Ohm
Maximum input power: 1000mW
Sound Pressure Level (SPL): 96dB
Cable connector 3.5mm stereo (with 6.35mm stereo adapter)
Cable length 2m
Packaging Weight: 510 gram
Net Weight: 190 gram (headphone + cable)
Accessories: 6.35mm stereo adapter + User Manual
Edifier Related Products
Edifier Homepage
Edifier CineSound B3 Soundbar Speaker Unboxing and Review
Edifier Hi-Fi H690 On-Ear Headphone Unboxing and Review
Edifier Hi-Fi H850 Over-Ear Headphone Unboxing and Review
Edifier R1900TV Speaker Unboxing and Review
Edifier R19U Speaker Unboxing and Review
Edifier R2000DB Speaker Unboxing and Review
Edifier R2730DB Studio Speaker Unboxing and Review
Edifier H850 Packaging
Edifier H850 Front Box gives a glimpse of this premium product.

The back of the box contains the a feature list and specification of the headphones as described above this article.

Opening the front cover reveals the headphone through a transparent plastic cover.

Taking the contents out of the box, we find 4 items: a headphone, 2m cable male-to-male audio jack, user manual and 6.3mm stereo adapter.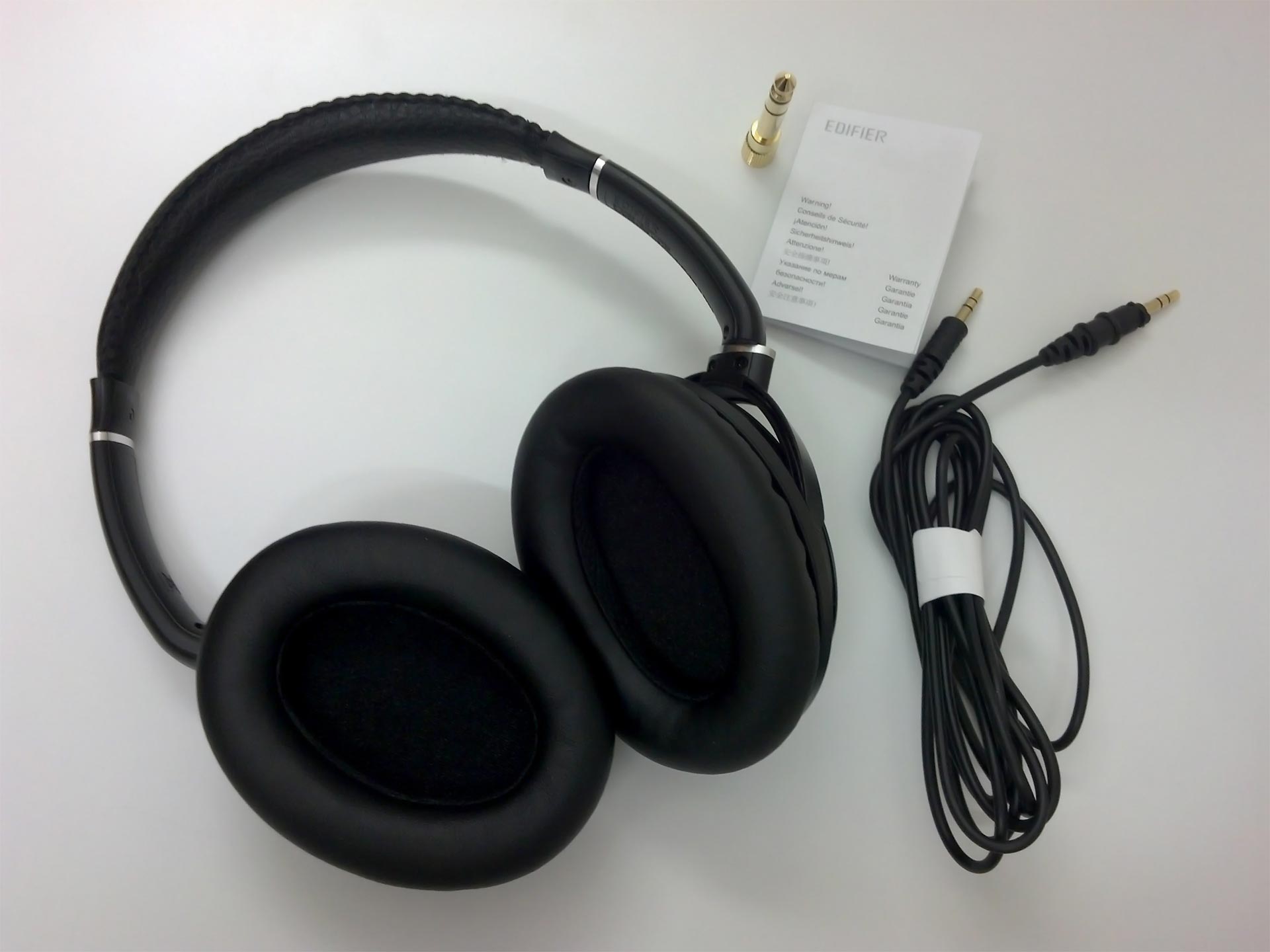 The user manual supports 10 languages which includes English, French, Spanish, Dutch, Italian, Russian, Chinese, Portuguese, Japanese and Danish.

The 2m cable male-to-male audio jack (196mm according to my measurement) is gold plated and has the embossed name "Edifier" on it. Take note that one of the audio cable jack end is specially made to have locking mechanism that prevents it from being pulled out of the headphone.

Edifier H850 Headphone Design
The H850 ear cup outer shell has a brush-aluminium appearance with the Edifier logo printed on it which makes it look very professional-classy while keeping the minimalist color tone of black, silver, white, black and gray.

The H850 cushion is made of pleather. The inner cup has an oval shape compared to a balance round figure. Notice its tilted to match your ear lining. Very good ergonomic design to cover your ear nice and fit!

The ear cushion has a height of 60mm (6 cm) and width of 38mm (3.8cm), which is spacious for most ears. If compared to rounded ear-cups, it would be 50mm (5cm) which will touch your ears (on-ear headphone) but H850 will definitely surround your ears comfortably.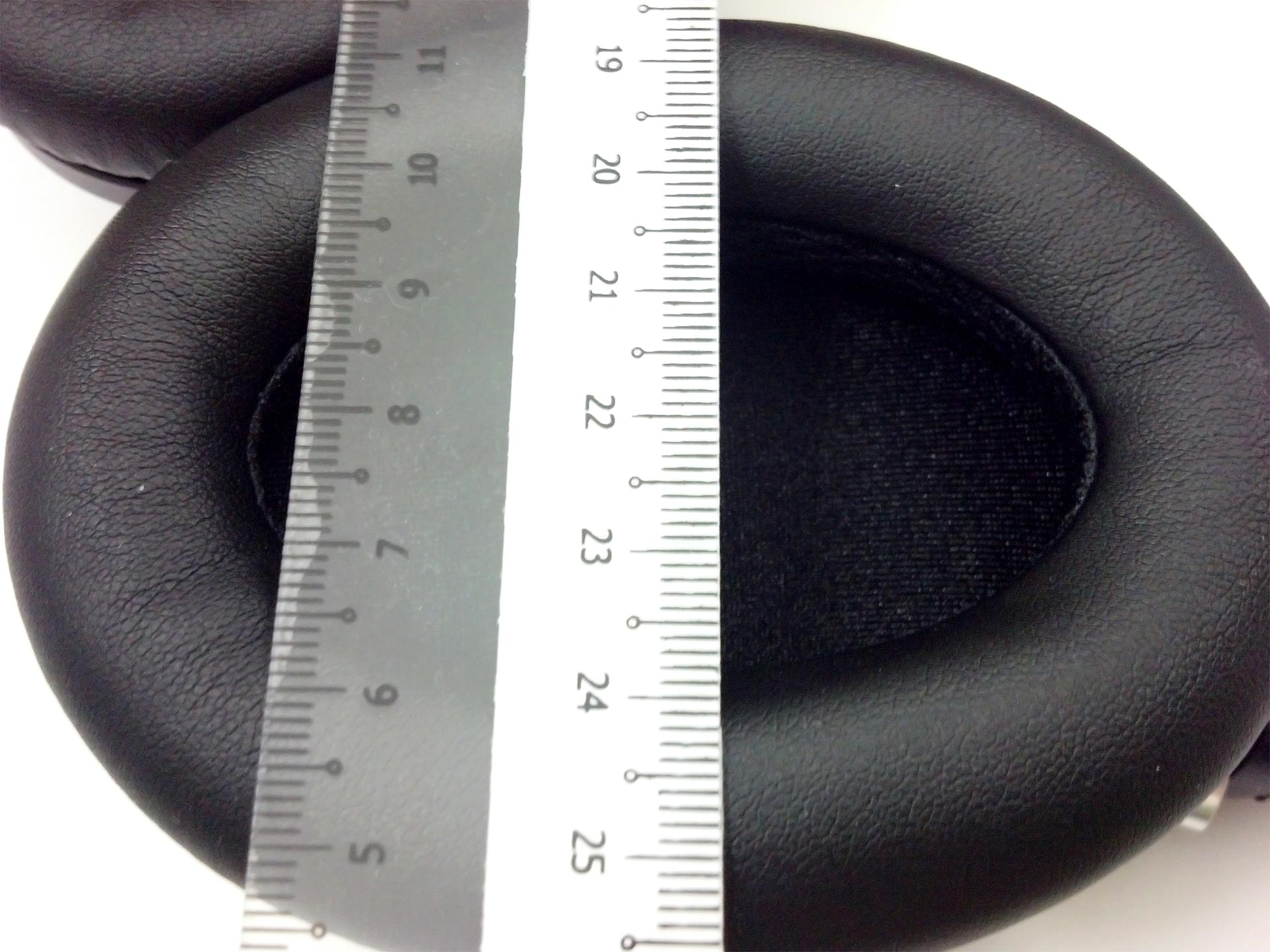 Here is a close up measurement of the H850 inner pads height.

The H850 comes with an audio jack port. This allows you to unplug the cable from the headphone if you wish to pack up for travel or lock to prevent it the cable from coming loose. Do take note that not all 3.5mm audio jack can fit into it because most audio jack have thicker plastic lining after the metal jack.

The headphone band has this leather looking appearance sewn with black threads at the edge. Very nice looking again!

Edifier H850 Headphone Flexibility
The headphone can be twisted 90 degrees outwards and 33 degrees inwards. With this ability, you can pack it flat on its sides.

The earcup can be tilted approximately 30 degrees towards your head. This allows the headphone to comfortably adjust to match everyone's head size.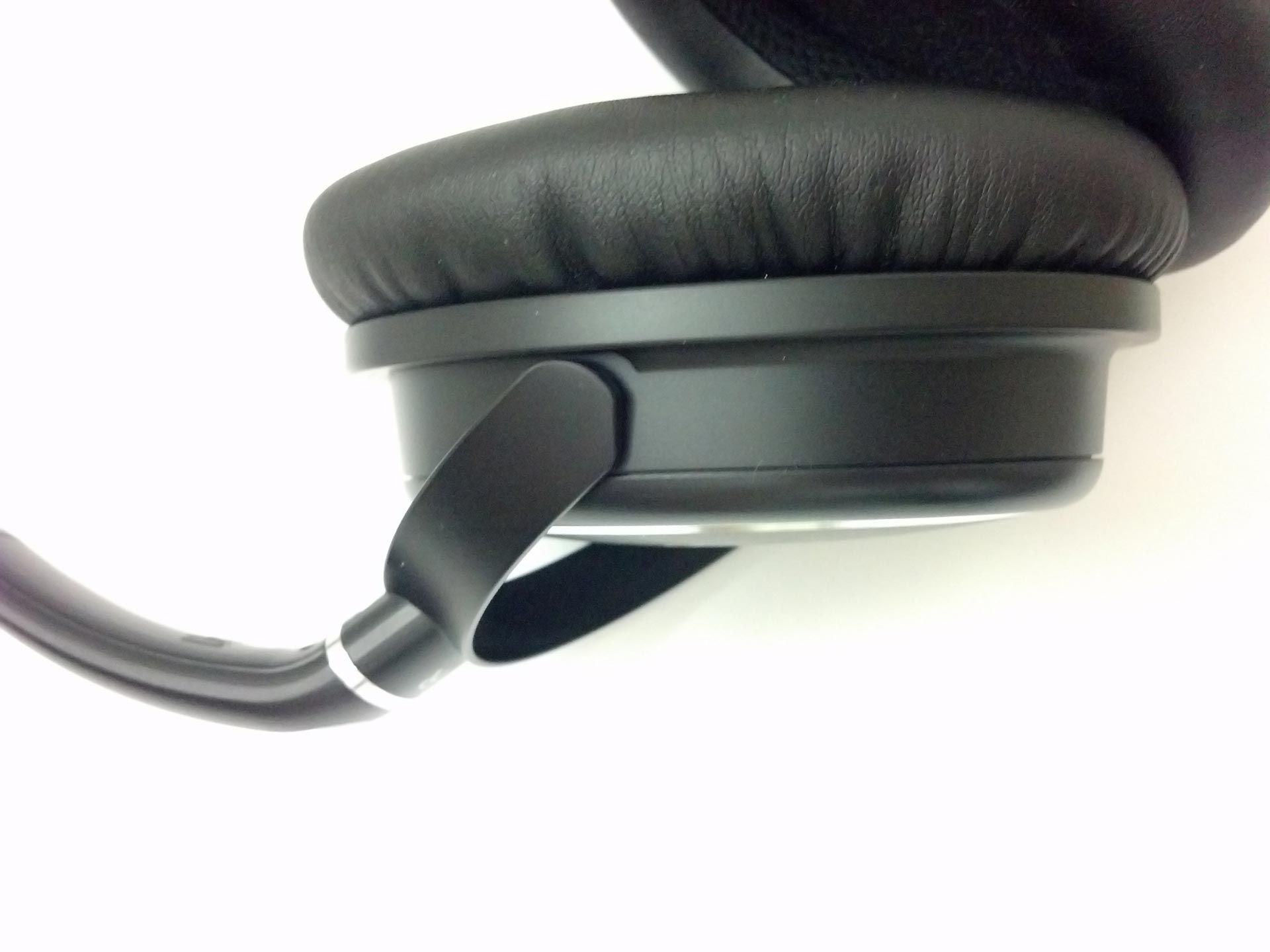 You can also adjust the headband notches depending the size of your head (small-large: up to 6 notches) Each notch gives 5mm gap to accomodate different sizes.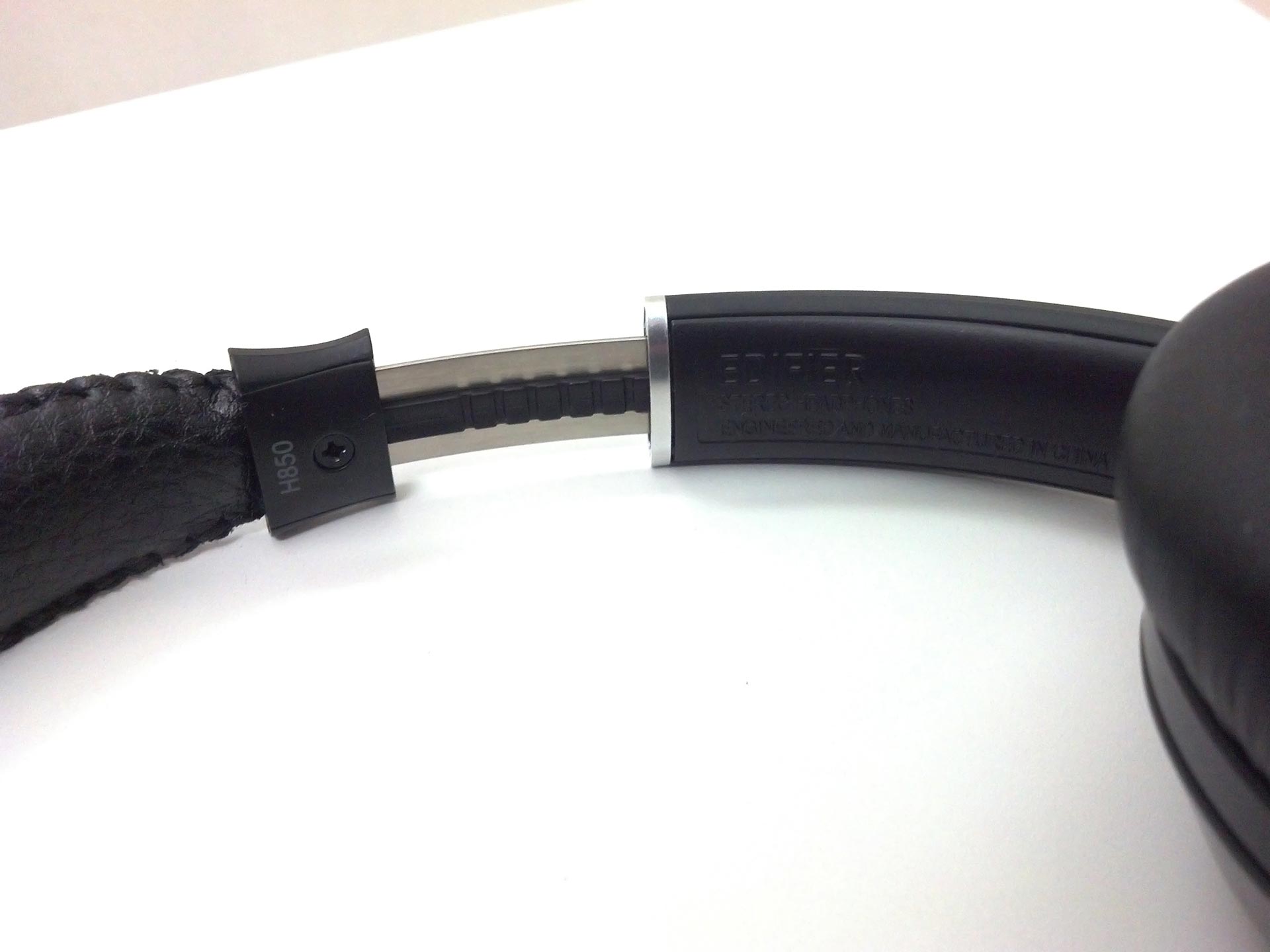 Edifier H850 Headphone Final Thoughts
It's quite rare to find a headphone at this price range that offers much flexibility and comfort while providing crystal clear sound quality with sufficient bass. Some of the headphones at this price range would have muddy bass or very sharp treble (high pitch sound), but the H850 nails it with balance sound with solid thumping bass. Another thing I would like to point out is you can use it on-ear instead of over-the-ear if you are not accustomed with the clamping pressure below the ear-line jaw (for first time headphone over-the-ear users), this provide more comfort similar to most on-ear headphones, just that you will be able to hear the environment noise too. This is made possible as the cushion is oval shape instead of round-shape which takes up a lot of space when placed on the head.
After testing the headphone through my mobile phone and on computer, it feels a lot different. The computer motherboard uses VIA VT2021 audio codec (110 db output SNR) which is allows it to provide more juice to power the bass up better. Playing games, listening to oldies music, instrumentals, techno-trance, rock, dubstep feels awesome. If placed on-ear sideways, I used 50-60% volume and feels like cinematic sounding experience. However, playing above 60% seems unbearable since its too powerful for the ears. It would damage your ears before it damages the headphone drivers.
10-20% volume : For regular listening to music over-the-ear (on PC)
20-45% volume : For regular listening to music over-the-ear (on portable device)
45-50% volume : Noise can be heard leaking out of the headphone when its not worn.
> 45% volume : Can hear the bass thumping becoming more apparent.
50% volume : Noise volume coming out similar to smartphone at volume 40%.
100% volume : Noise volume coming out similar to smartphone at volume 60%.
Edifier H850 Headphone Pros and Cons
Pros:
Light weighted (190 gram for headphone + 2 meter cable). Comfortable to wear even for a long time.
No unsightly cable dangling out from 1 headphone ear-cup to the next ear-cup.
Great clarity. Instruments can be heard (e.g. violin, guitar, piano) in the background.
Great bass. Drums can be heard echoing nicely.
Low impedance (ohm) allows portable devices like smartphone easily power the sound up.
Light and comfortable with soft cushion on the top headband and ear cup.
Has Braille symbols on the left side of the cup (representing "L" for Left). Useful to feel whether its left/right by touching it instead of looking for the L/R.
Can be placed on-ear instead of over-the-ear with some gap to be able to hear the environment (e.g. colleagues discussing something). I found this to provide somewhat a cinematic experience similar to using Edifier R2800.
No sound leak up to volume 80% !!! Fully noise-sealed when worn.
Cons:
Wished it came with a shorter cable (1m cable length) for phone usage. Don't rush to your local IT-store to buy a shorter one. Test first before purchasing (see point 2)
Not all male-to-male 3.5mm audio jacks will work with H850.
Feels warm after using for more than 20 minutes, slightly warmer compared to using Velour Pads. Not an issue if used in an air-conditioned room.
It has 2 mini holes at the top of the ear-cup, therefore using in a windy area will distort/cloud the sound. Using indoors will not pose this problem.