Hi guys! Today I'll be reviewing a 5.1 speaker system from AudioBox and its the Thor7000 5.1 Speaker System! It's one of the latest AudioBox speaker released late 2014. This speaker has LED digital display, wireless remote control, FM Built-in, SD Card and USB Music playback with Aux Stereo Inputs. The Suggested Retail Price (SRP) is 299 MYR (90 USD). Before jumping into the review, let's take a brief look on Thor7000 features and specifications!
Features
1. Super high-excursion bass audio driver.
2. Ultra low, deep bass for earth -shaking tremor effect.
3. High clarity, full function LED display for Audio, FM Functions.
4. Optional Bluetooth plug-in device to enable seamless upgrade to Bluetooth Audio.
5. Has USB and SD Card Input to play music from those storage devices.
6. Has FM Radio to play music from your favorite local radio DJ.
Specifications
1. Total System Power: 180W
2. Pure System POwer (RMS): 97W
3. Frequency Resposne: 40Hz~20KHz
4. Signal to Noise Ratio: >= 65dB
Satellite
1. Driver Size: 3″ x 5
2. Output Power (RMS): 13W x 5
3. Impedance: 4 ohm
Subwoofer
1. Driver size: 5.25″
2. Output Power (RMS): 32W
3. Impendance: 8 ohm
Packaging and Unboxing
Packaging-1: Front of the box has an image of male and female singing to their hearts content. Nothing related to the speaker here.

Packaging-2: The left side has details on the speaker specifications in 18 languages (English, Malay, Japanese, Korean, Spanish, Chinese, Indian just to name a few)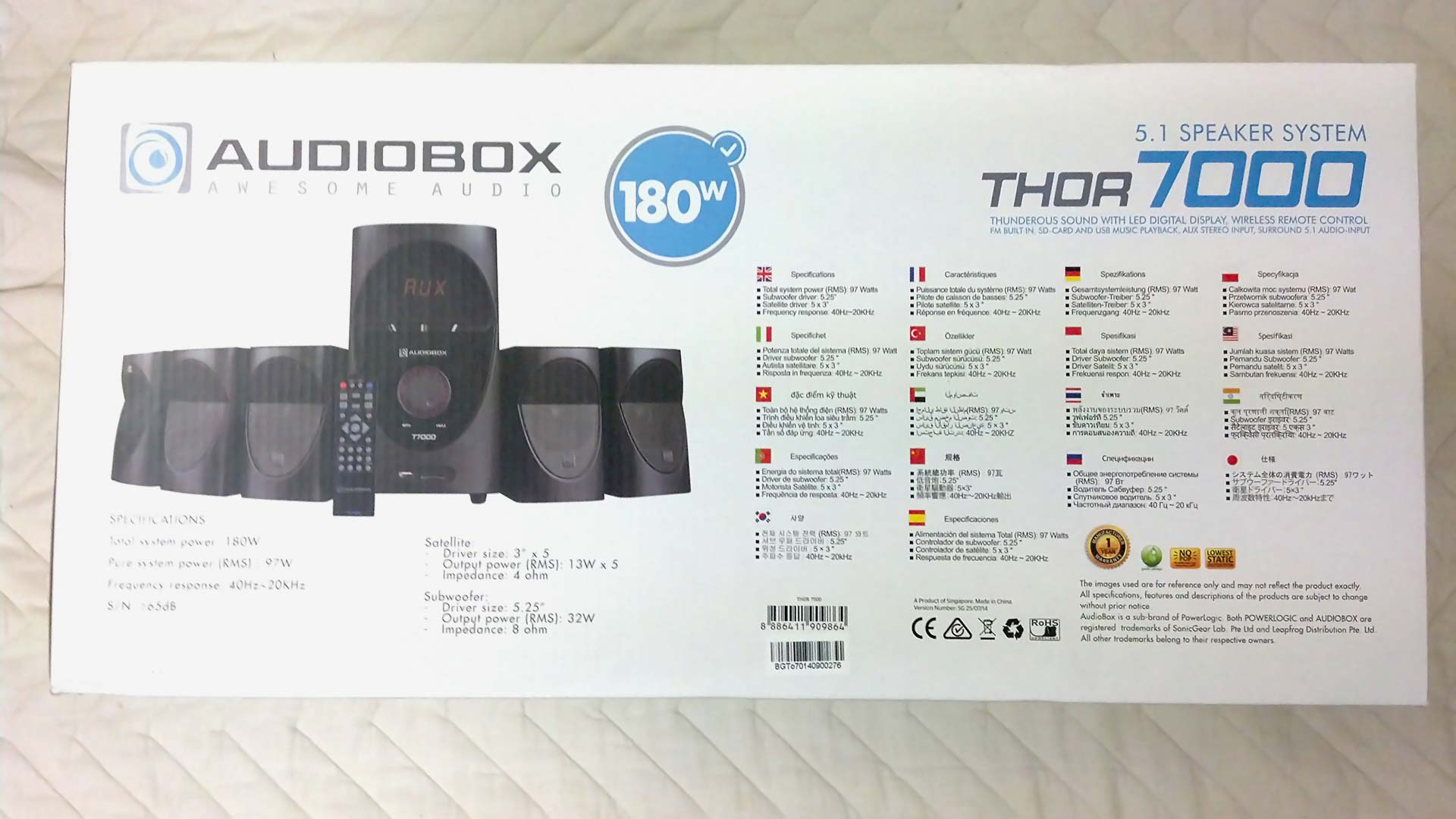 Packaging-3: The right side has an overview of the satellite speaker and subwoofer along with the remote control.

Packaging-4: The rear of the box has description of the features that this speaker has to offer such as friendly user interface, earth-shaking tremor bass effect, USB and SD Card Input, Remote Control, Digital LED Display, Powerful 5 x 3″ Satellite Driver.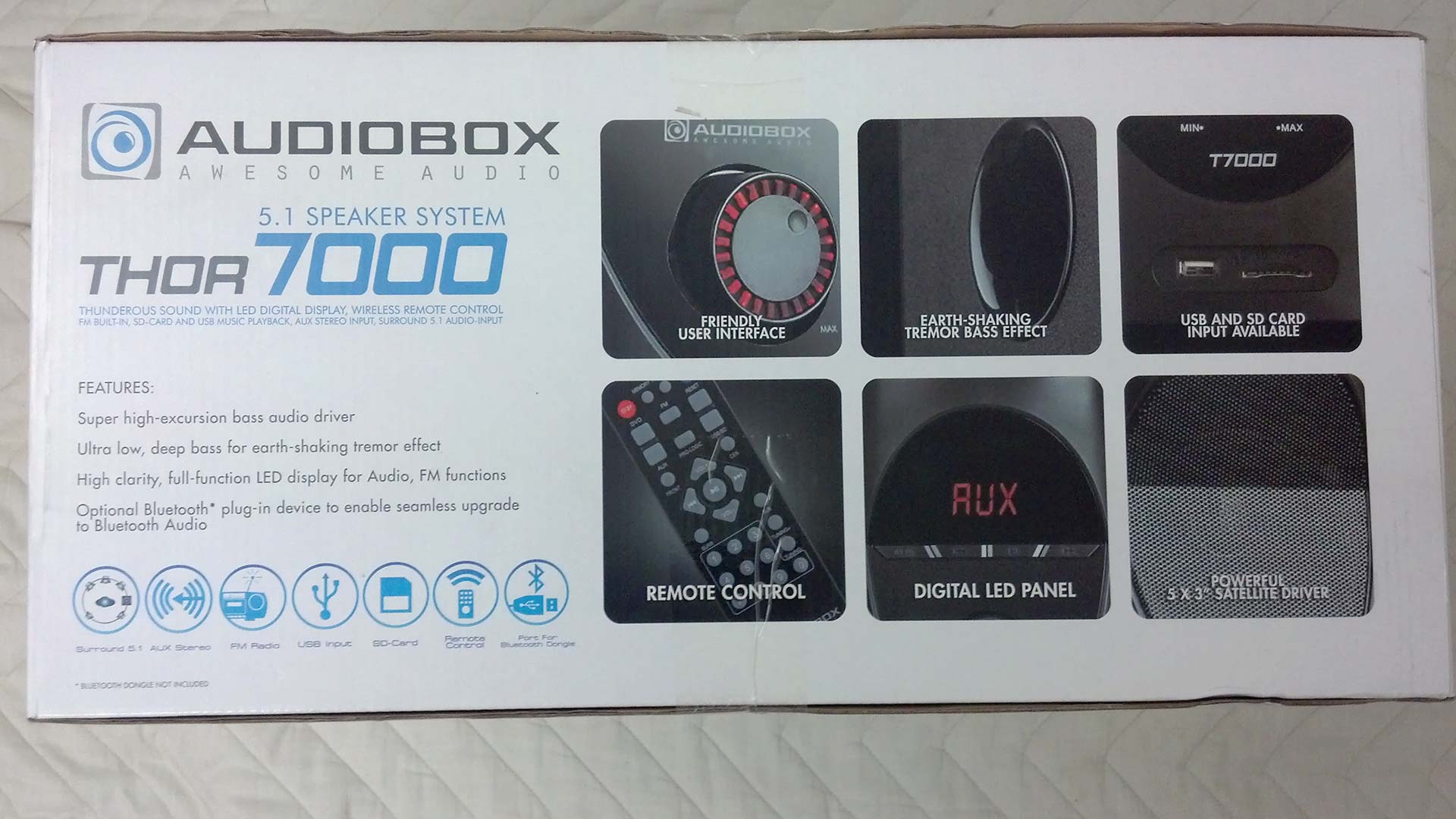 Unboxing-1: Opening up the box with a pen knife, the first thing that a user would see is the thick white foam.

Unboxing-2: Removing the upper layer foam reveals the speaker and subwoofer wrapped in plastic to avoid unwanted scratches.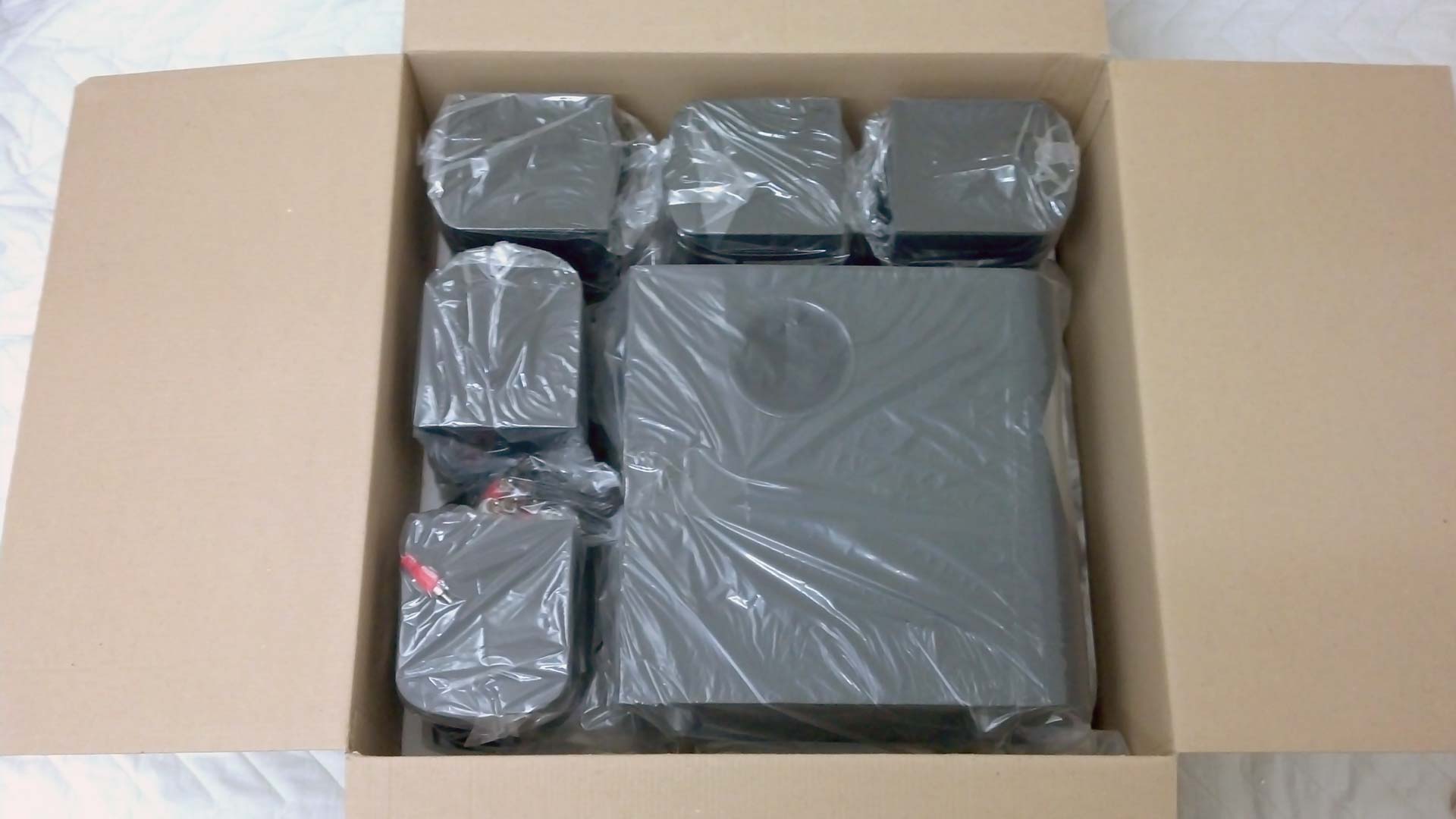 Unboxing-3: Removing the speaker and accessories only leaves the bottom white protective hard foam.

Accessory: Here is an overview of all the accessories that comes with this speaker! Starting from top left to bottom right: RCA-to-RCA x 3, RCA-to-3.5mm x 1, FM Radio Cable x 1, AAA 1.5v Battery x 1, User Manual and Remote Control.

Accessory-1: This remote control width is 4.5cm and height is 15cm. It uses double AAA 1.5V Batteries. It's packed with functionality! User can set the speaker on standby-mode, mute, change to different modes (Radio, DVD, FM, Aux 3.5mm) Also, it allows for volume customization on front, center, surround and subwoofer bass! You can also play-pause and skip to next/previous when playing music via SD card and USB thumbdrive. Last but not least, allows you to save up to 10 radio channels!

Accessory-2: Here is the AAA 1.5V battery. I like it packaged separately to avoid risking battery leak into the remote control.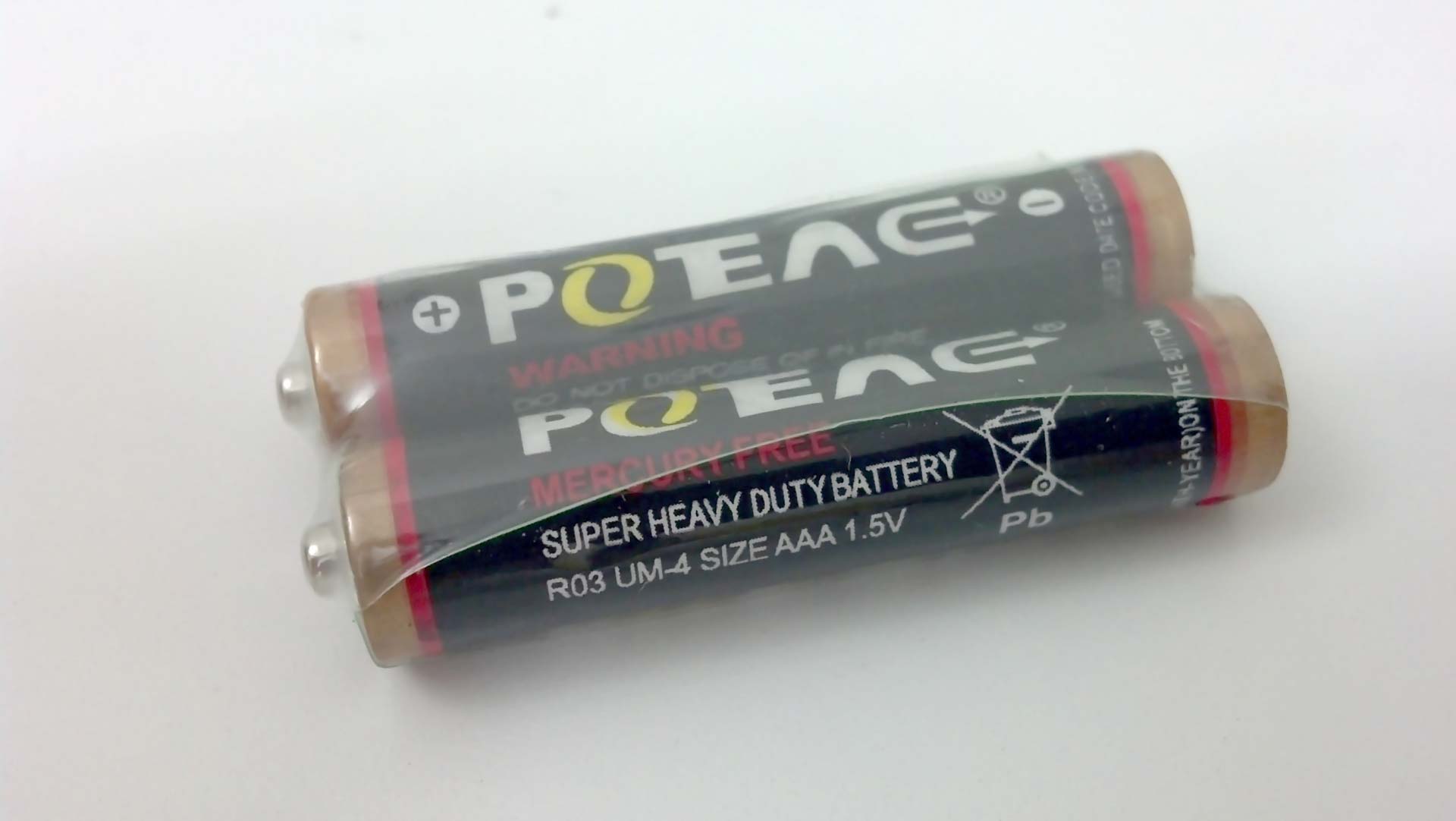 Accessory-3: Here is a closeup on the FM Radio cable. You can connect it to an antenna for better radio coverage.

Accessory-4: This is the RCA-to-3.5mm audio jack cable which you can plug to your computer, media player or smart phones/tablets. This cable measures approximately 45 inches which is kinda short for my preference. Reason being, when the subwoofer is located on the floor and the music source (computer or DVD devices) is placed high on top of a table, the cable isn't long enough. To compensate the short cable, this devices have to be placed close with one another.

Accessory-5: Here is the RCA-to-RCA cable. The packaging provided 3 of these cables so you can hooked it up to your 5.1 DVD player. This cable measures approximately 45 inches which is the same length as the RCA-to-3.5mm. It would be preferable to have a longer one though to avoid the issue above.

Accessory-6: This is the 2-pin power cable used by this speaker! The power cable length measures 51 inches which is sufficiently long to connect to far away power source.

Speaker Design
Design-1: Here is a closer look at the 5 satellite speakers. The center speaker uses black RCA connector, right front-side speaker uses red RCA connector and left front-side speaker uses white RCA connector. The satellite cable length measures 61 inches which is more than ample length to connect to the subwoofer if its tucked in a far location.

Design-2: The front of the satellite speaker has an odd V-shape for its design and has the AudioBox logo near the bottom of the metallic mesh. Each satellite is equipped with one 3 inch speaker driver. There isn't any sight of a tweeter here. The rear has a QC (Quality Check) sticker and a hardwired cable with the end of it comes with a RCA audio jack instead of just bare wires which provides better connectivity.

Design-3: The sides of the satellite speaker is plain. Nothing fancy here. Just overall wooden enclosure with black matte texture. It doesn't feel heavy or light.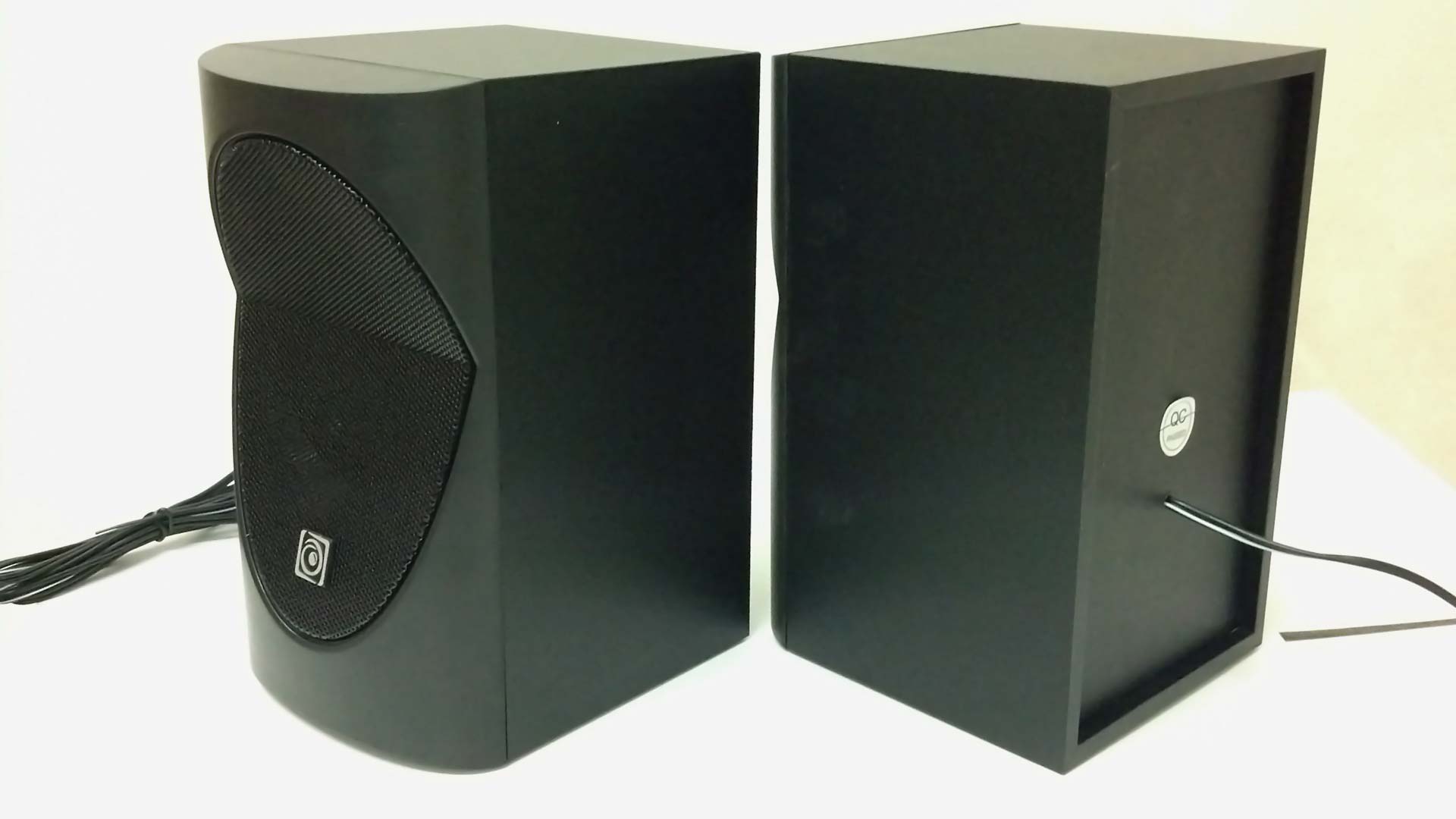 Design-4: Looking at the top and bottom of the speaker, we can find mini circular foam padding for the satellite speaker feet.

Design-5: Now, let's take a look at the subwoofer! Starting from top to bottom, we can find 4 buttons lined horizontally (Input aka Mode Type, Backward, Play-Pause and Forward), a large potentiometer that acts as an overall volume controller and near the bottom is the USB and SD Card Input.

Design-6: The left side of the subwoofer is the bass reflex port whereas the right side is the 5.25″ inch subwoofer. The port emits the thunderous tremor effect and the subwoofer gives the punch bass with little boominess.

Design-7: The top of the subwoofer is flat and plain. The interesting part is at the bottom. It has 4 feets with height of 1.5cm and padded with thick circular foam like the one you seen on the satellite speaker.

Design-8: At the rear, you can find the audio input and output. Starting from the top: There is the FM Radio Input, AUX Audio Input (Left + Right Channel), DVD Audio Input (Front Left, Front Right, Center, Subwoofer aka SW, Side Left, and Side Right). For the Audio Output section, we have 5 output for the satellite speaker connection. There is also a power switch for you turn all of the speaker off. The power cable is hardwired to the main speaker. What I dislike about having the input and output tucked inside the wooden enclosure instead of protruding out is, when connecting the RCA connector, the metallic protective shell gets resisted/scratched by the surrounding wood.

Design-9: Here are the 4 modes for the AudioBox Thor 7000 speaker! It has AUX (Auxiliary), DVD, ###.## (FM Radio Channel) and USB (USB aka Thumbdrive/Pendrive). The music file types that can be played on the USB is MP3, WAV and WMA.

Design-10: Here are the 4 volume controls which are the Center (CE), Front Speaker (FL), Surround Speaker (SL) and Subwoofer (SU). Max volume is 30. Each increment increases the volume approximately 3%. You will need to enable Pro-Logic in order to increase/decrease the Center speaker and Surround Speaker volume.

User Experience
Let's start with the pros about AudioBox Thor7000. The first thing I really liked about it is the subwoofer. It's like a day-and-night overhaul experience from the Armageddon Panzer III that I have reviewed previously. The subwoofer now comes with a 5.25 inch driver that provides the punchy bass accompanied with the tremor shaking lower bass from the reflex port. The lower bass is much more controlled instead of blaring all over the place. Secondly, is the radio feature. It's kinda rare to find a 5.1 speaker system with a radio feature at this budget price range but AudioBox made it possible. So if you ever find yourself forgetting to bring a portable devices to play your music (MP3, WMA), you can listen to your favorite radio channel for the latest news or popular music. Third good point is the remote control. It is rich with functionality and also provide detail customization to the front, side, center and subwoofer volume. Not only that, it allows users to easily search for the best radio frequency and save up to 10 channels: 0~9 which is more than sufficient in my usage.
Now for the cons of AudioBox Thor7000. The satellite speakers aren't magnetically shielded. Therefore, any incoming calls if you had a phone close to the speaker will make weird blip noises. Some users might not find it irritating but just a heads up. Second point is the satellite speaker does not have any tweeters. When playing music, it feels the highs were somewhat lacking. To illustrate this experience, try to turning the treble down to zero on your speaker and play some music. It isn't that serious to put this speaker away, just to make a point that it does not provide the airiness that a tweeter would provide. Listening to the speaker for a period of time and you will just forget about the missing sweet mellow highs. Third point is the standby mode doesn't seem to save much electricity. Standby mode power usage fluctuates approximately 16.7~16.8w and non-standby is around 17~17.4w (1W saved). Compared to other speaker brand that has standby feature such as Edifier, their standby mode is 0W based from my power meter reading. The forth con is the speaker is unable to save the volume settings that I had set for my speaker (front, center, side, subwoofer). All the volume settings will be lost upon turning the power off regardless from the power switch at the rear of the speaker or from the power source. It will have it in memory provided its on standby mode, which is pretty much a major hassle for me to tweak the volume each time I turn speakers off to conserve electricity.
There are other points I would like to highlight (not being knit-picky). The first is when switching radio channels, you are required to wait at least 1-2 seconds before it changes channel. I would much prefer it to have an instant feedback. The delay is to allow users to key in 2 digit number (e.g. Channel 11 to save a radio channel). Second point is the reset button which resets everything to default except for the saved radio channels. Third point is turning the speaker off, it makes a loud pop noise regardless if its on standby mode or idle (turning power off from rear or power source).
Verdict
For those who are looking for a budget 5.1 speaker system for gaming, I'll highly recommend you to consider the AudioBox Thor7000 aka T7000. It can be used to play music from computer, radio, direct USB/SD Card drive and also DVD media device. If you are an avid music listener who wants more control over the highs, lows, then this speaker will not be able to tweak the treble since there isn't one. As we know 5.1 speaker takes up huge amount of space. If you intend to use it at your computer desk but its quite small or the space is taken up by dual-triple monitors or possibly your documents, then it will be quite a hassle to manage this type of speaker. I would advice you to look for a 2.0 speaker or 2.1 speaker for the added bass.
Audio Box Thor 7000 5.1 Speaker Sound Test Video Preview
Bonus: Added a comparison sound test by swapping with Edifier R2730DB in-out, so you can hear the difference between the treble airiness/openness that I mentioned earlier.
[youtube url=https://www.youtube.com/watch?v=27jIciHjzJE]
Disclosure: The review sample was provided by LeapFrogGlobal – if you're looking for this speaker, you know where to find them.