Hi guys! Today I'll be reviewing yet another earphone and this time it's the Armaggeddon Mark 5 Ultimate Gaming Earphones. The MARK 5 comes with different sizes of ear gels for the perfect fit. It's cable is flat and tangle-free with 3.5mm audio jack. Suitable for music listening and video chatting. The SRP (Suggested Retail Price) for this product is MYR 109 (30 USD). The earphone comes in 3 colors (white, black, yellow) and the review unit I have with me is the Yellow version.
Before jumping into the review, let's take a quick glance over the features and technical specifications of this product!
Mark 5 Features
3-sets of ear gels of different sizes and 1 set of ear gels with flanges for the perfect fit.
Can be used on plane.
Splits 4-step 3.5mm audio jack into separate jacks for sound input and output for your convenience.
1.2 meters tangle-free earphone cable.
Mark 5 Specifications
Earphone Driver
Driver Size: 9mm
Total Driver: 2
Frequency Response: 20 ~ 20KHz
Impedance: 16Ω
Sensitivity: 102dB+/-2dB
Rated Power: 5mW
Maximum Input Power: 10mW
Microphone
Frequency Response: 100 ~ 10KHz
Sensitivity: -43dB+-3dB@1KHz
Function-1 for Caller: Answer Call, Hang up Call, Reject Phone Call
Function-2 for Music: Previous, Next, Play or Pause
Cable and Jack
Audio and Microphone Jack: 3.5mm Stereo + Mic
Cable Length: 12 meters
Package Content
1 x Mark 5 Earphone
1 x Replacement Earphone Gel with Flanges
1 x Small, Medium and Large Replacement Earphone Gel
1 x Audio + Mic Splitter Cable
1 x Inflight Connector
1 x Carrying Case
Mark 5 Photos
Packaging-1: Here is a look at the box. On the front, there is a picture of the earphone along with the the label "Mark 5 The Ultimate Gaming Earphones", whereas on the rear, users can find the accessories written out (Ear Gel, Audio Splitter, In-Flight Adapter, Earphone Pouch).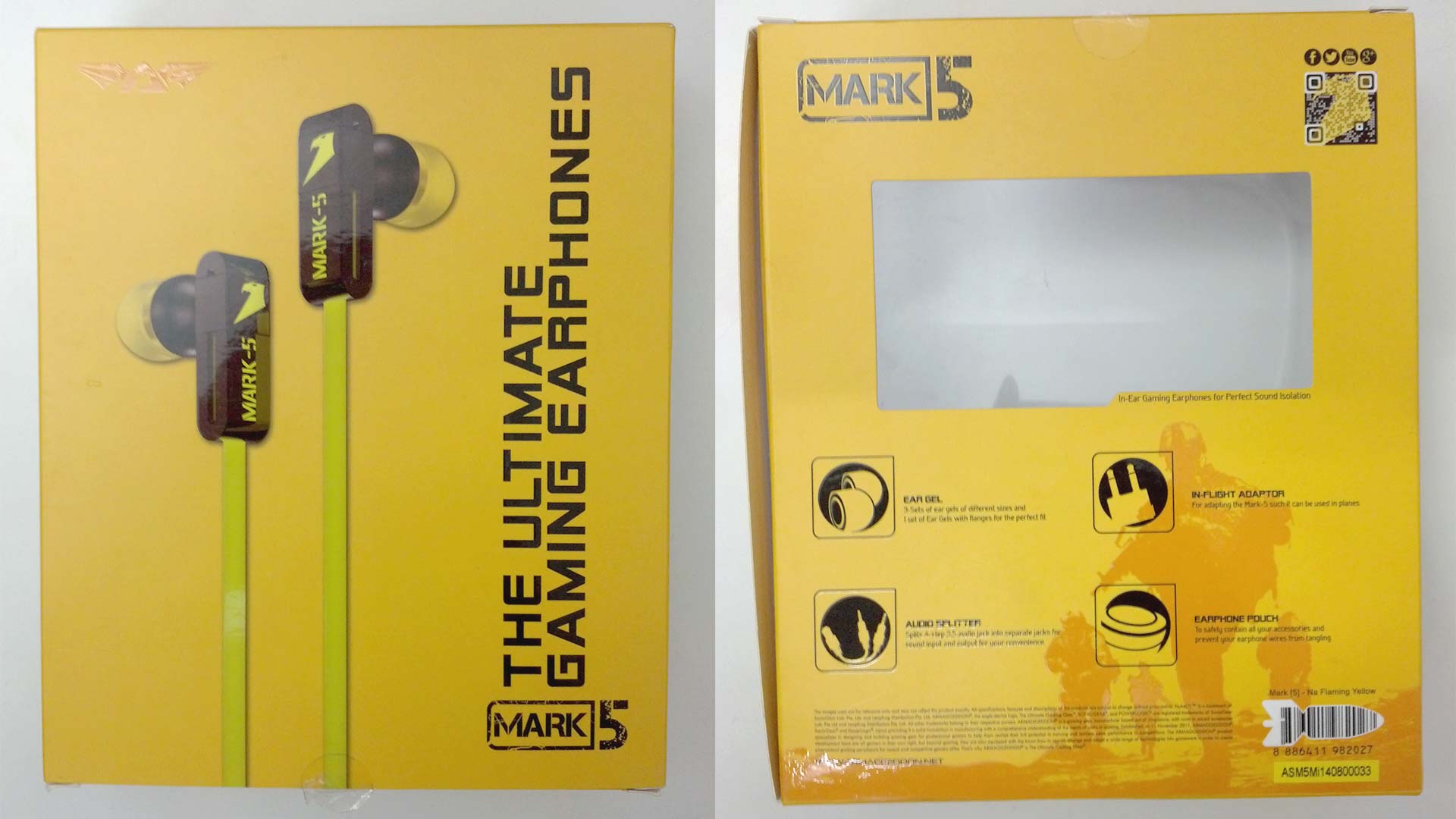 Packaging-2: On the left side of the box, we can find a huge "MARK 5" label. On the right side, it has technical specification of the earphone driver, microphone, list of content within the package.

Accessories: Here are all the items found from the packaging. Starting from top left to bottom right: The black sealed plastic bag contains the 3 different sizes of ear gel, in-flight adapter, warranty card, black round carrying pouch/case, ear phone with mic button and L-shape 3.5mm audio connector, audio + mic splitter cable.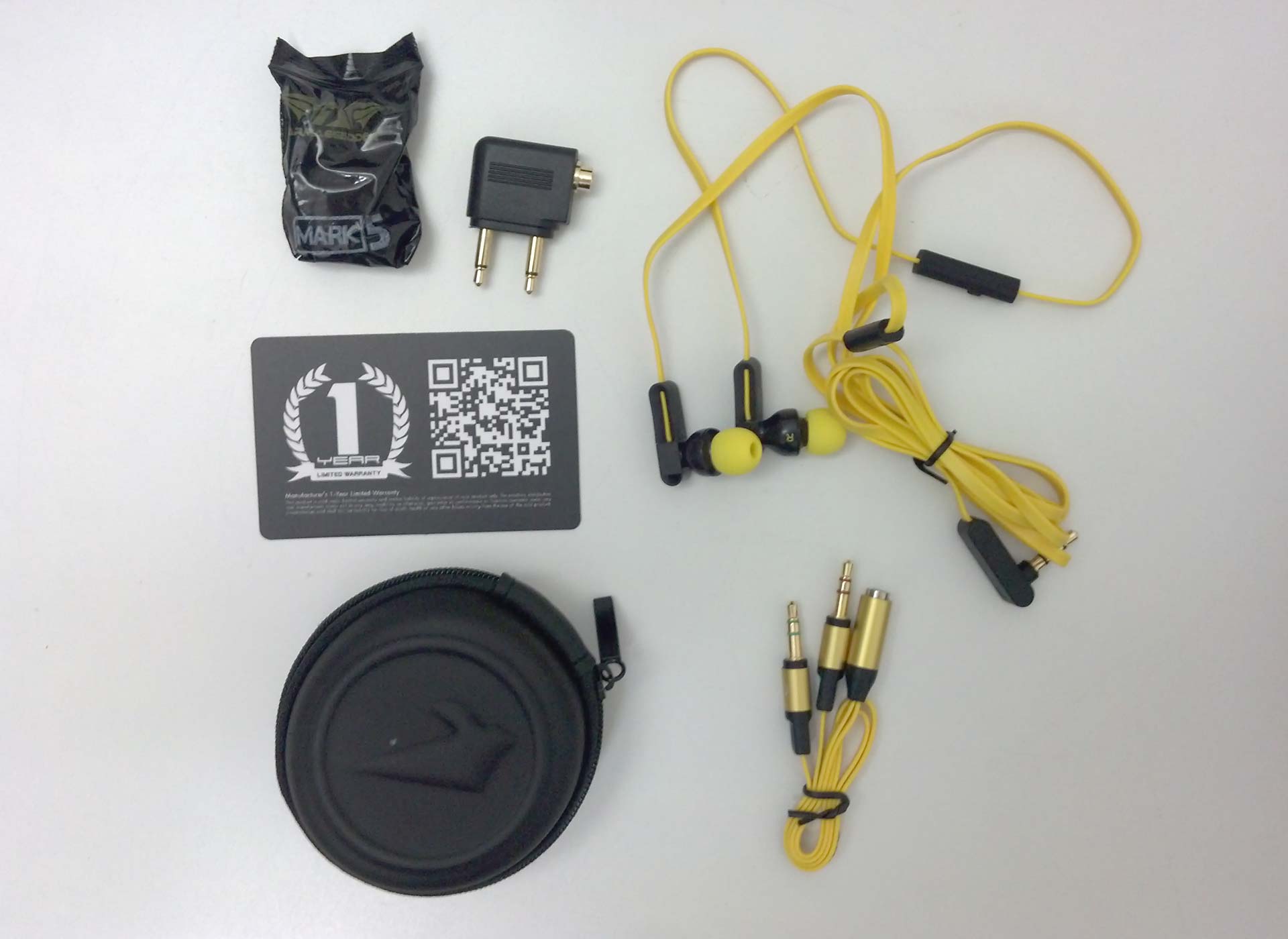 Earphone: The earphone has the Armaggeddon logo along with the "Mark 5" label. Also includes the "R" (Right) and "L" (Left) indicator. This earphone uses L-Shape Audio Connector which reduces the likeliness from accidental snap or bend and damage the phones or MP3 player while in your pocket. The microphone has a mini circle button which users can use to control the music player on their smart device. (Press 1 time for Play/Pause, Press 2 times for Next, Press 3 times for Previous). When I tested this feature, it only works when the phone screen is turn on.

Ear Gel: There are 4 ear gels you can equip on your earphone: small, medium (default), large and flanges. Pick one that suits your comfort preference!

3.5mm Audio Connector: Here is a close look at the audio + mic splitter. The green color coded is for headphone while the red color coded is for the microphone.

In-Flight Adapter: The packaging also provides an in-flight connector which can be used in airplane.

Pouch-1: Here is a closer inspection of the rounded carrying pouch that has an embedded Armaggeddon logo and white label.

Pouch-2: Opening the rounded case reveals the inside where it includes a half net to hold the earphone in place. There isn't much room to store any extra ear gel in it. The mini size case makes it a perfect fit for small pockets but not for tight jean's pocket.

User Experience and Verdict
Mark 5 has a V-shape sound signature where the treble and bass is boosted and mid is suppressed. When I first audition the earphone new from the package, it sounded like a cheap radio. After playing random genre music for 60 hours to break in, I tested the earphone again and see whether it helps with the sound quality. Still, I find the Mark 5 sound quality not to my expectation. Cutting to the chase, the treble was ear piercing (very sharp) when playing music with lots of highs especially instrument or techno, the mids lack the rich thick warm sound (felt dry), and the bass does not have any depth into it (sounded tapping instead of bouncy beats).
Also, the earphone does not provide much noise isolation which can be a good/bad thing. For example, it's great for listening to music while you're performing outdoor activities (e.g jogging, cycling) while being able to listen to the environment noise for any danger (e.g. car horn). In addition, you don't need to worry about having warm sweaty ears while performing arduous activity with earphone compared to a headphone. Since it's light and small, it provides better portability to use it anywhere (train, bus stop, library). Regarding the microphone, it sounds OK but soft. You will need to talk quite loud with the mic position close to your mouth in order for the recipient to hear you clearly.
In short, if you are a person who is looking for good music listening, I would highly recommend getting a either an on-ear or over-ear headphone depending on your preference (check out the Elysium Libretto Review that I have published earlier), whereas for greater portability and storage while sacrificing sound quality, go for this earphone. If you are looking for alternative earphones that provides similar accessories like Armaggeddon Mark 5, Xiaomi Piston In-Ear Earphone comes into mind, with a price tag of 60 MYR (17 USD) which cost approximately half but does not come with a carrying pouch, in-flight adapter and audio+mic splitter.
Pros
Lots of accessories: Mark 5 comes with a complete set of items that users can expect when compared to a premium earphone.
Cons
Subpar Audio Quality: The one thing that Mark 5 lacks to deliver in sound aspect is both the mid and bass. The bass sounded like tapping when playing deep bass or bouncy kicks whereas the mid sounded light and plain. Treble is okay but quite ear piercing when playing music with lots of highs (e.g. soprano, choir, violin)
Soft Microphone Volume: The microphone volume is quite soft and you can't speak without the need to place the mic close to your mouth. Solution: Place the mic close when you speak and talk loud to compensate the lack of volume that the mic can pick up. Not hands free for the mic.
Disclosure: The review sample was provided by LeapFrogGlobal – if you're looking for this speaker, you know where to find them.