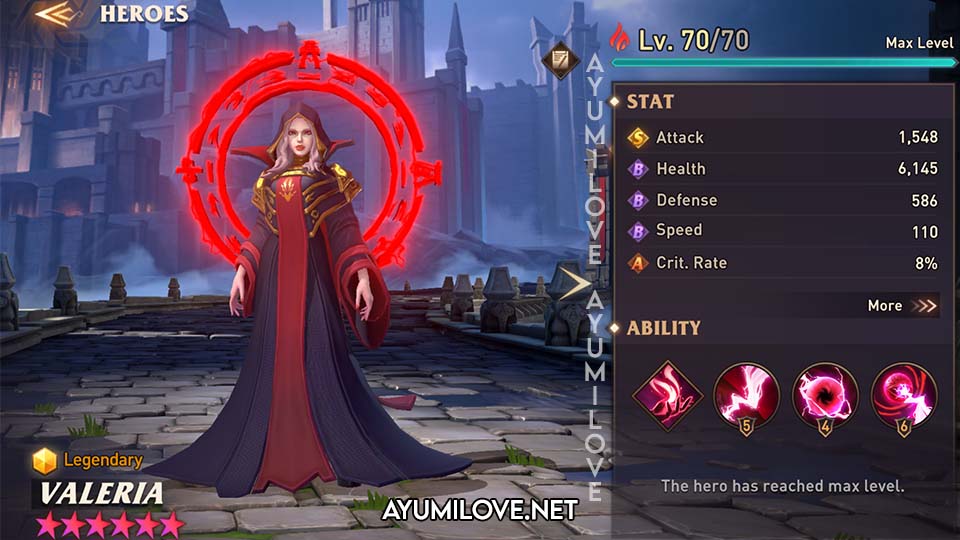 Overview

NAME: Valeria
FACTION: Lasir
RARITY: Legendary
ELEMENT: Fire
TYPE: Offense
RANK: A

Abilities

ACE_Random_DefenseDown
ACE_Self_BonusTurn
ACE_Self_Heal

Obtain from

Grinding

★★★★★ Adventure
★✰✰✰✰ Guild Boss
★★★★★ Arena Offense
★★✰✰✰ Arena Defense
★★★★★ Void Tower

No Man's Land

★★★★✰ Bane Wraith
★★★★✰ Flame Lizard
★✰✰✰✰ Wrathful Flood
★★★✰✰ Lord of Holy Light
★★★✰✰ Shadow Captive

Arcane Dominator

★★★★✰ Roaring Tulpa
★★★✰✰ Ash Magisteria
★✰✰✰✰ Queen of Tides
★★★✰✰ Witch of Wind
★✰✰✰✰ Gemini Dragon
Valeria Review
Valeria is a Legendary Offense Fire hero from Lasir in Awaken Chaos Era. Valeria can be obtained through Rookie Summon by completing Adventure Normal 2-8 or summoning her from Advanced Summoning Shards. If you aren't able to summon her through Rookie Summon, you can perform an Account Re-roll. Valeria was also made available via Magic Pass Season 9!
Her skill kit revolves around dealing a massive amount of AoE damage to her foes. In addition, she has a powerful trait that reduces all of her skill cooldown rapidly for every enemy that is being defeated in the battlefield, which makes her one of the best AoE damage nuker in the game along with Evera, Nathalia and Hydrissea.
Valeria Skills
Pleasure and Pain (Trait → Ascension)
Reduces all ability cooldowns by 1 turn upon the death of an enemy (Ascension → and grants Attack Up for 1 turn.)
Scarlet Lightning (Basic)
Deals 100% damage to 2 enemies, with a 50% chance to apply Defense Down for 2 turns.
Level 2: Damage +10%.
Level 3: Damage +10%.
Level 4: Damage +10%.
Defense Down : -30% Defense.
Scarlet Feast (Special, Cooldown: 3 turns)
Deals 100% damage to all enemies and recovers Health equal to 35% of damage dealt.
Level 2: Damage +10%.
Level 3: Damage +10%.
Eye of the Cursed One (Ultimate, Cooldown: 4 turns)
Converts 20% of this character's current Health into 180% damage to all enemies. Grants a bonus turn upon the defeat of an enemy.
Level 2: Damage +15%.
Level 3: Ability cooldown is reduced by 1 turn.
Level 4: Damage +15%.
Level 5: Ability cooldown is reduced by 1 turn.
Valeria Gear Guide
Arena, Adventure, Dungeons, Incursion

Recommended Gear Sets

Avarice, Warrior, Raider

Stats Allocation

Weapon (ATK)
Head (HP)
Chest (DEF)
Boots (SPD / ATK%)
Ring (C.RATE / C.DMG)
Necklace (ATK%)

Stats Priority

ATK%, C.RATE, C.DMG, SPD
Valeria Build
Valeria AoE Attacker Build
The stats prioritized for Valeria as a pure AoE attacker are Attack%, Critical Rate, Critical Damage and Speed. The best gear for Valeria are a Pure AoE Nuker build is Avarice Set and Raider Set to boost her AoE damage and Speed for Speed Farming content. This enables her to deal a massive amount of damage with her Eye of the Cursed (Ultimate AoE Attack) or Scarlet Feast (Special AoE Attack). Raider Set is useful to raise her base speed stat, so she can go first before enemies have a chance to take their turn.

Valeria Hero Synergy
Valeria Bio
None of the mysterious highborn of Aurelica raise perhaps so many questions as the Archcleric under Duke Nicklaus of Lasir, Valeria. Details of Valeria's life before the Duke's court remain murky albeit dark rumors certainly abound given the cruelty with which she treats prisoners of war according to the members of Lasir's House Guard. Even the notorious witch hunter, Vance, has been observed to quiver with fear at an audience with the terrifying but beautiful Archcleric. Her presence seems to have inexplicably changed the culture of the Duke's court, who himself appears much less statesmanlike and far more impulsive in recent years…
Valeria Updates