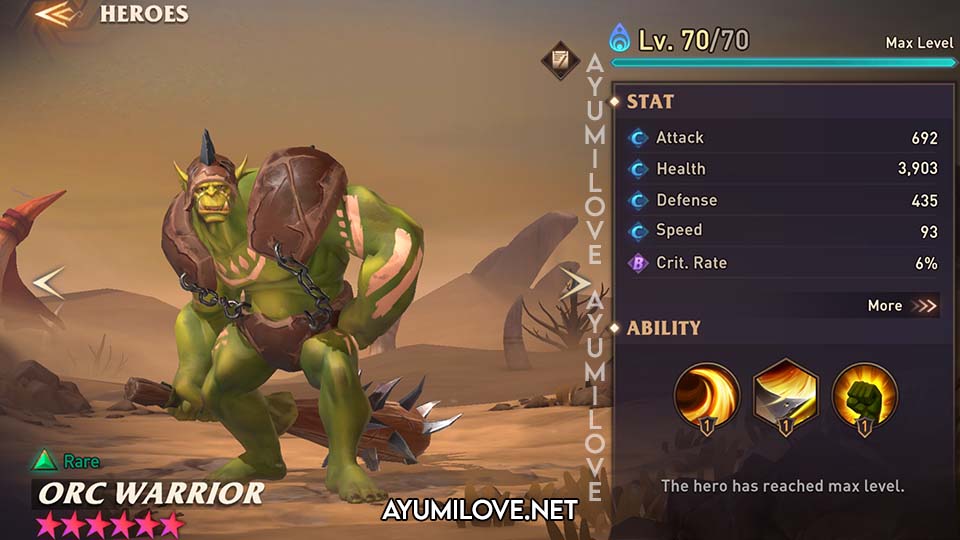 Overview

NAME: Orc Warrior
FACTION: Crisas
RARITY: Rare
ELEMENT: Water
TYPE: Offense

Grinding

★✰✰✰✰ Adventure
★✰✰✰✰ Guild Boss
★✰✰✰✰ Arena Offense
★✰✰✰✰ Arena Defense

No Man's Land

★✰✰✰✰ Bane Wraith
★✰✰✰✰ Flame Lizard
★✰✰✰✰ Wrathful Flood
★✰✰✰✰ Lord of Holy Light
★✰✰✰✰ Shadow Captive

Arcane Dominator

★✰✰✰✰ Roaring Tulpa
★✰✰✰✰ Ash Magisteria
★✰✰✰✰ Queen of Tides
★✰✰✰✰ Witch of Wind
★✰✰✰✰ Gemini Dragon
Orc Warrior Review
Orc Warrior is a Rare Offense Water hero from Crisas in Awaken Chaos Era. Orc Warrior has 3 skills. His basic skill is Brandish that allows him to attack an enemy and apply Defense Down. He has a passive skill known as Battle Frenzy that provides him with additional Critical Rate. Orcish Fury is his ultimate ability that attacks an enemy and buff himself with Attack Up. Orc Warrior is mainly use as a fodder due to the overall low base stats that is difficult to utilize him for difficult contents.
Orc Warrior Skills
Brandish (Basic)
Deals 100% damage to an enemy, with a 50% chance to apply Defense Down for 2 turns.
Battle Frenzy (Passive)
Critical Rate +10%.
Orcish Fury (Ultimate, Cooldown: 3 turns)
Deals 150% damage to an enemy and grants Attack Up II for 1 turn.
Orc Warrior Gear Guide
Arena, Adventure, Dungeons, Incursion

Recommended Gear Sets

Warrior, Rage, Raptor, Cursed

Stats Allocation

Weapon (ATK)
Head (HP)
Chest (DEF)
Boots (SPD, ATK%)
Ring (C.RATE / C.DMG / ATK%)
Necklace (Focus / ATK%)

Stats Priority

ATK%, C.RATE, C.DMG, Focus, SPD
Orc Warrior Hero Synergy
Orc Warrior Bio
Coming Soon…