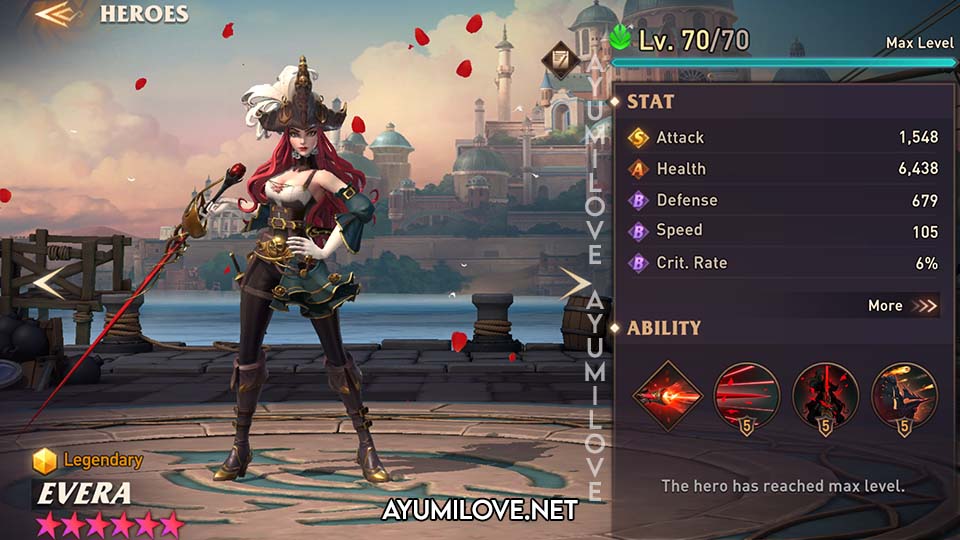 Overview

NAME: Evera
FACTION: Free Cities
RARITY: Legendary
ELEMENT: Wood
TYPE: Offense
RANK: A

Abilities

ACE_AoE_DefenseDown
ACE_Self_AttackUp
ACE_Self_BonusAttack
ACE_Target_Bleeding
ACE_Target_RemovePositiveEffect

Obtain from

Grinding

★★★★★ Adventure
★★✰✰✰ Guild Boss
★★★★★ Arena Offense
★★★✰✰ Arena Defense
★★★★★ Void Tower

No Man's Land

★★★★★ Bane Wraith
★✰✰✰✰ Flame Lizard
★★★★✰ Wrathful Flood
★★★★✰ Lord of Holy Light
★★★★✰ Shadow Captive

Arcane Dominator

★★★★✰ Roaring Tulpa
★✰✰✰✰ Ash Magisteria
★★★★✰ Queen of Tides
★✰✰✰✰ Witch of Wind
★✰✰✰✰ Gemini Dragon
Evera Review
Evera is a Legendary Wood Offense Hero from Free Cities in Awaken Chaos Era. Evera skill kit revolves in raining cannon balls and bullets on her foes, dealing massive amount of damage to both single-target enemy and all enemies in the battlefield. Evera was available in Magic Pass Season 4 (Elite Pass Reward) as the reward for completing Tier 30 of 50.
Cruel Blade is Evera's unique trait that enables her to charge her Rage counter for every hit on the enemy. Upon fully charging it, it grants her a chance to perform a bonus attack. When she is equipped in Cursed Set, she can quickly charge up this ability quickly to knock out tanky enemies with a constant barrage of attacks. This trait also applies Defense Down upon ascension, which allows her and her allies to deal more damage to the opponent.
Thrust is her basic attack that has a chance to inflict Bleeding on the enemy. Bleed works similarly to Poison but the damage scales are based on Evera's attack stats rather than Enemy MAX HP. Hence, she is quite dependable on the gear quality for her Bleed to perform well in higher difficulty stages. By having Attack Up buff, you can improve her Bleed damage over time significantly and unlock her bonus attack ability.
Foil is her secondary basic attack that removes buff from the enemy, which is useful against enemies who rely heavily on buffs to protect themselves or increase their damage output. Similar to Thrust, she can launch a bonus attack if she has Attack Up buff active!
Ultimatum is Evera's ultimate attack that showcases her in the battleship triggering multiple cannons to attack all of her enemies, while simultaneously buffing herself up with Attack Up buff. This buff is essential in enabling her to trigger the bonus attack on her basic abilities for additional damage output.
All of these skill synergies make her one of the best heroes for raiding boss and mob clearance, especially for early-mid game players in clearing Adventure Normal-Hard-Mythic mode quickly! If you happened to obtain her from your rookie summon at Adventure Normal Mode 2-8, then you will have a smooth sailing journey completing the Adventure stages! Her utility makes her a great candidate as your primary damage dealer for Arena (PvP content) as well as difficult content such as Void Tower, Endless Trail (farm misc currency), No Man's Land (farm skill materials), and Arcane Dominator (farm gear).
Evera Skills
Cruel Blade (Trait → Ascension)
+1 Rage per valid hit on an enemy (max Rage: 4). Converts all Rage into a bonus attack with Artillery Support upon reaching max Rage. (Ascension → with a 50% chance to apply Defense Down I for 2 turns.)
Defense Down: -30% Defense
Artillery Support (Trait)
Deals 40%-60% damage to all enemies.
Thrust (Basic)
Deals 90% damage to an enemy, with a 30% chance to apply Bleeding for 2 turns. If affected by Attack Up, then launches a bonus attack with Gunfire.
Level 2: Chance +15%.
Level 3: Damage +10%.
Level 4: Damage +10%.
Level 5: Damage +10%.
Bleeding: At the end of the turn, deals damage based on the caster's Attack.
Attack Up : +30% Attack.
Foil (Basic, Cooldown: 3 turns)
Deals 110% damage to an enemy and removes a positive effect from the target. If affected by Attack Up, then launches a bonus attack with Gunfire.
Level 2: Damage +10%.
Level 3: Ability cooldown is reduced by 1 turn.
Level 4: Damage +10%.
Level 5: Damage +10%.
Attack Up : +30% Attack
Ultimatum (Ultimate, Cooldown: 4 turns)
Deals 150%-200% damage to all enemies and grants Attack Up to this character for 3 turns.
Level 2: +10%-20% damage.
Level 3: Ability cooldown is reduced by 1 turn.
Level 4: +10%-20% damage.
Level 5: Ability cooldown is reduced by 1 turn.
Attack Up : +30% Attack.
Gunfire (Special, Cooldown: 4 turns)
Deals 50% damage to an enemy and reduces all ability cooldowns by 1 turn.
Evera Gear Guide
Arena, Adventure, Dungeons, Incursion

Recommended Gear Sets

Warrior, Rage, Cursed

Stats Allocation

Weapon (ATK)
Head (Health)
Chest (Defense)
Boots (Attack% / Speed)
Ring (Critical Rate / Attack%)
Necklace (Attack%)

Stats Priority

Attack%, Critical Rate, Critical Damage, Speed, Focus
Evera Hero Synergy
Pair with Earendil to deal more damage to enemies with Joint Attack when Evera is geared in high Critical Rate stats.
Evera Updates
Evera Bio
Evera's background, how she came to piracy, and where she acquired her "Sword of Thorns" and "Rose Fire" have remained a mystery since the day she appeared out of nowhere at the head of four pirate galleons to defeat a relatively powerful Imperial Navy expedition in the "Battle of the Gulf of Fire". Evera's name has since become synonymous with the "Rose of the Black Night" of Pirate Island throughout the entirety of Aurelica. The Mysterious Evera gained a seat on the "Council of Four" governing the affairs of the Pirate Island soon afterward, and remains one of its most feared occupants.
A lady of uncommon beauty, Evera has found no shortage of suitors, fair and foul, from among the pirates' ranks, one of him infamously went to the trouble of establishing a giant statue in the main town center to win her affections, which was then blasted apart by her musket as she declared, "A barrel of gunpowder is worth much more than a man's love, and it will take much more than stones to win my heart". Far from dissuading potential suitors, Evera's confidence has only served to further confirm her reputation as the Island's most eligible and yet most unattainable woman…
Evera Videos
Dan Heilman: Evera Spotlight and Testing | Awaken Chaos Era