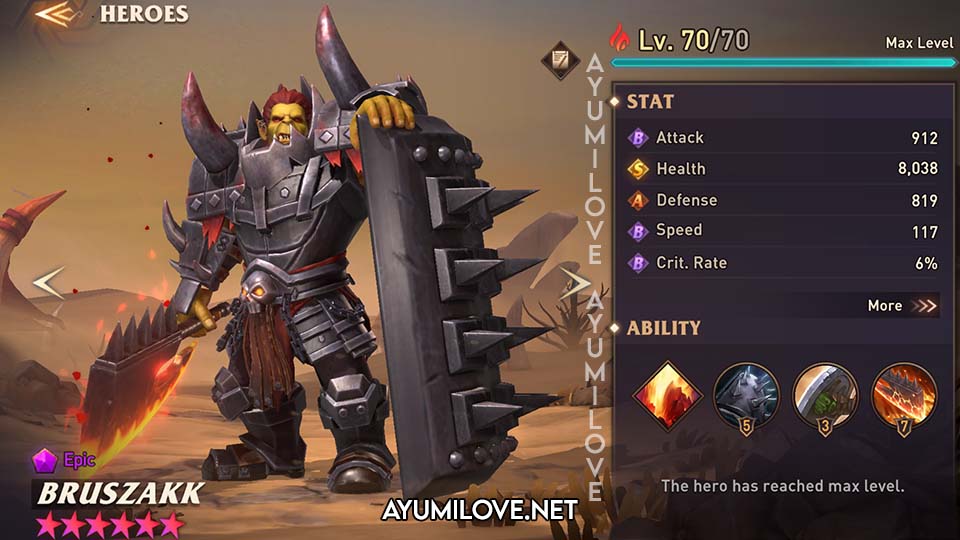 Overview

NAME: Bruszakk
FACTION: Crisas
RARITY: Epic
ELEMENT: Fire
TYPE: Defense
RANK: B

Abilities

ACE_AoE_DefenseUp
ACE_Aoe_Taunt
ACE_Arena_HealthAura
ACE_Self_Shield
ACE_Target_AttackDown

Synthesizes Hero

Grinding

★★★✰✰ Adventure
★✰✰✰✰ Guild Boss
★★★✰✰ Arena Offense
★★★★★ Arena Defense
★★★★✰ Void Tower

No Man's Land

★✰✰✰✰ Bane Wraith
★★★✰✰ Flame Lizard
★✰✰✰✰ Wrathful Flood
★✰✰✰✰ Lord of Holy Light
★✰✰✰✰ Shadow Captive

Arcane Dominator

★★★✰✰ Roaring Tulpa
★✰✰✰✰ Ash Magisteria
★✰✰✰✰ Queen of Tides
★✰✰✰✰ Witch of Wind
★✰✰✰✰ Gemini Dragon
Bruszakk Skills
Succour (Trait → Ascension)
When an ally whose Health is below 50% takes single-target damage, their damage is reduced to zero and this character receives 50% of the original damage. Can be triggered up to (1 → 2) times per round.
Axe-Shield Combo (Basic)
Deals 120% damage to an enemy, with a 75% chance to apply Attack Down for 2 turns.
Level 2: Damage +10%.
Level 3: Damage +10%.
Level 4: Damage +10%.
Level 5: +25% chance to trigger.
Attack Down: -30% Attack.
Battle Cry (Special, Cooldown: 3 turns)
Grants Shield for 2 turns with a 70% chance to apply Taunt on all enemies for 1 turn.
Level 2: Ability cooldown is reduced by 1 turn.
Level 3: +10% Shield strength.
Taunt: Immune to control effects. Automatically uses basic ability to attack the caster. [Control Effect]
Groundbreaker (Ultimate, Cooldown: 5 turns)
Deals 150% damage to all enemies and grants Defense Up II to all team members for 3 turns.
Level 2: Damage +10%.
Level 3: Ability cooldown is reduced by 1 turn.
Level 4: Duration of Defense Up II is extended by 1 turn.
Level 5: Ability cooldown is reduced by 1 turn.
Level 6: Damage +10%.
Level 7: Damage +10%.
Defense Up II: +50% Defense.
Aura
All team members gain +10% Health in arena battles.
Bruszakk Gear Guide
Arena, Adventure, Dungeons, Incursion

Recommended Gear Sets

Terra, Vanguard, Revival

Stats Allocation

Weapon (ATK)
Head (Health)
Chest (Defense)
Boots (Speed / Health%)
Ring (Critical Rate / Health%)
Necklace (Health%)

Stats Priority

Health%, Defense%, Speed, Focus
Bruszakk Hero Synergy
Pair with Blackhorn to enhance team survivability.
Pair with Darkened Nicklaus to safeguard Darkened Nicklaus's sustained damage output.
Bruszakk Bio
Bruszakk began life as a nameless slave in the Arena, beaten daily and with little hope of survival beyond the week. The wild orc honed his combat skills by the blood of other equally oppressed slaves as satisfied the whims of the city's corrupt nobility. But Bruszakk's day of vengeance would come eventually. The crafty survivor spied out an opportunity at a combined gladiatorial-banquet event for the nobility at which he discovered his chains had not been properly affixed given the change of site and arena warden. Upon slaying his fellow slaves to the applause of the attendees.
Bruszakk broke free and escaped far from the palatial estate, slaying any guards who attempted to bring him back to captivity. He survived the harsh journey across the wilderness despite his many wounds and arrived safely at Warchief Orakh's camp. Bruszakk's skills as a warrior, honed almost since birth in the Arena, mightily impressed the Warchief, who appointed him to a special position in his personal guard.
Bruszakk Updates
Bruszakk Videos
Ayumilove: Void Tower Hard Floor 90 Guide (Bruszakk showcase protecting his allies!)